"American Election" by Greg Buchanan, Adam Coburn, Seb Peters, Matt Nichols, Cherie Davidson, Anthony Gambino, Tanya DePass & Gary Kings.
"Your name is Abigail Thoreau. It is 2016. And you are being followed. […] A dark political nightmare game about […] a campaign assistant working to elect her candidate."
---
In a parallel universe, not much different from ours, you are Abigail Thoreau; campaign assistent for the Republican presidential candidate Truman Glass in the year 2016. Just a few days are left before the election will take place. Even though the polls are more in favor for the Democratic candidate, Glass does not give up at all. He strives to win. He will win, because he is not a loser. He is a billionaire, a self-made man, a winner. Sounds painfully familiar? Yeah. I know.
Actually, there are not many differences between this world and ours. The big picture will not change, as Glass eventually wins. But that is not the important aspect, when it comes to make up your mind about the fantastically intense interactive novel "American Election": It is the point of view you as a player are offered. It does not show the game's equivalent of Donald Trump to be a psychopathical, mentally instable clown figure. Glass is not just some caricature of Trump so to speak, but a real and awful character. He gets presented as a danger to humanistic values, not as a symptom of sudden political madness.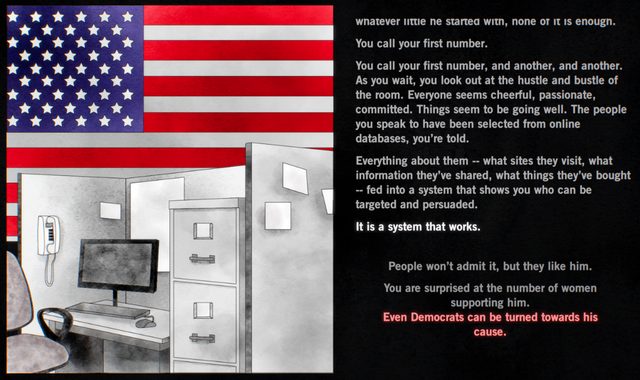 That kind of storytelling is possible especially thanks to the character of Abigail. She is at odds with herself and her choices in life; not only the ones made in the here and now, but also in the past. In each of the eleven chapters you can learn more about her and thereby learn a lot about the development of American culture, political values and how fast freedom can be attacked from the system that should protect it.
That being said and without spoilering anything more, "American Election" might be one of the most important indie games that you can experience this year. Dive into a thought-provoking game with intense dialogues as well as cleverly chosen iconography and background music. In the end, it shows that politics should neverever be left out of video games, as we might learn and think more about our world as we would do without playing them. [PLAY]