"Arietta of Spirits" by swonqi, Samuli Siimesto, Kimmo Bordi, Chevy Ray Johnston, Jaya Ply, Roosa Kerkola & Eugeniya Guteneva.
"The game tells the story of Arietta and her family, visiting their Grandmother's cabin for the first time after her passing away a year prior. However, the family trip takes an unexpected turn when Arietta meets a mysterious new friend and gains the ability to see the strange beings that inhabit the island."
---
While "Arietta of Spirits" is only available as a demo version right now, the team is actually working on the full release. The full version can already be wishlisted on Steam, but I simply have to recommend you the demo as it is already absolutely gorgeous. The adventure begins with a car ride: In the role of the teenager girl Arietta, you drive with your parents to the cabin of your deceased grandmother. It is a family tradition to travel there each summer, but as the death just happened one year before, you all know it will not be the same anymore. The whole family is still mourning, and so it seems clear that all emotions as well as memories will come back. At the same time, they do not want to back off and honor the decedent with their trip.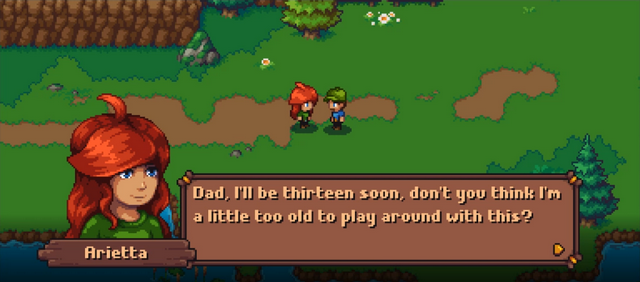 One afternoon, Arietta's mother asks her to pick up some apples from the woods, so that she can prepare the dessert for dinner. Her father also hands her out a wooden sword to defend herself from nasty wasps. It all goes quite well – if you ignore accidentally attacking a wasps' nest and getting into a fight with a monster version of the insect -, so the family can enjoy a delicious, but also tearful dinner. Afterwards all of them go exhausted into their beds.
But Arietta faces an actual nightmare and makes a new friend on the way: A spirit named Arco, who gives her an important task. She has to become a so-called Spirit Bound, a person with the power to fight off dangerous Roamers. Those beasts try to absorb energy and to multiply, putting not only Arco's home, the Spirit Realm, but the whole world into danger. At the same time, Arietta will meet a familiar ghost and free them with Arco's help.
"Arietta of Spirits" seems to become a beautiful adventure, and actually, it already is. The beginning chapter, which will teach you about the basic game mechanics, shows off the amount of work the developers put into it. I am not just talking about the stunning pixel art, the perfectly timed music and sound effects or the two fun boss battles – it is the fact that the whole game feels very polished. Each game mechanic goes smoothly along in the other without neglecting the importance of storytelling or the writing of dialogs, making the demo version the perfect base for something wonderful. [PLAY]