"EVERYTHING IS GOING TO BE OK" by Nathalie Lawhead.
"[A] desktop labyrinth of vignettes, poetry, strange fever dream games, and broken digital spaces. It is a collection of life experiences that are largely a commentary on struggle, survival, and coping with the aftermath of surviving bad things. On the surface it comes off as dark comedy, […] but as you interact the themes start to unravel and [facilitate] what I hope to [be] a deeper discussion about these topics."
---
I was unsure what "EVERYTHING IS GOING TO BE OK" would have in store for me. Many of my friends and colleagues praised Nathalie Lawhead's work in general as amazing experiences, but something was holding me back to get into those games. One weekend I decided to dive into it and it was a hell of a ride; not in a joyful, but indeed in a stunning way. It just felt so scarce that someone would confront me with such a brutal openness and raw honesty. Lawhead's thoughts, her words, her perspective on things and situations consumed me.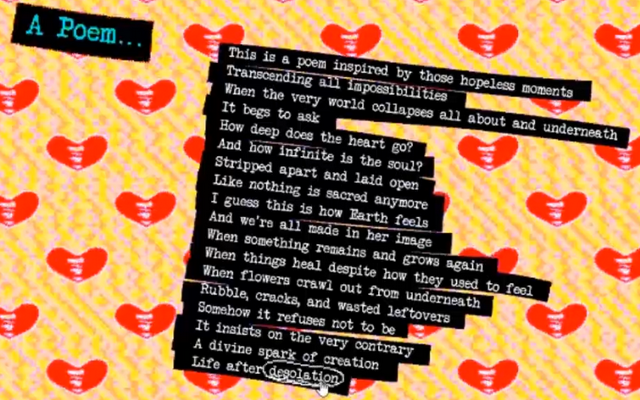 All the bright colors, funny and not really spooky GIFs of past internet days as well as morbid minigames would not be able to overshade the dark, melancholic overall tune. Sure, it is hilarious for a minute to prepare presentation slides for a bunny, so that it is able to talk about how it lost its legs to an audience full of dumb claqueurs, that will cheer after every word. Yes, it is amusing to participate in an 'intelligence test' by filling out a nonsense questionnaire about the own relationship to video games as well as the industry, so that one can access an empty folder. But all these tiny vignettes, scenes, minigames and prototypes are intertwined with each other by one thing: The life experiences of their developer.
In August 2019, Lawhead published a blog post titled "calling out my rapist". This text gave the game a broadened context. With this knowledge, some parts of the game lose all their distance, which makes it harder to stay unaffected in any sense while playing it. The cries for help, the tears that run down her cheeks, the anxiety, the desire for true friendship and love, for being accepted and listened to, but also for sharing the own creations with people without just receiving their shallow applause, but honest feedback – all those things get communicated by "EVERYTHING IS GOING TO BE OK".
Even after the first release, the game got filled up with more personal content like poems and essays. But even with all those texts, I think it would be wrong to compare "EVERYTHING IS GOING TO BE OK" with a diary or a journal or something like that. Instead, I would say that it is the wild collision of Lawhead's synapses in form of a zine game, and the player will experience the crash in the aftermath. And honestly, I think we all need more of this. [PLAY]