"Little Party" by Turnfollow (Carter Lodwick & Ian Endsley), Dan Anthony Kelly, Scott David Archer, Marissa Deitz Wall & Brian Scott.
"[A short story video game about your daughter's all-nighter party.] […] Music is a key element here. Keep the volume up!"
---
Only a handful of games give players the opportunity to play the role of a parent, let alone a mother. Luckily, "Little Party" does exactly that: Your daughter Suzanne invites three of her artist friends over the night. It is not a typical party, though, as they intend to work on their own artistic creations. The aspiring film maker Biff will do some shoots for his newest flick, while the game designer Nicholas figures out the rules for his concept draft and the painter Isaac practices his skills on your old sheets. And Suzanne? She will record songs for her new EP.
You could imagine a bunch of stories which could be told with such a setting. The story about an angry mother, who hates the chaos in her dear cabin in the woods. Or maybe you imagine a horror story, where some crazy killers are on the loose and the five of them defend themselves, each with their own skills. Another possibility would be the story about a complete blackout and a ruined party. But no, "Little Party" is not like that at all.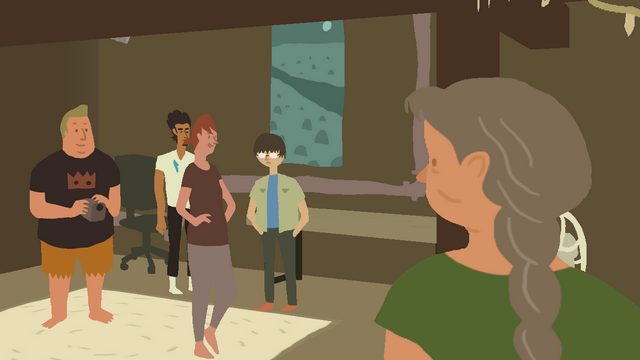 Instead, it is a wonderful and quiet tale about empathy and thoughtfulness, about the ability to let people you love go, so that they can find their own way, but also about reconnection. All of that in just half an hour. Even though the game was made back in 2015, it still feels kind of refreshing. The unique art style reminded me of cut paper figures, while the recorded tracks sound just great and fitting for the whole atmosphere. Especially to two scenes they added a certain charm and conjured a smile in my face. I am sure you will know which scenes I mean once you played it for yourself. [PLAY]