"Mutazione" by Die Gute Fabrik (Nils Deneken, Douglas Wilson, Christoffer Holmgård & Hannah Nicklin), Lotte Mia Wewer, Morten Mygind, Sarah Zimmerdahl Josefsen, Martin Eberhardt, Alex Dally MacFarlane, Tanya DePass, Óscar Losada Suárez, Martin Dohnal, Katrin-Anna Zibuschka, Agne Gediminskaite, Sander Hansen, Remy Stuurwold, Esben Modvig, Anne Louise Laugesen, Alessandro Coronas, Silvia Morelli, Louise Dodds, Laura Mura, Claudio Corona, Benedikte Mikkelsen, Erik Andersen, Mads Engberg, Anthony Calabresi, Francisco Sepúlveda, Riddhi Padte, NapNok Games (Dajana Dimovska, Filip Georgijev, Tomislav Dimitrovski, Maja Milanova & Emanuel Nikolikj), Keywords Studios Katowice (Chris Bewick, Jakub Dudkowski, Marcin Jankowski, Kacper Kaczmarzyk, Wojciech Lukesz, Jaroslaw Majetny, Damian Mikulski, Olivier Purak & Marcin Sebesta), Character Localization, Renée Jessen, Johannes Randrop Keiding, Mads Johannes Nielsen, Gillian Melton, Jonathan Alpin, Troels Høegh, Jelle de Vaal, Chris Hoppenbrouwers, Jurjen Tiersma, Iris Kuppen, Annabelle Thibault, Caroline Latour, Altagram Group, Jinglebell Localization, Sophia Soll, Aran Koning, Gersande La Flèche, Adriel Beaver, Josef Wiesner, Nicolò Marchetti, Clara Fernandez-Vara, Bernhard Schulenburg, Nevin Tuna Eronde, Ene Esgård, Six Ash, George Buckenham, Akupara Games (David Logan, Yoonsang David Yu, Richard Suchit, Christopher Nguyen, Buddy Sola, Mike Shanks & Devon Lee), Kittehface Software (Jeremy Statz & Joel Burke), popagenda (Genevieve St-Onge, Marie-Christine Bourdua & Nicolas Verge), Belinda Garcia, Sheridans, Tim Davies & Alex Tutty.
"A mutant soap opera where small-town gossip meets the supernatural. […] Explore the community as 15-year-old Kai as she travels to the strange and secretive community of Mutazione to care for her ailing grandfather, Nonno. Make new friends; plant musical gardens; attend BBQs, band nights and boat trips; and embark on a final spiritual journey to save everyone from the strange darkness at the heart of it all."
---
Surprised of the wall of people at the beginning of this article? That are all persons who got listed in the full credits of "Mutazione". When I started to prepare this article, I thought it would be too many and probably not very interesting for our readers to go through all those names. But after I played this game and went through my mind why I even like it that much, it all blended in perfectly: What's so precious about "Mutazione" is its ability to create a thriving, lifeful village with the help of each of its inhabitants. They are crucial to understand this place, its history and culture. And each of the listed persons above worked hard on it so that it could the game would become a success; thereby it would be a kind of disgrace for me if I would not honor them in this article.
As players we step into the role of the teenager girl Kai to visit her mortally ill grandfather Nonno, who still lives on the island. The old man often needs to rest, so Kai is free to explore the village. Although it's pretty small, a bunch of interesting places can be found there, including an archive, a temple, the docks and even a bar! Everywhere she can make acquaintance with several persons like Tung, a muscular stevedore with his own dreams, or Claire, a quite emotional friend of Kai's mother Gaia. Another sweet character is Yoke, the island's archivist. He has a very important gift for Kai: An encyclopaedia called "Plants of Mutazione".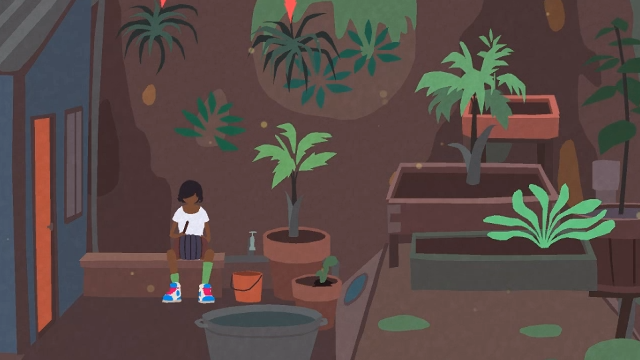 Nonno wrote this book in his early days, and it stores a stunning amount of information about the local plant diversity; I think I spent ten to fifteen minutes just reading the different descriptions of the flowers and their possible applications. Kai's grandfather wanted her to have this volume, so that she might assume Nonno's job as the village shaman. The young girl will soon learn about the amazing powers that can be found inside Mutazione's flora, though they may have some side effects… One night, a grim creature that goes by the name Karoo appears before Kai's eyes, telling her that she can save her grandfather with some Dracaena leaves. And yes, Nonno will start to regain his energy, but what's the real price of this miracle?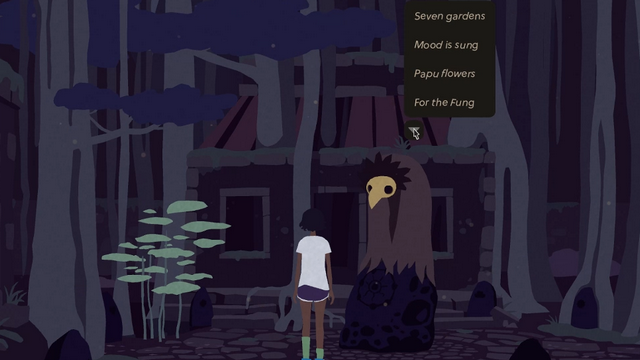 That's for you to find out. After all, the individual figures and their connections to each other are the core of the game. "Mutazione" is a wonderful as well as diverse composition of different mindsets, lifestyles, motivations, dreams, characters, and stories with a touch of mysticism. I would advise you to not rush through it, but instead to take your time to chat with each person you encounter, so that the conversations enrich your knowledge about them all together. Collect seeds and bring plants to life, engage in a talk about the nature of freedom, attend some concerts and try to reveal the secrets that are hidden in there. It's worth it.