---
What is "Trial of Fame"?
"Trial of Fame" is our series of articles in which authors and friends of our blog play a 'cult game' for the first time in their lives and tell us about the experience. With this, we hope to provide a new interesting perspective on these popular titles. If you would like to contribute a text, please write us via our contact form or via direct message on Twitter.
---
"System Shock" by Looking Glass Studios, Warren Spector, Doug Church, Sean T. Barrett, Seamus Blackley, Robert George Fermier, Marc LeBlanc, Fred Lim, John Miles, Art Min, Vinay Pulim, Eli Wiesel, Kurt Bickenbach, James Alexander Dollar, Mark Lizotte, Michael Marsicano, Robb Waters, Dorian Hart, Erik Ray, Austin Grossman, Tim Stellmach, Rex E. Bradford, Laura Feeney, James Wiley Fleming, Jon Maiara, Carl Muckenhoupt, Dan Schmidt, Matthew Toschlog, Kevin Wasserman, Greg LoPiccolo, Tim Ries, Terri Brosius, Jill Bidgood, Nick Carter, Bart Mallio, Sara Verrilli, Charles Angel, Alvaro Moreno, Marshall Andrews, Todd Bailey, Dustin Brimberry, Bernadette Pryor, Jonathan Piasecki, Harvey Smith, Brett Bonner, Kirsten Vaughan, Frank Dietz, Patricia Norwood, Dominique Poumeyrol-Jumeau, Alpha CRC Cambridge, Evan Brandt, Didier Jumeau, Andreas Köhler, Galen Svanas, Simon Etchells, Tuesday Frase, Harvey Smith, Rachel Close, Ashley Richardson, David Ladyman, Al Carnley, Jennifer Davis, Trey Hermann, Chris Morgan & Alex Camilleri.
"After six months in a healing coma, you awaken to the twisted aftermath of a terrible disaster. […] Once a prime corporate research facility, Citadel now teems with mindless cyborgs, robots and terribly mutated beings, all programmed to serve SHODAN, a ruthless [artificial intelligence]. [There is] scarcely time to think before it unleashes the first terror…"
---
"System Shock" was never on my radar until I played the Unity reboot demo. I did not think about the original until it was showcased at the Summer Games Done Quick 2016 event. At that marathon, I made drawings of funny moments from some runs that burned the game into my mind. At some point I acquired the System Shock Pack from the Humble Store, which includes the classic and enhanced versions of "System Shock" as well as "System Shock 2", for free. I am not sure when I got it or from where, but I figured they would sit in my digital basement forever.
Fast forward to June 17, 2021: I finally completed "Thief Gold", the expanded version of "Thief: The Dark Project". As with every mission before it, I watched the corresponding "Level With Me" design analysis, in which Robert Yang discusses the psychogeography of the maps and how it affects the player's experience. The last episode had the audience wondering what game he would tackle next, with "System Shock 2" being one of the possibilities. Since it has not been released yet, I figured I should better play the first game in the series before it ever happens!
I was in the mood to catch up on classic games this year and already crossed "Demon's Souls", "Dark Souls", "Metal Gear Solid" and "Tomb Raider II" off the list. I thought "System Shock" would not be too difficult to get into… Boy, was I wrong. Leagues away from the ease of the reboot demo, there was a lot to figure out navigating this world framed by a daunting user interface. Learning the system was constantly interrupted by the combat. As someone who plays "Quake" regularly, I was simply put off by the controls needed to navigate the action sequences. Fortunately, the game allows you to control the difficulty of four different components of the game, namely a) the combat, b) the puzzles, c) the missions, and d) the cyberspace sections. I turned the combat from two (standard) to one (easy).
I lasted three hours in the campaign when I felt like giving up. The combat was caca. I read reviews, watched videos, and asked for opinions in regards to whether "System Shock" was really worth it. Fortunately, the consensus was wildly in favour of playing through. I decided to restrain my ego and switched the combat difficulty to zero: After all, then none of the enemies attack and, moreover, they can be eliminated with just one hit. It felt cheap, but it was the only way I think I would have the patience to sit through this game.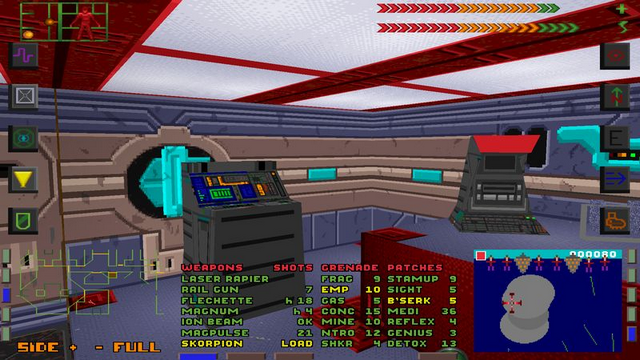 After a few hours, I realized that this was exactly what I needed. "System Shock" was no longer an annoying romp through a quest to take down the evil artificial intelligence SHODAN – it became a satisfying target practice adventure! Since I am terrible at stringing narratives together through non-linearly presented logs, I was surprised to find out that eliminating deadly threats was the key to slowing down and immersing myself in this world.
I knew I had fallen in love with "System Shock" when I thought about it even when I was not playing it! I usually stopped or took a break when I got stuck or entered a new level, yet continued to contemplate the next moves in my brain. Considering that the billboard sprite aesthetic in first-person shooters is not my cup of tea, there is no denying that this was a superb experience. I did not expect to endure more than this playthrough once the novelty of learning the mechanics gave way to familiarity, but Looking Glass Studios left me a hearty breadcrumb trail to follow to the end. [PLAY]