"When The Past Was Around" by Mojiken Studio (Eka Pramudita Muharram, Brigitta Rena Estidianti, Alice Elwin, Kris Antoni Hadiputra, Ahmad Fadlillah, Nick Romario, Bangkit Myarso, Seto Aji Nugroho, Dimas Novan Delfiano, Blu & Masdito Bachtiar), K Yayan Permana, Satoxx, Toge Productions (Kris Antoni Hadiputra, Jonathan Manuel Gunawan, Hendry Roesly, Frederick Tirta, Sarah Johana & Revodian Putra), Lasheli Dwitri Witjaksana, Chorus Worldwide (Shintaro Kanaoya, Fuzuki Ninomiya, Ryuji Oyanagi, Hideaki Kitamura, Kimitaka Ogawa & Syuichiro Moriyama), Christophe Pallarès, Théo Kuperholc, Eileen Geissler, Michael Stein, Daring Touch, Luca Cassinelli, Yuki, On Takahashi, Aehyang Shin, Dayeon Moon, Suhyoun Han, Hong-gi Lee, Samuel, Ippatsu!!, Ruth Domínguez, Abrek Atakan Koç, Deniz Nur Yaslandı, Ryan Nguyen, Daria Gliwa, Rômulo Wehling Magalhães, Vinicius Ferreira, Pedro Marques, António Barreiro, IsamiRivers & Alexander Preymak.
"[An] adventure point-and-click puzzle game about love, moving on, letting go, and the joy and pain of everything in between."
---
---
Full disclosure right ahead:
Naomi "Bez" Norbez used a free key of "When The Past Was Around", provided by Toge Productions, to play the game and write an article about it.
---
"When The Past Was Around" is a game by Brigitta Rena Estidianti, who also created "A Raven Monologue" and "She & The Light Bearer". She has a great style, which is why the art in this game is very beautiful. But the illustrations, however excellent, should not hide the fact that this game tells us a bittersweet tale – with a particular focus on the bitter. We are witnessing the story of Eda, a musician who falls in love with a violinist owl. But when her feathered partner dies of illness, she is left in a mournful place. Can we help her through her grief?
The music and themes reminded me a bit of "Florence". But unlike that title, where the energy is kept moving by simple puzzles and easy clicks, "Where The Past Was Around" features a lot of complicated riddles. That is why the story is constantly grinding to a halt so I can solve whatever the game threw at me this time. I was referring to a walkthrough quite a lot, but even that did not help entirely. It came to a point where I could not finish the game on my own thanks to one particularly hard puzzle, and so I had to watch the ending online in order to complete my experience.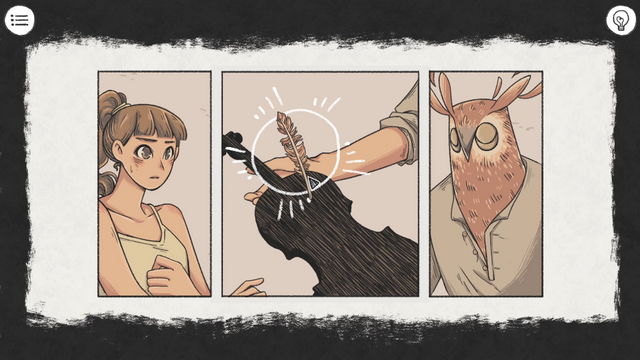 That is a shame, because I like the story a lot. It is a tale of lover's grief that gets rarely told through the medium of video games. But the puzzles do not strengthen the themes of the story at all. Instead they weaken it, and even actively hold "When The Past Was Around" back from being great. Solving the lock on a music box does not enforce the feelings of grief Eda has – it just holds me back from experiencing them.
Since at the beginning the difficulty of the puzzles is still lower, it is easier to appreciate the beautiful narrative arc. Here, Eda meets an owl with whom she falls in love, and the two of them seem to develop and have a great relationship. This is all depicted without any dialogue at all, which is quite impressive. The images and art display the game's story wonderfully, and the animations that accompany it are great too. Such a mature tale is told so simply, and that deserves praise. For all these reasons, I would say that "When The Past Was Around" is a gorgeous and thoughtful game, but also a difficult one. If you are going to play it – and I would recommend you to do so – make sure to have a walkthrough handy. [PLAY]