---
What's a "Treasure Chest" article?
It's a short text and video compilation of three to five small jam games we really liked for some reason (like core concept, artwork, effort etc.).
---
---
"Moles in Holes" by Nocturnal Arts.
A golf course needs to be properly maintained, so it's your job to catch all the moles in the eight different levels of this game. But in order to lure the moles out of the underground, you have to shoot them with golf balls. After that, all you have to do is skilfully drive alongside them so that they fall into your net. But beware: Especially in the later levels, the tracks are not completely fenced, so you can fall down. Also, when a mole on the surface gets hit by a golf ball, it'll instantly bury itself. A wonderful physics game that has a very special charm thanks to its wonky controls and funny premise.
---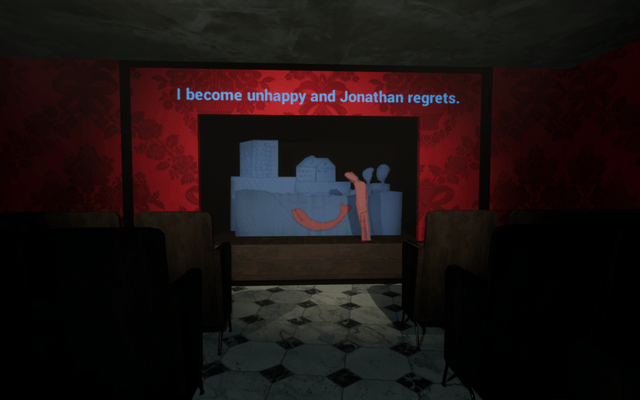 "Jonathan's Whale" by bleakmillgames (Steve Chapman, David Jungnickel & Lukas Zepf).
Jonathan was fishing for garbage from a pond when he was suddenly devoured by a whale. This forces him to pass through the innards of the majestic animal. These are designed in an incredible way: Each room is either a passage or a small theatre that tells a part of the background story of the whale itself and its relationship to Jonathan. A short journey that is astounding and indeed escalates, true to the motto of the jam.
---
"Poor Matthew Door!" by Steven Walther, Kate Parr, Rachael McDonald, Crystal Glass & Jake Schwartz.
Poor Matthew just wanted to pour his houseplant before starting his vacation, but there's already a knock on the door. A neighbor asks if he could also take care of his plant. Then another one comes, who contributes four new plants. And suddenly the apartment owners with all their cats arrive! All plants as well as animals now have to be nourished with water and food – and only because Matthew could not say 'No!'. In particular, the graphic style but also the game mechanic to fulfill several tasks at once, are positive features of this short simulation game for me.