---
---
"Moles in Holes" by Nocturnal Arts.
A golf course needs to be properly maintained, so it is your job to catch all the moles in the eight different levels of this wacky jam game. To lure the moles out of the underground, you have to shoot them with golf balls. Afterwards, all you have to do is to skillfully drive alongside them so that they fall into your net. However, not always are the tracks completely fenced, allowing you to fall down.
---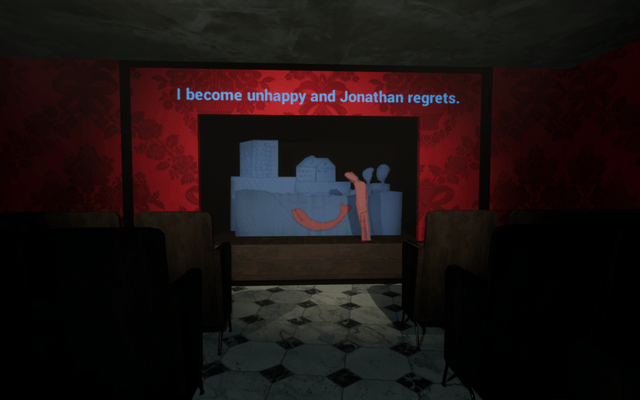 "Jonathan's Whale" by bleakmillgames (Steve Chapman, David Jungnickel & Lukas Zepf).
Jonathan was fishing for trash, when he was suddenly devoured by a whale. This forces him to pass through the innards of the majestic animal. These are designed in an incredible way: Each room is either a passage or a small theatre that tells a part of the background story of the whale itself and its relationship to Jonathan.
---
"Poor Matthew Door!" by Steven Walther, Kate Parr, Rachael McDonald, Crystal Glass & Jake Schwartz.
Poor Matthew just wanted to water his houseplant before starting his vacation, but there is already a knock on the door. A neighbor asks if he could also take care of his plant. Then another one comes, who hands four more over. And suddenly the apartment owners with all their cats arrive.