---
---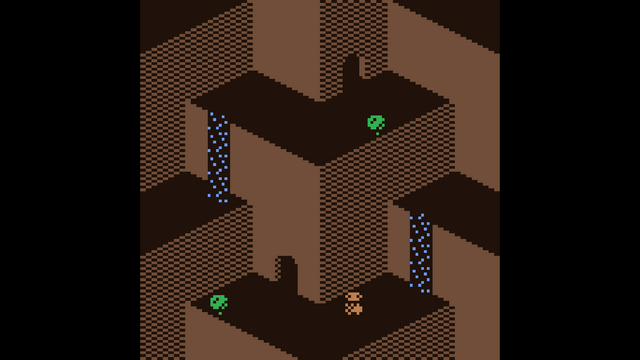 "Krapodorey" by Peter Februar.
In the best possible way, this game feels like a single-player version of "Snakes and Ladders" if it was designed by M. C. Escher. "Krapodorey" is a platformer that is filled with trapdoors and secret entrances in waterfalls. You must make your way through two environments: An exterior level of tower doors as well as climbable waterfalls and an interior level of hallways with ladders and trapdoors. For anyone confused by the title, "Krapodorey" is the phonetic spelling of "crapaud doré", or "Golden toad" in French. Playing as the now extinct species, your goal is to obtain five flies before making it to the top of the tower.
A light electronic track plays throughout, appropriately titled "Village of the Peeping Frogs", that helps keep you sane as you get lost in this tall tower and its dark hallways. It is a difficult puzzle to maneuver through, but that makes it all the more satisfying when you succeed. [PLAY]
---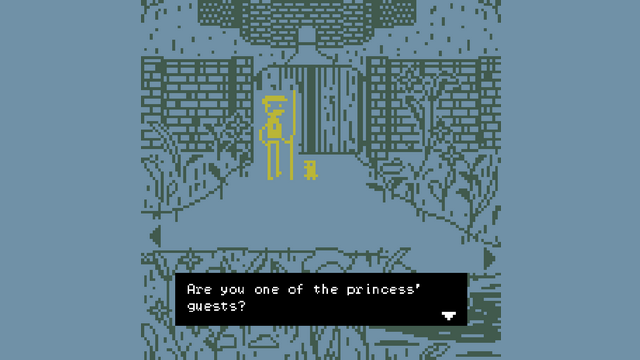 "Little girl's journey. Chapter 0 "Lost"" by Sasha Ines.
This game plays like a fairytale. I have turned into Lucy entering the wardrobe or Chihiro exploring the bathhouse. I have wandered into the woods at dusk and an impossible creature tells me that I cannot go home. As suggested by the title, this is the initial game in a potential series and this acts as the first puzzle in its story.
A small girl is lost in a world of large frogs and must ask a mysterious queen for help to return home. The music features a calm woodwind instrument and the sounds of a buggy forest. While many Bitsy games use a top-down perspective for the art similar to role-playing games, "Lost" uses a more illustrative perspective that belongs in a child's tome of fairytales. [PLAY]
---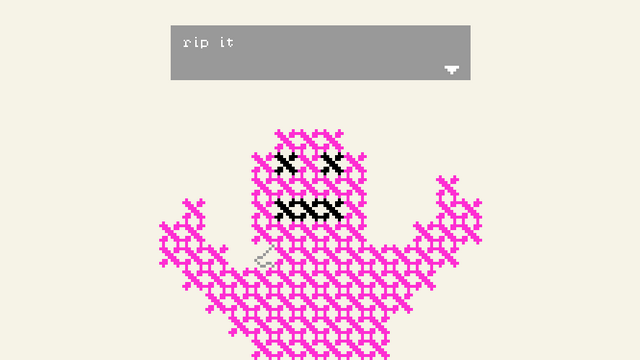 "Oh no" is a very short game about cross-stitching and mistakes. But what does that have to do with the frog theme of the jam, you ask? Do not worry: If you are unfamiliar with cross-stitch, it gets explained to you immediately.
"Oh no" is unique for its non-amphibian take on the theme as well as the inclusion of pixelated stitches that you interact with. This is not a new take, but it must be pointed out that cross-stitch and pixel art are, at the end of the day, the same and it is great to see a game reflect this. [PLAY]
---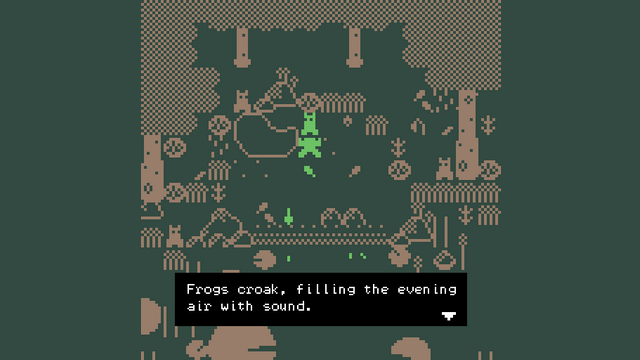 "A poem for the frog pond." by Fishfern.
"A poem for the frog pond." is exactly what it says it is. Each stanza of the lyric is its own scene in the pond and each line is accompanied by a contextually appropriate image. It is an excellent poem with romantic tones and reads like it could have served as inspiration to Henry David Thoreau at Walden Pond. [PLAY]
---
"pond city" by dino.
"pond city" begins with Froggy deciding to reach out to his friends for help. He experiences nightmares and does not know what to do to stop them, so Froggy travels around Pond City to get advice on what may cause them and how to get rid of them. The art is bright and colorful by using more than the default three colors per scene to convey the sereneness of the ponds and the stress that Froggy goes through.
Towards the end of the game, all the residents meet at the beach, but what you discuss with each of them is, cleverly, dependent on if you spoke to them previously. Ultimately, the game shows that you might not always find the answers you are looking for, but asking for help from friends and surrounding yourself with people who care is a step in the right direction. [PLAY]