---
---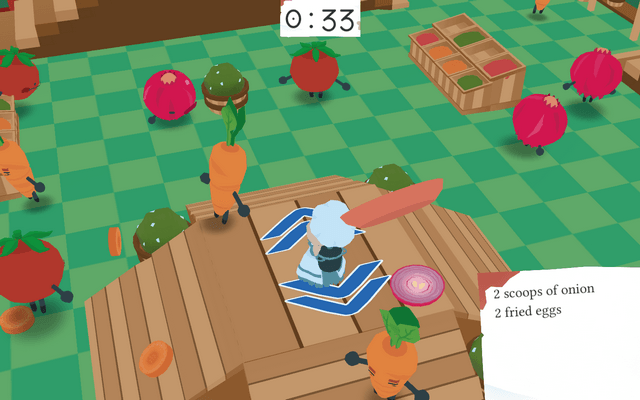 "Snack & Slash" by Gumboot (Brieyh'leai Simmons & Nic Lupfer).
In this deliciously looking hack and slash game you get a list of ingredients you have to catch to cook up the dishes your costumers want. Each ingredient has its own home and lives either in the fridge, pantry or produce area. Find and attack them with the appropriate weapon. Need to get some fried eggs? Just hit them with the pan. Looking for a chopped carrot? Get your oversized knife and cut them to pieces. But beware that you do not attack any innocent condiment, because if you do, the timer will go down by ten seconds.
---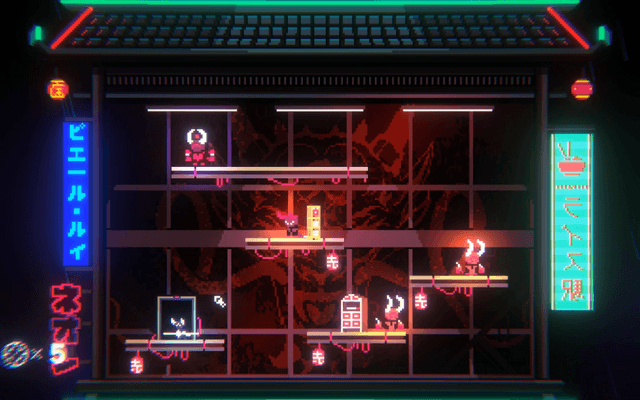 "Oni Hunter" by Nicolas Ceriani, Alexandre Villiers-Moriamé, Antoine Destailleurs & Guilhem D'Humières.
In this wonderfully pixelated puzzle stealth game you must place five marks to kill all your enemies at once with just one sneak attack. The more you progress, the more difficult it gets, as the later enemy types are placed wider away from each other, are equipped with an armor or simply raise the alarm when they see you in front of them.
---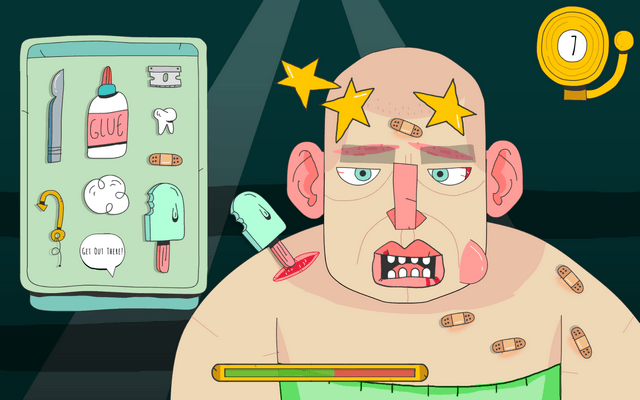 "Boxing Surgery Simulator 2000" by Michael Wilson, Scott Meyer & James Lloyd.
In this wacky jam entry you are playing as a boxing coach and an amateur surgeon at once. Motivate your mentee with cheerful messages and good advice when he fights, and after each round you have to take care of his wounds. Seam up his flesh wounds with a fish hook, glue him together or cool his bumps down with some ice cream.