---
---
"The Masterpiece" (Version 1.0, as far as I know) by Team Umbrella (Frederik Helgesen, Lizzy, Nono Kros & Cecil Opia).
Iris suffers from altocelarophobia – the fear of high ceilings -, so she carries an umbrella to avoid directly looking at them. During a school trip to the art museum, however, she loses her friend and umbrella. What will she do?
The version I played contained the first act of the game and is pretty solid! The interactions between the characters are decent and I liked the choices. I am looking forward to the final release. [PLAY]
---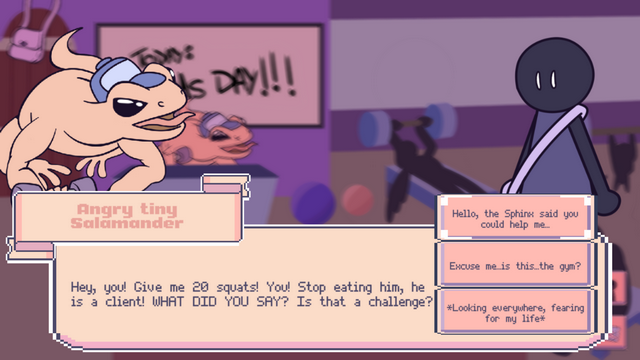 "Medieval favours" (Version 1.0, as far as I know) by Alev Ykehara, Paraparka, Satoshi Waku, Greg Gidney, Mike Young, Jasmine Osler, Nick Chang, Gale Rivera & Nina Nikolic.
You help out various medieval fantasy characters with their problems.
This fully voiced visual novel is also half point-and-click adventure! It really needs a tutorial or some kind of hint system, though; I could not quite solve all the puzzles. I like the art a lot though. [PLAY]
---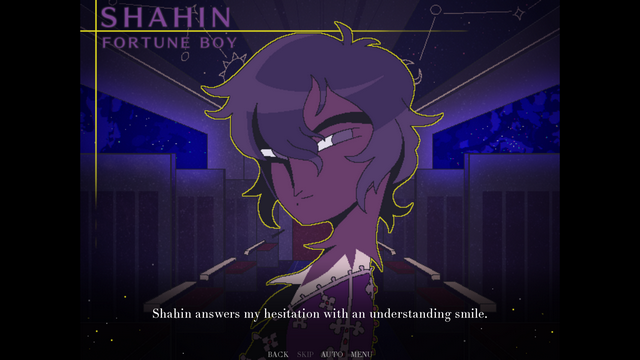 "Midnight on the Milky Way" (Version 1.0) by kalechips.
An amnesiac wakes up on a mysterious space train.
This reminded me of the visual novel "Train Of Afterlife", with a hint of "Undertale" in there. There are some fascinating characters and the story is also quite engaging. The pixel art sprites give the game a unique look for its genre. The version I played just included the first two chapters, but I hope that there will be more. [PLAY]
---
"Miku 24/7" (Version 1.0) by okenki, Kylian Oshiro, Cho 7, Gilou, Lucille, Dreamty_Dream, Anni Hõ, ansielho, Nev & A. Jesus.
In this fan visual novel, you play as a failed vocaloid producer who is a big fan of Hatsune Miku – and then she comes to see you herself!
Considering Miku is sixteen years old in vocaloid canon, I find the main character's obsession with her a bit creepy, but at least there are choices to make it more innocent. I like the protagonist's arc about learning to love and share their art. Same goes for Miku's advice to them: "Be cringe. Let it flow. Be free!" Also, the sprites are really expressive. [PLAY]
---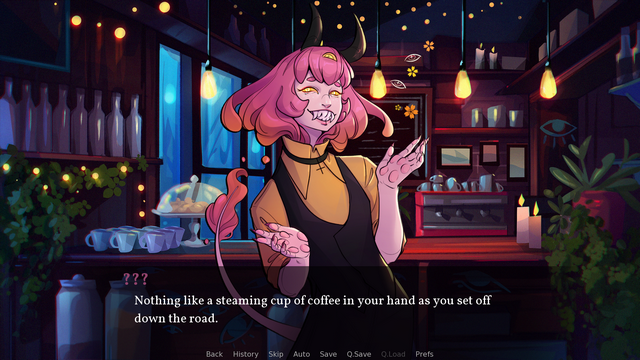 "Monster Café" (Version 1.01) by Kira Night & Vincent Night.
Enjoy the nice art in this monster cafe visual novel with its slightly spooky vibe. Here you can relax while creating whatever beverage your special customers desire.
My main criticism is that I wish the world was better established before the story gets going. Are monsters common in the world or not? Is the main character aware of their presence or seeing them for the first time? These are the kinds of questions that came to my mind. Also, there is a hilarious bad ending for putting glitter in a drink. I give this submission a rating of "Glitter out of 10″™. It is a solid game for any café and/or monster lover. [PLAY]
---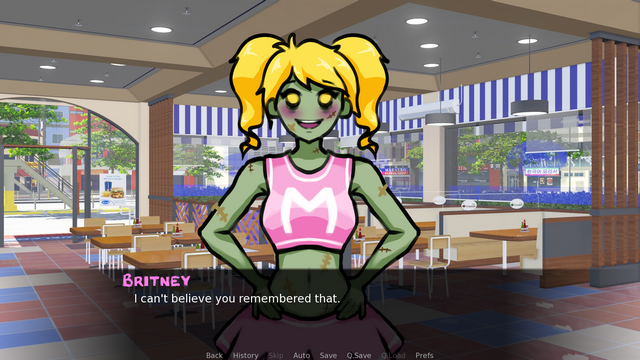 "MonsterMatch!" (Version 1.0) by bellavivi & ConnorV2G.
You have to bring a date to your sister's wedding. Find one on the MonsterMatch app!
As with "Intergalactic Matchmaker" and "Lizard Engagement," which I reviewed in the last part of this article series, you have a couple of candidates to choose from for the date. Unlike those two, you actually go on dates with the person before you secure them as "the One" (or in this case, "the Plus One for the wedding"). I like the different personalities of the characters and it's interesting how you can respond to them. All in all, this was a fun little dating adventure. [PLAY]
---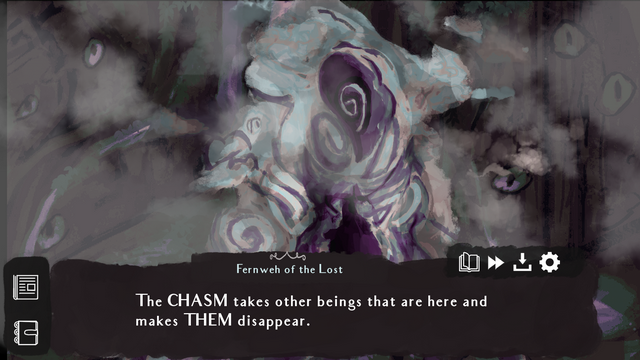 "A Monster's Insight" (Version 1.0) by arkicade, LGM & Sayumi Aikawa.
You are an eldritch abomination known as "the silver-tongued". Try to rule over them all. Heads up for some twisted imagery in this game.
The original music is haunting and is described as "creepy lofi hip hop". The painterly art style is gorgeous and the characters are engaging. The gameplay is also very interesting, but the tutorial could use some work. It does not tell me whether I want the red bar to run out or not, for example. But overall it is a dark and interesting game. Make sure to check it out! [PLAY]
---
"Moo Times Of Betsy, Episode 3: The Ocarina Cow" (Version 1.0) by Diana Chin.
This cute little game is the third in a series (after "Moo Times of Betsy, Episode 1: A Moo-tiful Beginning" and "Moo Times Of Betsy, Episode 2: The Dark Side Of The Moo"), which all originates from a webcomic called Lotus Cow Comics. It is from a mother's perspective, which is unique for a visual novel. I found the story charming and gripping. [PLAY]
---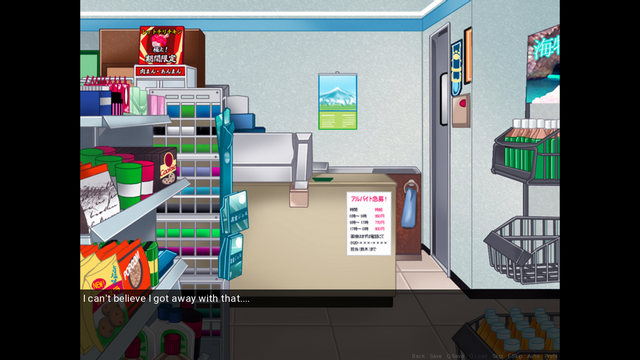 "Muted." (Version 1.0) by Kokoro Hane, Dewdled & Searchlights.
A man is left in darkness.
You can find partial voice acting in this submission, which I think is neat! Even though it is an April Fool's entry made in a single day, I found it short but sweet. [PLAY]
---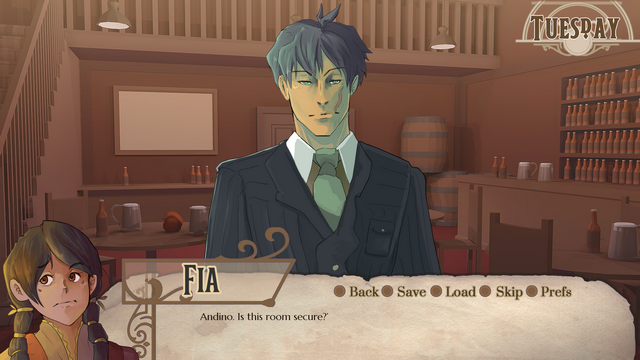 "A New Don" (Version 1.0) by Heiden & Z04.
A young woman becomes the head of a crime family in this otome!
The art is beautiful, the sprites are all animated and the story is thrilling. Plus, you have a pet hog. What more could you ask for? (P.S. I am a sucker for good swing and jazz music – and this visual novel has both!) [PLAY]
---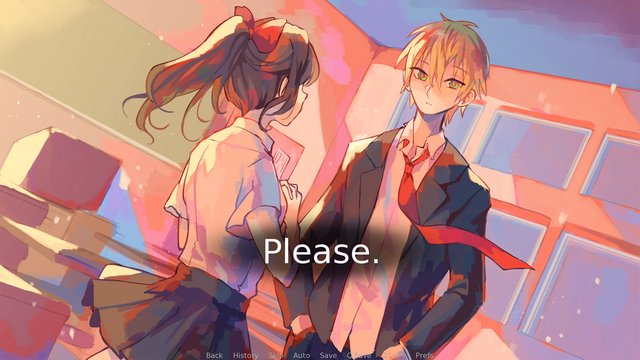 "Night in the Devil's Den" (Version 1.0) by say0ran, paripaws, ruewn, Frostbitten Snowball & Neale LaPlante Johnson.
A schoolgirl is being hunted. Meanwhile, she has a crush.
The art is pretty nice to look at and there is also some haunting original music. The twist about Elias is very strange and sudden, but I do not mind it at all. So get prepared for this teenage horror experience. [PLAY]
---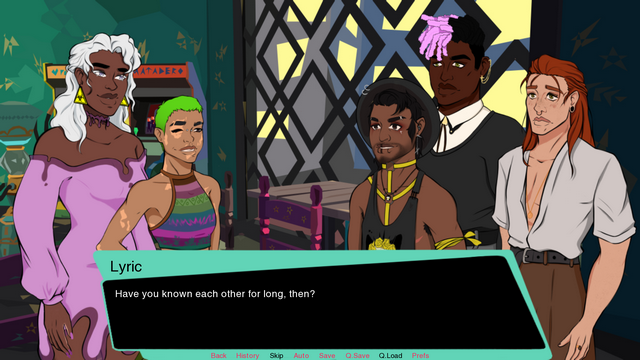 "Out Of A-Line" (Version 1.0) by Luci's Triad Games (Imocade, Astoreths & Rainbow Aspirins).
Become a model and an intern at the same time in this visual novel. It is available in English and Spanish.
The cast is quite diverse and there are even disabled characters here. The story is intriguing and the art looks lovely. I am looking forward to the final game. [PLAY]