---
In this seven-part article series, I will review all of the games submitted for NaNoRenO 2021 in alphabetical order. Eleven to twelve jam submissions are presented per text.
For those unaware, NaNoRenO is a yearly event where developers make a visual novel in a month. Everyone who submitted to this event should be proud – they made a game in a short amount of time, which is super impressive.
I also want to put out there that the authors of these visual novels are free to get in touch with me if they have any questions or want my more detailed opinions. Email me at mninorbez [at] gmail [dot] com or get in touch with me on Twitter @NaomiNorbez. Same goes for those of you who released demos in NaNoRenO: Feel free to tag me when the full game is out, because I want to see it! Please know that this is not a guarantee that I will play it, but I will at least cheer for your achievement.
Now, onto the reviews! Keep in mind that these are just my brief thoughts on each submission and that there will be some spoilers. I hope you will enjoy them!
---
---
"20 MINUTES" (Version 1.0, as far as I know) by Primate Dogma.
Comfort your dying spouse and reminisce about the old days.
This short and bittersweet experience is told with several twists and turns along the way. [PLAY]
---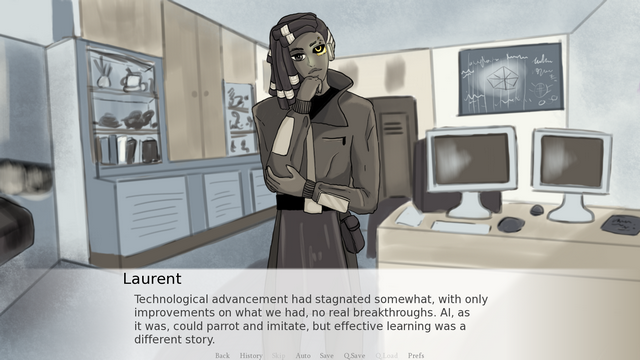 "ai:Imitation" (Version 1.0) by FanFaire (NerfQueen, Amphion & Mim).
A story about being an artificial-intelligence-android hybrid. You are being held captive – or cared for? – by your creator, Laurent.
The story is intriguing and I liked the choices you could make along the way. I am looking forward to seeing the full game. [PLAY]
---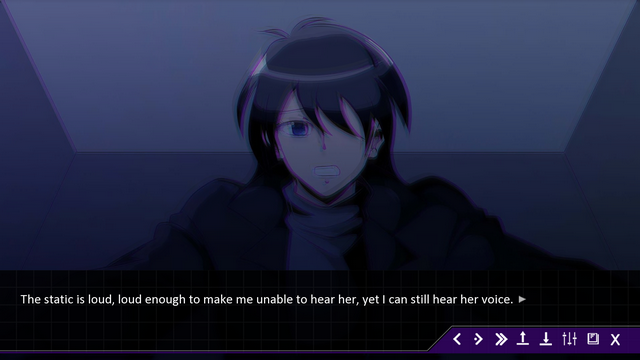 "ALLBLACK Phase 2" (Version 0.1) by NSAID, Charlotte Benton & UltraShiko.
The second part of a kinetic novel adaptation series. Even though I did not play the first installment, I was still able to follow what was going on.
The story and characters are both compelling, and I liked the used visual effects. I am excited to see how this plot will continue. [PLAY]
---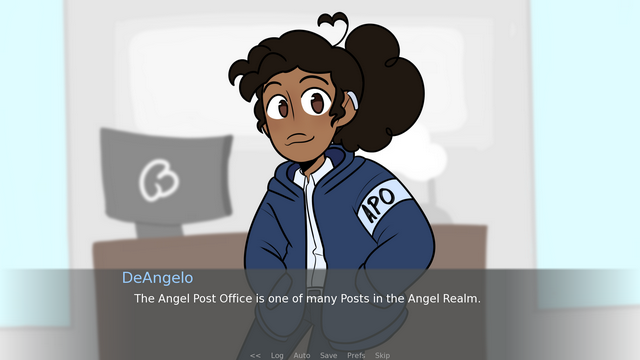 "Angel Post" (Version 1.0) by symliadoo.
You are a post office worker who is hinted to be working for God. Better get started on your first day!
I appreciate the option to turn on sound and image captions as well as the option to choose your pronouns. The demo is short but cute and comes with a very interesting premise. [PLAY]
---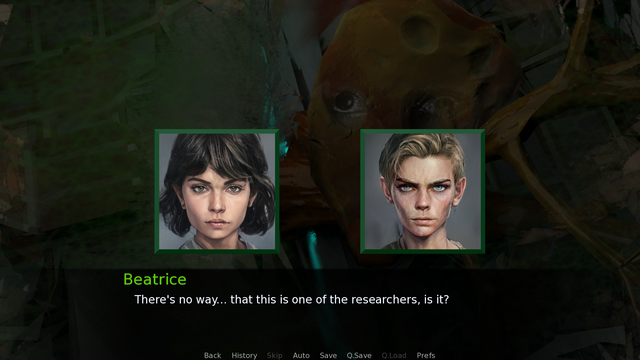 "Annulus Break" (Version 0.1) by krzyzis.
Heads up: This game contains a seizure warning and is about the horrors of fungi.
The banter between the characters is entertaining, while the story itself is fascinating and unique. So far you can only play the first chapter, but the complete experience will surely be just as good. [PLAY]
---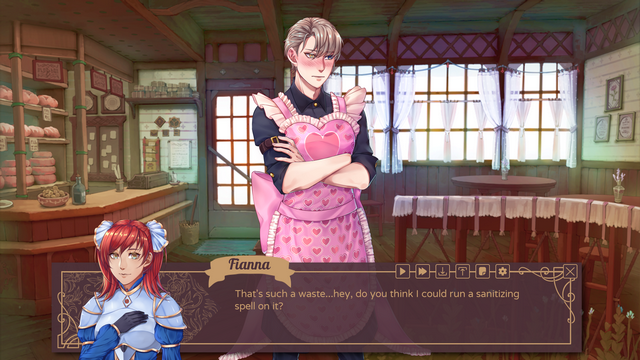 "Appetité Amor" (Version 1.0) by Azuremia, Akua, Pumpkin Spike, Foleso, Alli, Rinzamakani Games, Awiola, Tavian St. James & Midge.
You find a mysterious café owned by an otherworldly being.
The original music is nice and the graphical user interface is beautiful. I liked seeing Leon and the main character fall in love. Their interactions were very enjoyable. Overall, this is a very cute otome. [PLAY]
---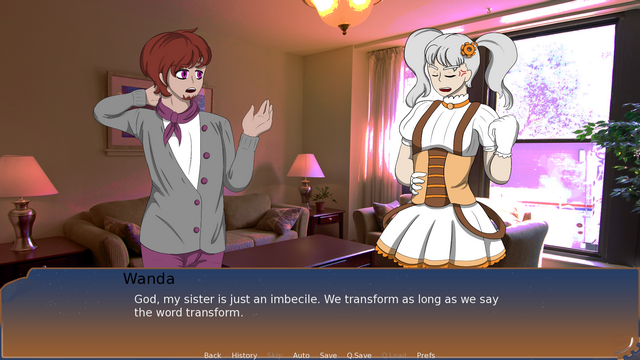 "Are You Certain About That?" (Version 1.0) by NyanBacon, BabyDev, Violet Porama, Curtis & Ammon.
I am not sure what to make of this one as the plot is a bit confusing. As far as I can tell, it is about a magical girl trying to pull a prank on her twin sister? However, the dialogues have been written in a sharp and witty style, while the art is quite nice. I especially liked the CGs. [PLAY]
---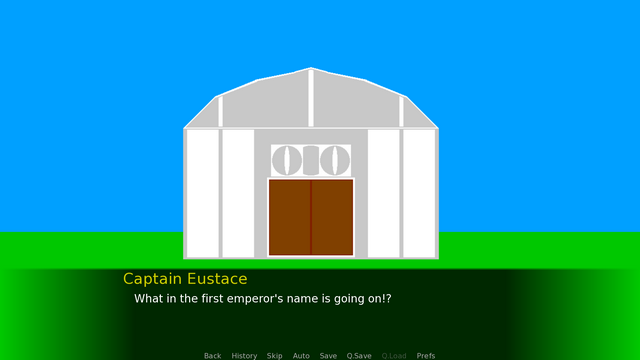 "Barbarian Detective" (Version 1.0) by NullXer.
Alwyn is a mighty warrior. Fighting ensues.
This is a short and simple project demo. I liked the writing quite a bit. I am curious to see if and how this prototype will continue. [PLAY]
---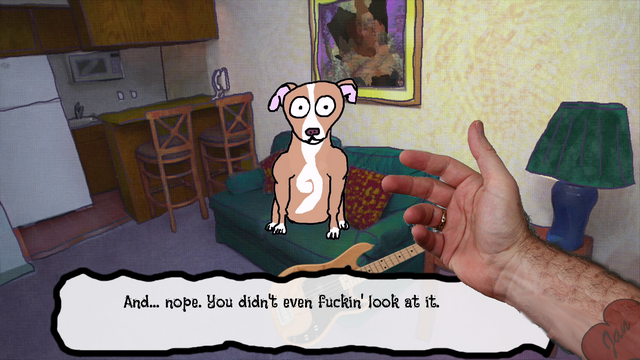 "Bass Buddy" (Version 1.0) by Yoss III.
Teach your dog how to play bass during coronavirus quarantine. There is lots of adult language in this one.
I love how there is a hand on screen that you can move around. The dog is also animated really well – especially in the credits scene. All in all, a short and silly game in the best sense. [PLAY]
---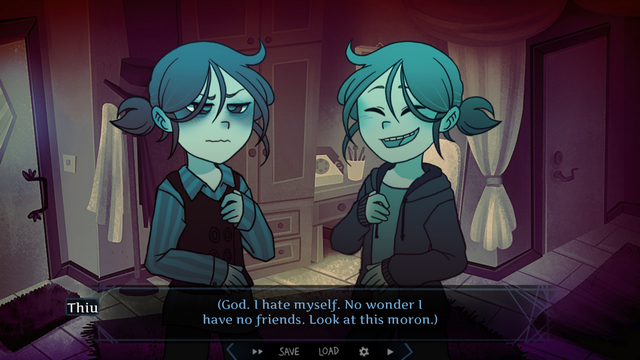 "Better Half" (Version 1.0) by Nemlei.
A desperate depressed man goes to get a spell to make him happier and ends up splitting his soul in half. Heads up for talk of mental health, depression, suicide, self-harm, some references to abuse as well as adult jokes and language in this one.
The humor in this game is pretty dark, but as a person who used to struggle daily with depression and suicidal feelings, it really clicked with me. There are some hilarious jokes here. There was also some serious discussion of mental health issues that I appreciated. The story is compelling and the character interactions are interesting. What more could you ask for in a visual novel? [PLAY]
---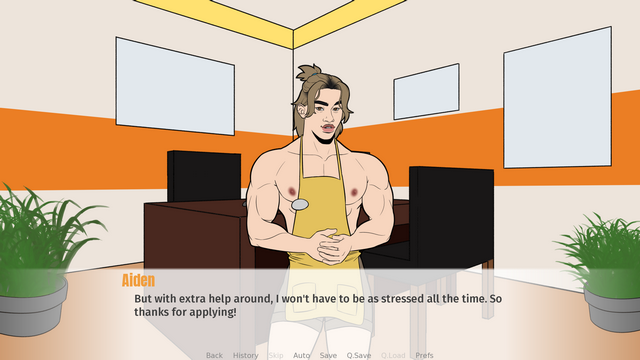 "The Big Squeeze" (Version 1.0) by Droppindraws.
You are the latest employee at a himbo juice bar. As you can imagine, this is an adult visual novel.
The demo shows off the premise well. I am looking forward to the full game. [PLAY]
---
"The Blue Cloth" (Version 1.0, as far as I know) by Eymon.
Levis is a mage travelling with Alfrin; join them in their journey. This game contains explicit content.
The sex was kind of predictable, but it serves the plot fine. The story as well as the characters are both engaging and I like the art. [PLAY]