---
---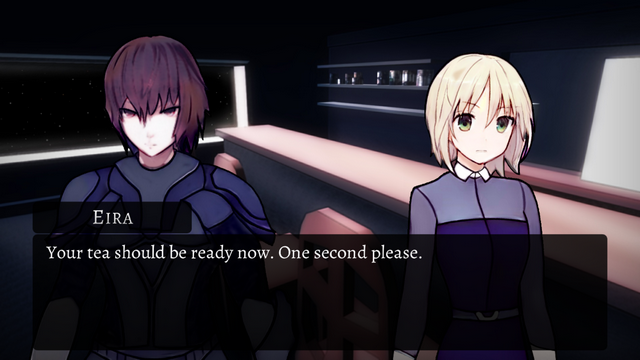 "Tea Minus" (Version 1.0, as far as I know) by Tsunscreen.
Eira works at a tea house in space. Serve customers and chat with them.
It reminds me of games like "Coffee Talk". I like the atmosphere and characters in this short visual novel, which definitely makes it worth playing. [PLAY]
---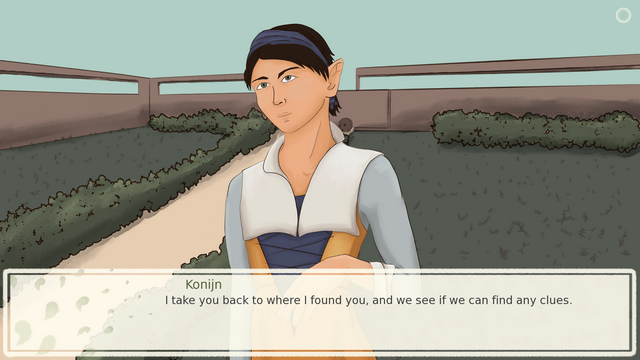 "The Terrible Persistence of Memory" (Version 1.0) by Ashe Thurman.
An amnesiac person wakes up in a hospital.
The overall package – the story, characters and art – were really enjoyable, especially since the worldbuilding is fascinating. Also, this visual novel has an all enby character cast, which is awesome! There is even a poly route planned. [PLAY]
---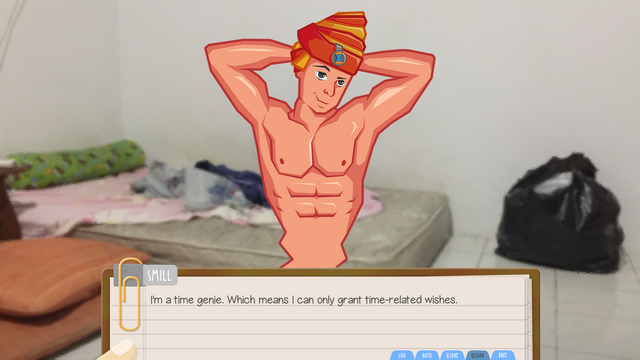 "Time Shaker" (Version 0.1) by No Good Studios (Jaka Kharisman & more).
A shirtless genie appears before you to grant your wishes. The twist is that all the wishes he grants are time-related.
What makes the plot quite intriguing is the central puzzle: You have to try to get a job, which means acing your interview. However, it is really hard to do this. I also did not like how the only black character in this game is a mugger – it screams of stereotypes. Still, the gameplay makes it a nice little demo. I look forward to seeing what the full game has to offer. [PLAY]
---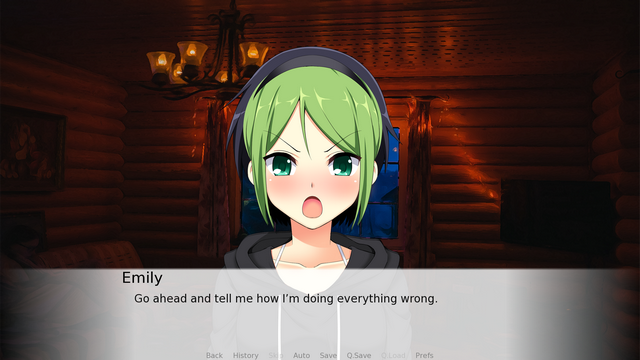 "To Their Dark Wintry Bed" (Version 1.0) by Stolen Pebble Games.
Emily is trapped in the cold woods with her boyfriend, whom she hates. To quote the content warning, "[this] game has strong language, isolation, and arguments possibly bad for people experiencing relationship problems in quarantine."
James and Emily's relationship is very, very unhealthy. I hope that when the game comes out of its demo status, it ends with their breakup. As it is, this is just a slice of the experience and ends very suddenly. [PLAY]
---
"Vignette" by Watercress Studios (Tristan Barber, Nat Burns, Matthew Cantwell, Zodai, JellySnek, Alison Huang, Sagittaeri, Maxi Molina Juan, Paul Robins, Maddie Andersen, Deo, JAE, Shahar Hod, AnagramDaine, TheAlchemyst, Ariane Marchese & Kenkoy).
Two siblings create a secret hideout.
I like the accessible subtitles for the sound effects and that there is also full voiceover in this game. The story is sweet and melancholic in a wonderful way, making this short visual novel a truly affective experience. [PLAY]
---
"Visages" (Version 1.0) by N30HRTGDV.
The developer describes his visual novel as a "[dystopian futuristic novel] loosely based on Aldous Huxley's ["Brave New World"]".
It is certainly a gripping entry, especially for me as a sucker of dystopian futures. It touches on some dark topics like eugenics and altering the genetic code to make people 'better'. So far, it is a short but already promising demo. [PLAY]
---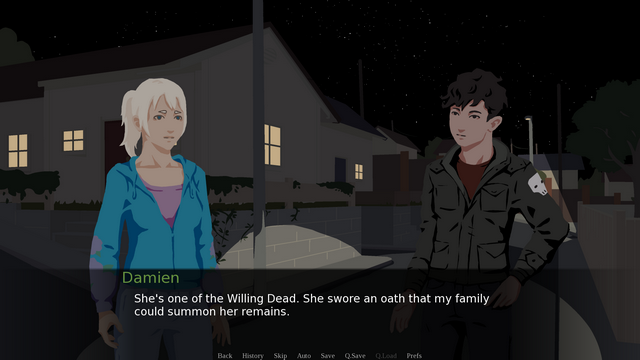 "The Wandering Labyrinth" (Version 1.0) by Caitlin Crady & John Leonard French.
Micah and Damien try to tolerate each other as Micah adjusts to her new life.
It is unclear whether Micah and Damien are cousins or not, but it does not really matter. We get a glimpse of the friendship they develop as they face magic of different kinds. I have enjoyed the story and visual effects so far. However, since the demo ends with a big cliffhanger, I will have to wait a while before exploring the plot further! [PLAY]
---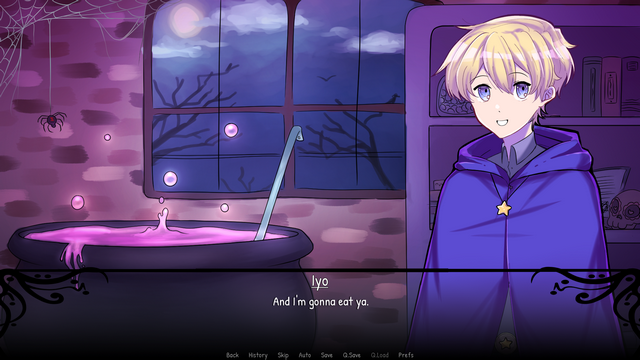 "WITCH SOUP" (Version 1.0) by Ohisashi.
A witch wants to eat you in a soup!
I love the music in this one and enjoyed the good art. The banter with our hungry counterpart is also entertaining. So if you are looking for a solid and amusing entry with over ten different endings, you have finally found it. [PLAY]
---
"Witch Tales" (Version 1.0) by Toxic Squad (Sam, Athe & Illy).
This visual novel is about an amnesiac who gets patched up by a stranger. It is available in Spanish and English, so I was able to play it.
There are some point-and-click elements in this jam submission, which were nice. The gameplay is engaging and the questions raised by the storyline are interesting. I am looking forward to seeing more! [PLAY]
---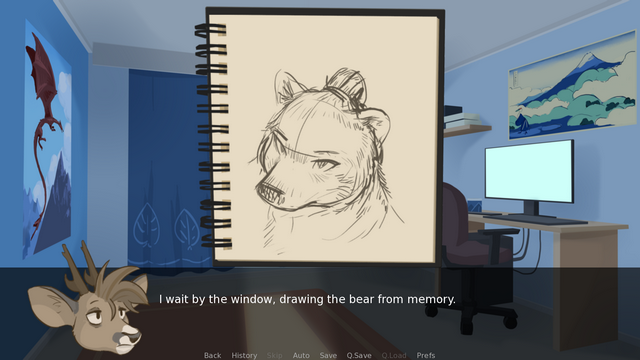 "Yoga Bear" (Version 1.0) by high-tea & cygni.
This is a charming visual novel about a gay crush.
In the background, it is also about an artist trying to make their big break, which I can respect. I found the main character relatable and adorable, and I am glad there is a happy ending. If you like cute gay games, you should check this one out! [PLAY]
---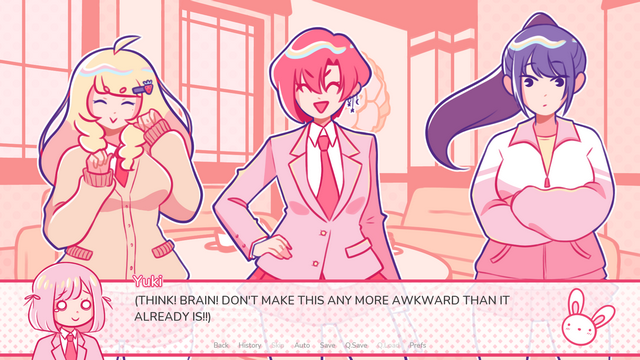 "Yuki's Palpitating, Passionate, Phenomenal, and quite frankly Proficient quest for a (hot) girlfriend!!!" (Version 1.0, as far as I know) by milkkylemon.
This cute little visual novel is a yuri game about getting a girlfriend.
I like the art style and the story has plenty of funny moments (I just loved the "plot-convenience banana peel"). A trans character makes my heart happy – and polyamory as a solution is unlocked in the true ending, which makes me even happier! [PLAY]
---
So… That is it everyone! The last part of my series of articles about the NaNoRenO 2021 game jam is now complete. Now if you will excuse me, I am a little "VNed out", so I am going to take a little rest. Until next time!