---
---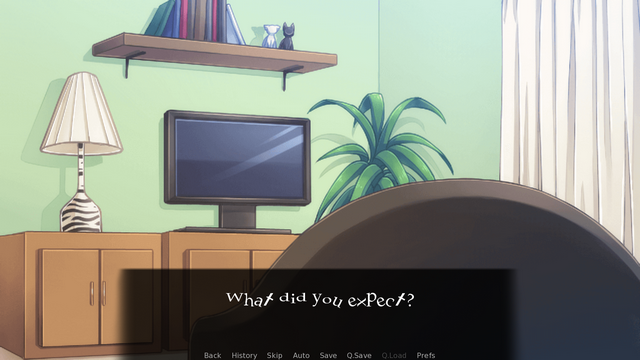 "The Dark Place" (Version 1.0) by Robin Middleton.
This is a personal visual novel. Heads up for the discussion of anxiety, self-harm and depression in this game, along with depictions of bullying, homophobia as well as transphobia.
The text effects are outstanding and I liked how it handled the topics above. My only complaint is that it ends very suddenly; I would have liked to have seen a more fleshed out ending. Overall, it is an interesting and mature game. [PLAY]
---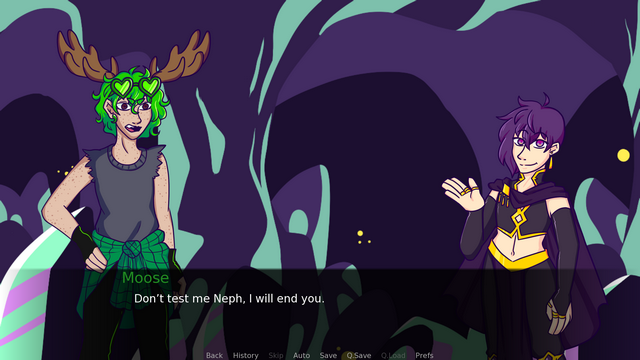 "Darkest Timeline" (Version 1.0) by Nephalope & ThatDernMoose.
Moose and Neph are fighting over a princess.
I liked what I played in this very short demo. The art is good and the character interactions are amusing. I am looking forward to the full game! [PLAY]
---
"Dimlight Cafe" (Version 1.0) by Celestea Productions (ivyThesaurus, cheonbyeol, Ciarán Jai Cosway, Sir Waffles & Team Badass), Carly Danielson, Sam Marshall, Reed Kriner, Alice Himora, Eli Brennan & Brittany Ann Phillips.
A star falls to the mortal realm and is forced into a challenge by an elf. Now you must make mortals happy – or die trying.
The custom soundtrack is very pretty. There is also a surprising amount of character customization involved, which is always a nice treat. The art is lovely and there is even some voice acting, too. If I had one single criticism, it is that I wish the cast was a tad more diverse (there are different species, yes, but they are all very white). All in all, it is a sweet, relaxing little demo. [PLAY]
---
"Dream Team" (Version 1.0) by PRINCESS INTERNET CAFé.
This is a very strange visual novel about the concepts that appear in your dreams. There is mention of alcohol in this one.
The game is charming and fun to play; it also offers a fascinating little philosophical journey. I love the pixelated art style. [PLAY]
---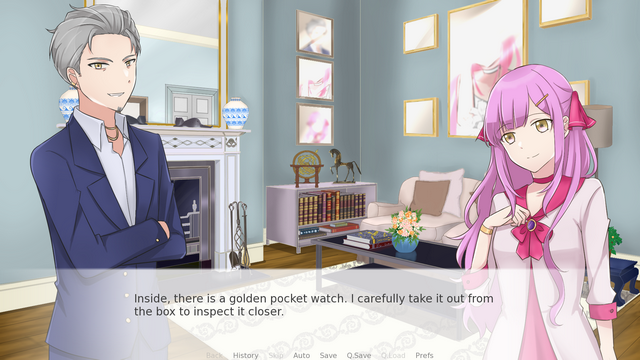 "Eternal Flower:Prologue" (Version 1.0) by Altila.
A girl gets a magic watch that can turn back time – and it changes everything.
The storyline is very interesting and I am sad that this demo ended so suddenly. I want to see more of this! [PLAY]
---
"Fantastic Poor" (Version 1.0) by Abegail C. Geronimo.
You are a high schooler at a new school. There are boys and implied romances to come.
I am not sure how cozy I am with a seventeen year old having a possible relationship with a nineteen year old. If the main character was of age, I would feel more comfortable. But it is still a short as well as sweet little demo with a promising premise. [PLAY]
---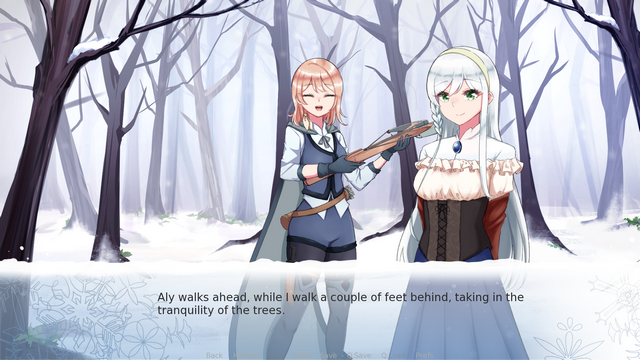 "Flowers which Bloom in Winter" (Version 1.0) by Kimiyoto, Rokuuso & ds-sans.
You are a prince who runs into some trouble in the woods and wakes up with two women tending to your wounds.
It is a pretty short demo, but I like the character interactions and am excited to see where the plot is headed. [PLAY]
---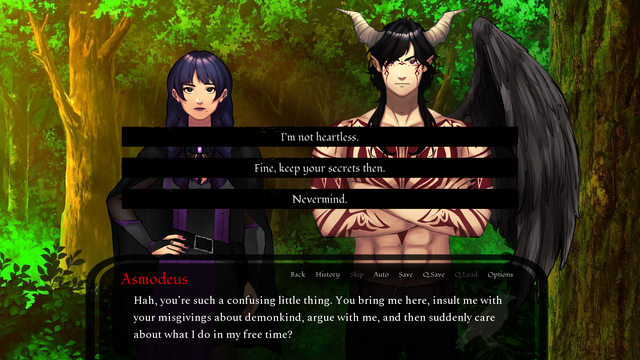 "A Forsaken Place" (Version 1.0) by LegendEx Games, Ahwy, Red Chan, Cats on a Lilypad Studios, K. Ray Nadeau, Skyeblue, Sandrine Price, Allen Chan, Bryn Curry & Ryan Hoyle.
A wannabe black magic caster summons the Demon Prince.
I cannot stress enough how impressive it is that this visual novel has full voice acting! The character interactions are interesting and it was a nice experience to shape the protagonist Titania's path to my liking. [PLAY]
---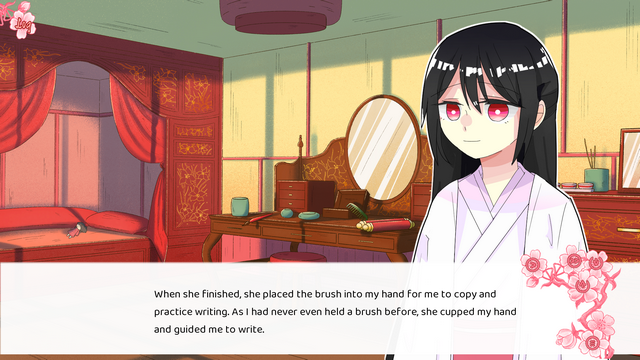 "from that moment she neglected the world" (Version 1.0) by shino, Damare, Jasper, waffrus, cygni & Michael Sheridan.
Heads up: This kinetic yuri visual novel about a fairy and a human contains blood, violence and death.
It is a calming, relaxing game… Until it is not. [PLAY]
---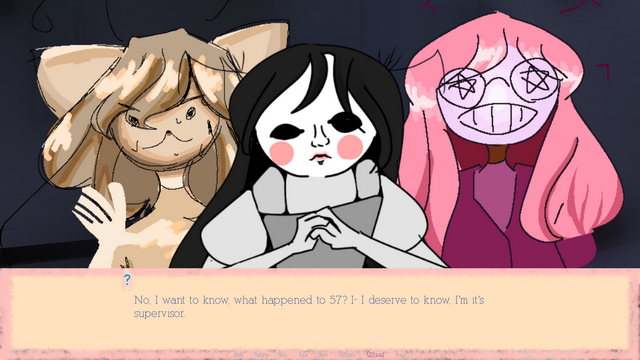 "Gushers" (Version 1.0) by Peachysnaps.
You are head of Colony 57. Unfortunately, that colony has been demolished and you wake up in a mysterious facility.
This prologue demo is very short, but I have liked what I have played so far. I am looking forward to more. [PLAY]
---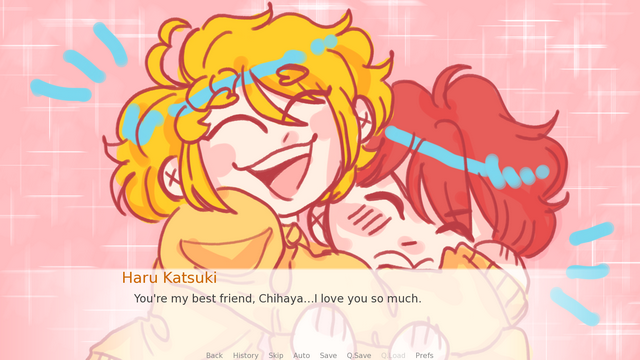 "haruki's magical adventure !" (Version 1.0) by kryouma.
A short magical boy story about kids in love. It is a cute, kind-hearted time, one that I really enjoyed. The art is adorable and the story is simple – until the twist at the end, that is. [PLAY]
---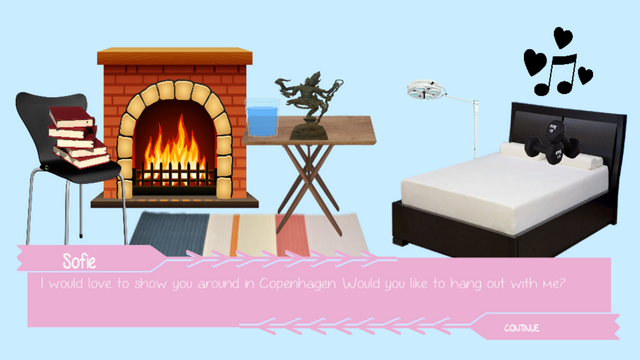 "Hygge game" (Version 1.0, as far as I know) by Velocity, Stellarlights & MaYa.
Nicolas has just moved to Copenhagen. Sofie teaches him about hygge.
I liked this short and also somewhat educational project. [PLAY]