---
---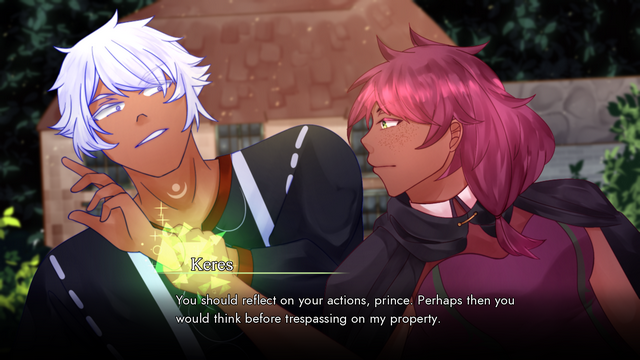 "Burden the Witch" (Version 1.0) by starishsky.
You are the witch of the woods. The First Prince of Mesec wants your territory. Heads up: This game contains flashing lights, but you can turn them off.
The banter between the dialogue is quite good and I like the art. There are two other games in this series that play in the same world ("Mark of Lost Royalty" and "Vestr's Story"), but playing them is not necessary to understand this one. All in all, this is an entertaining and interesting visual novel. [PLAY]
---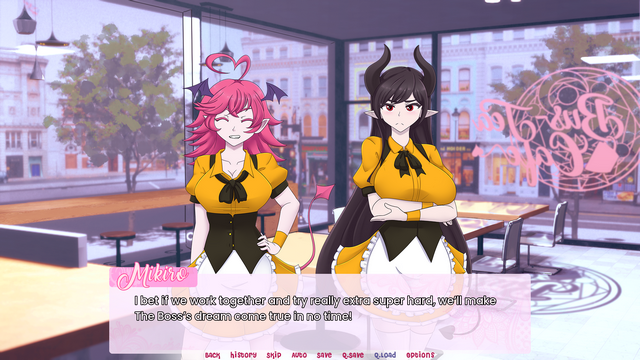 "Bus-Tea Succubus" (Version 0.9) by Kris Chuback, Jon Fawkes, Cabrony & Michael Bateman.
This is the story of a succubus who gets tricked into working at a tea shop. As you can imagine, this submission contains adult situations, adult language and nudity.
I especially liked the teasing between the characters. It was very entertaining and they all bounce off each other well. However, there are some awkward moments (like the panty shot that I disliked). Keep in mind that this is not the full game yet, just a portion of it. I like what I played and am looking forward to seeing more. [PLAY]
---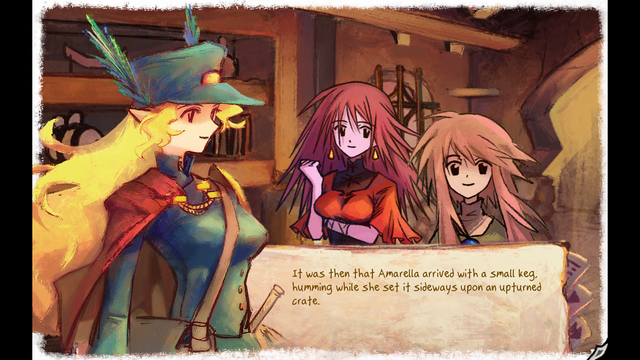 "Canvas Colors: In The Moving City" (Version 1.05) by UnfinishedCircl (ffgghhjj, CF2, Lambic, forgetful, James J, Fuel & Hoa).
A postwoman is traveling with a young girl.
The painterly art style is beautiful to look at. There is also an original soundtrack, which is very nice. The character interactions as well as the story itself left an engaging impression on me. [PLAY]
---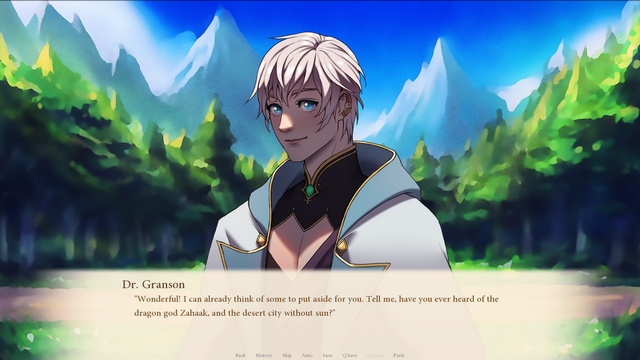 "Catching Fairies" (Version 1.0) by asrielle.
Hari's doctor believes in fairies. Meanwhile, there is a spirit in the forest…
This short but sweet demo does a great job of portraying the characters and the world. I hope there will be more to play one day! [PLAY]
---
"Clementina y la luna roja" (Version 1.02) by Mario Matalla.
Sadly I could not play this one because I do not know Spanish, sorry! The art looks delightful though; I love the style. [PLAY]
---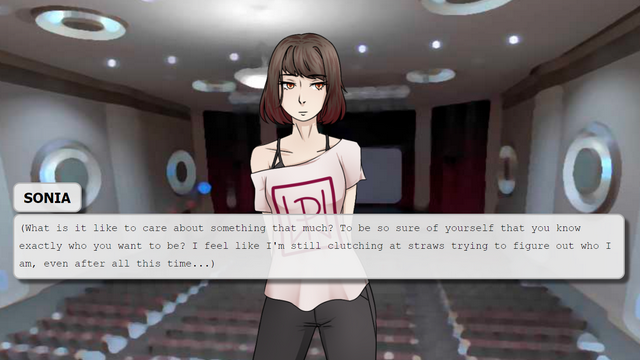 "Confession Center" (Version 1.0, as far as I know) by TinySamm.
A queer convention-goer has three days to confess their love.
As someone who has done a few Twine Visual Novels myself, it makes me really happy to see some made for NaNoRenO! I love the relationship between all the friends in this story; it is depicted very well and it is also clear that they are a close-knit group. Overall, this is a solid demo. I am excited for the final game. [PLAY]
---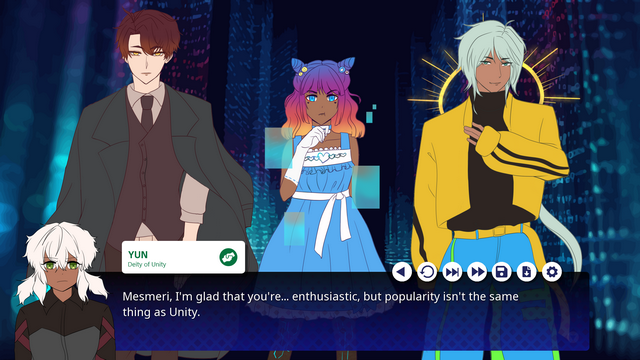 "Contemporary Gods" (Version 1.1.0) by Forget-Me-Not Games (Fang, picofarad, ExistentialDev, Nacchi, GoingGoingKeith, Rahul Yerramneedi & Yvonne).
You are the god of unity. Try to keep the realms from falling apart.
You can set your appearance and pronouns in this one, which is nice. The character design is a real spectacle, as there is, for example, a goddess of social media, which is kind of amazing, and a god of capitalism, which scares the shit out of me. I also like the little icons next to each deity's name. The story is engaging and the characters are fun to watch. All these positive aspects make it a fascinating adventure. [PLAY]
---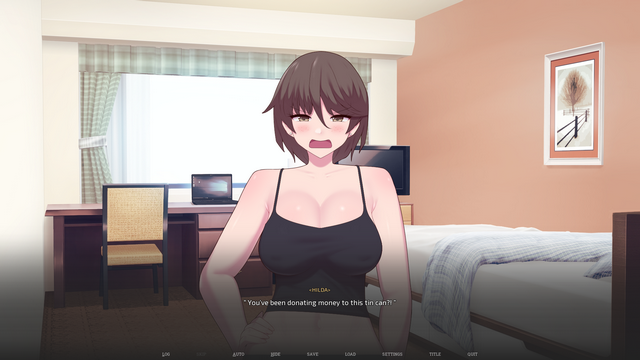 "Coppélive!" (Version 2.10.3.3.0) by IcyValet.
This is a modern adaptation of "Coppélia", featuring a young man obsessed with a VTuber named Peli. Heads up: This is an erotic visual novel with adult language and explicit content. I played the standard edition, which is available for free.
The sex scenes all served a purpose in the story, and do their job serving the plot well enough. That said, the situations that the main character Frank gets into are a bit ridiculous. Plus, I am a little uncomfortable with how much Frank sexualizes Hilda, his best friend turned lover. I mean, he straight-up admits he's a pervert – yikes! However, there is some good emotional thrust (heh!) in this. The part where Hilda dresses up in the Peli cosplay was really good. [PLAY]
---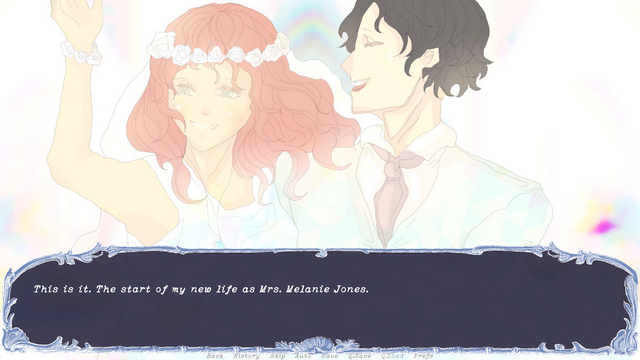 "Cracked Moonstone" (Version 1.0) by Vivian Pyres.
Melanie is getting married. While this visual novel is still in development and so far the following aspects are not in it, the game is expected to include implied non-consensual consent and body horror in the future.
I played the preview build and liked what I saw so far. [PLAY]
---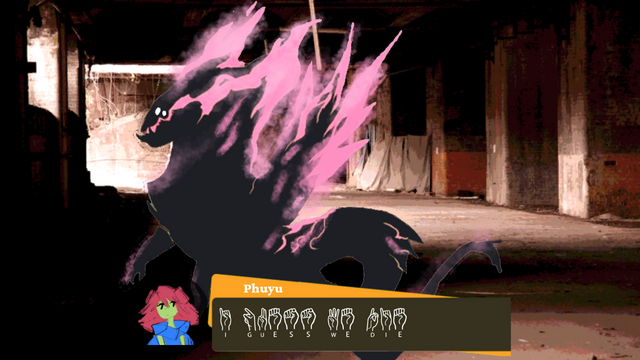 "Cyberpunk MAGICAL Girls" (Version 1.0, as far as I know) by Rusty & Naomi PK.
Sami and her friends try to defeat a kaiju. This submission contains adult language and situations.
The skirmish between Sami and the other girls is pretty good. There is also a signing character named Phuyu, which is pretty rad – though it is revealed later that she can speak, and the game treats this like a big surprise. The choices are timed, which is different, not that they seem to mean anything. All in all, I found it to be a decent little game. [PLAY]
---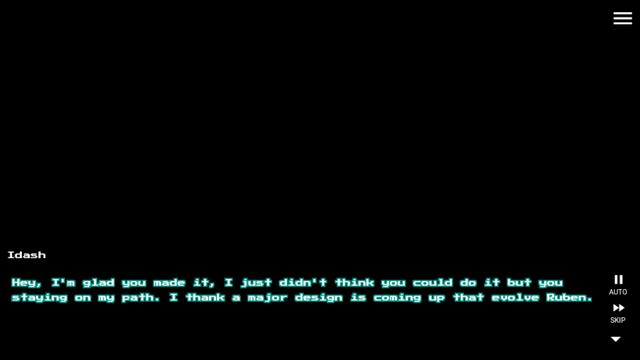 "Daddies Boy Volume 1" (Version 1.0, as far as I know) by Infinity Tail Games.
This would not run on my Android phone, so I had to download an emulator to play this one, which was a tad annoying. Regardless, this game is about three kids from various parts of space. Heads up for adult language and guns in this one.
The story is quite amusing, while the music is bizarre, but fun. However, this game has no visuals. [PLAY]
---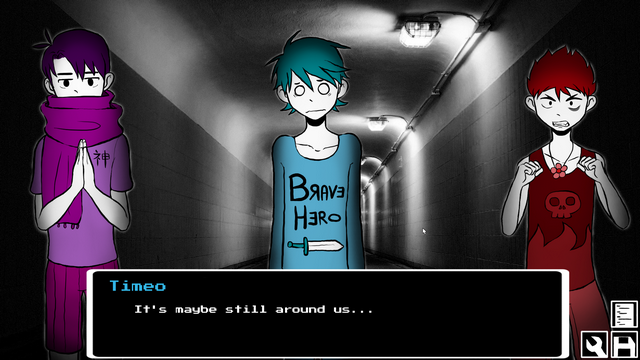 "Dark Onirisme" (Version 1.0) by Overtired_FOX.
A stylish horror visual novel with point-and-click elements. I thought the story and puzzles were really fascinating. The mix of game types worked absolutely well and I enjoyed seeing the characters interact. The game also has a pretty tricky puzzle at the end, but I solved it on my own and I am proud of that! It ends on a big cliffhanger though, which is why I hope the developer makes a sequel. If you do not mind some horror elements, give this a try. I loved it. [PLAY]