---
---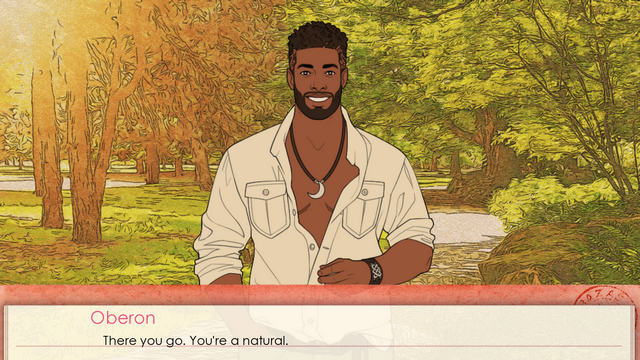 "Fated" by VOW Together.
You are a postgrad student who gets hired to work at a café. Shakespearean characters you meet, and will you fall in love with one of them as you get better at your job?
It is a very cozy coffee experience with a lovely art style. Unfortunately, there is currently no sound in the game, which is kind of a bummer – but otherwise it is a solid title. [PLAY]
---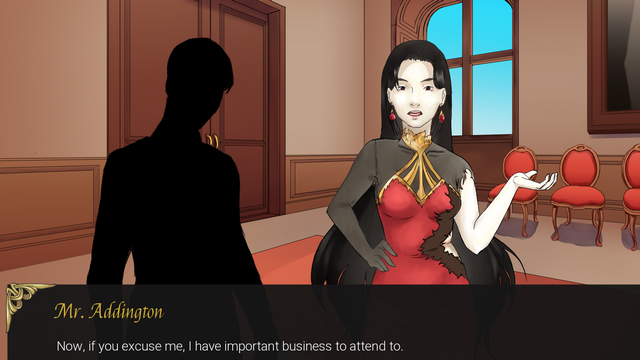 "Imperial Deception" by Claw, Rob Burnley, NiAsobu, Huntress_Mel & Applecandys.
In this two-player game, you will be either a saintess or a noblewoman who aspires to the throne. Will you be able to earn it?
It is an interesting premise, though I would not call this an otome game; it is more focused on the strategy elements than the romance parts. That said, it is not a very strong multiplayer experience: It is mostly one player controlling the game, and the second player gets to make a choice every now and then. If it alternated between the two players more often, it would be way stronger. All in all, it is a very unique game, but the implementation of its ideas left some things to be desired. [PLAY]
---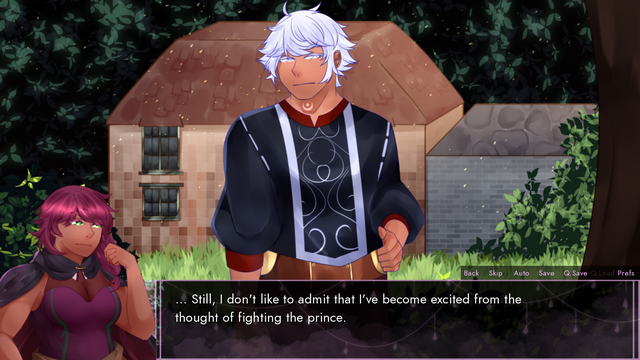 "Curse and Contract" by starishsky.
You are the witch of the woods. Can you protect your forest from trespassers?
This is basically an extended or rather alternate edition of the developer's NaNoRenO 2021 entry "Burden The Witch", which is a bit odd for a jam game, but also cool. It still seems to be a demo though, as there are unfinished paths at the moment. You should keep in mind that there are transitions that may affect photosensitive people, but thankfully you can turn them off. Overall, the graphics are good, the music is well chosen and I liked the story, so you should check it out. [PLAY]
---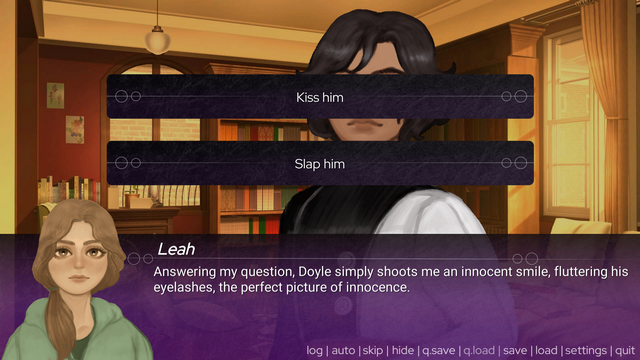 "Apartment No.9" by Melancholy Marionette, Maneki-Mushi, sophrossynes, LazyCrocodile, Desichan, Lilal, Rae Gibson, Ron Guan, Lars van den Haspel, Megan Gotham, rodas1e, CloudyDecember & Timothy Smith.
Leah is an elementary school teacher who is dating Akuji, an actor. When a homeless man finds her purse, her life changes in a completely new direction.
I would not call this jam submission an otome game, but this is a really, really interesting one: It has a lot of time skips and events and my first playthrough was a beautiful display of Leah absolutely ruining her life. I also liked the watercolor art style, and there is voice acting too! I have to say, it is quite the engaging experience. And I will not give away the twists that occur, but trust me when I tell you they are simply amazing. You do not want to miss out on that one! [PLAY]
---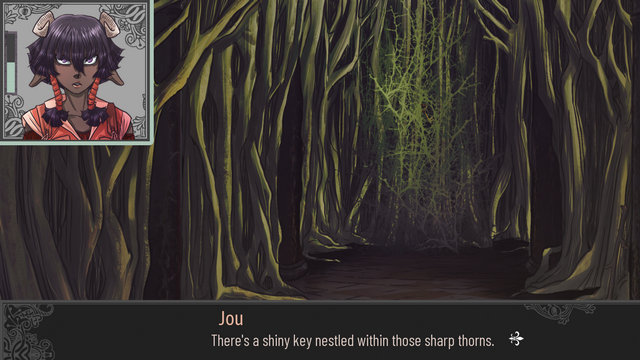 "Soul Labyrinth" by coffeedripstudios (Jennifer Lee Quick), Zeil Learnings, Leporine, Maggie Wehler & Kerry Cobuccio.
Jou receives her final test from Master Yaulan and the order to train someone herself. Can she do it?
This not-too-"otome" but still intriguing game features some pretty tricky point-and-click segments – so tricky that I had to ask the developer for a walkthrough. The problem is that some things are too small to see, and other specific clicks I found to be a challenge. It is hard to tell what is supposed to be part of the background and what you need to interact with. The puzzles are interesting, but they need a little work. [PLAY]
---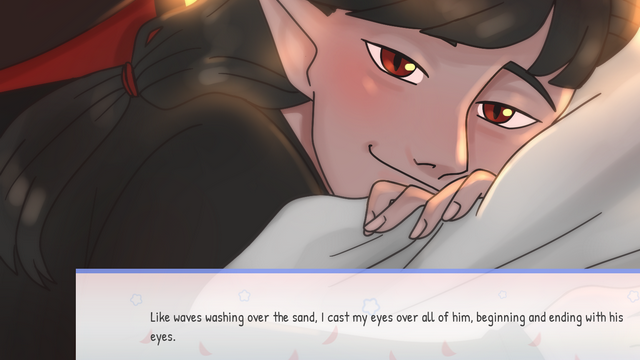 "Sinless: on Middle Ground" by serpentsBreakdown, Lilal, Shy Den, Jennifer Thuy Linh Tran, Kati Anderson, Shie, Sayumi Aikawa, Midge, instantalpacaqueen, Edward Lutz-La, Vincent Fabbri, Callum Garner & Aidan Cameron.
You had visions in which you flew to heaven and hell. One day you meet an angel and your life changes drastically.
Compared to "Deliver Us From Evil", which I wrote about in the second part of this article series, this jam entry offers a very different take on angels and demons. There is also some sweet partial voice acting. My main complaint is that the game has mostly one music track that loops, so it becomes quite repetitive. The music does change, but not too often. Other than that, it is a solid project that I can recommend. [PLAY]
---
"ITYH: a horror otome" by Amiralo.
Last but not least, I would like to mention "ITYH: a horror otome": It has been submitted for the jam, but has not been released yet. The developer told me it is expected to be released in about three months, so look forward to seeing it sometime later this year. It certainly looks promising! [PLAY]
---
These were all the games of the Otome Jam! I hope you enjoyed my reviews and, if you were part of the team behind one of these games, that they were even somewhat helpful to you. Thanks for reading them to the end. Until next time!