---
---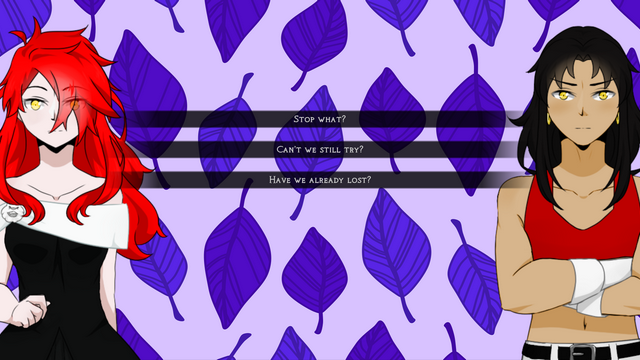 Princess Zella of Brunaria needs to marry in order to take the throne, but a nearby empire wants to take over her kingdom. Can she find the perfect spouse to rule with her and save the land from destruction?
While this visual novel has a quite strange combination of art styles, you have to keep in mind that it was created by only one person – when you are a solo developer, you need to use all the resources you can get. Trust me, I have been there. There are also some quick time events, but they do not have stakes. You can just try them over and over again without losing, as far as I can tell.
Finally, I personally thought that the romances were all kind of weak because you barely have time to get to know the love interests. Also, there is only one choice at the end for you to choose who you love. However, I do like how the kingdom has different futures depending on who you choose, I just would have liked to see more of the actual romance in the plot. [PLAY]
---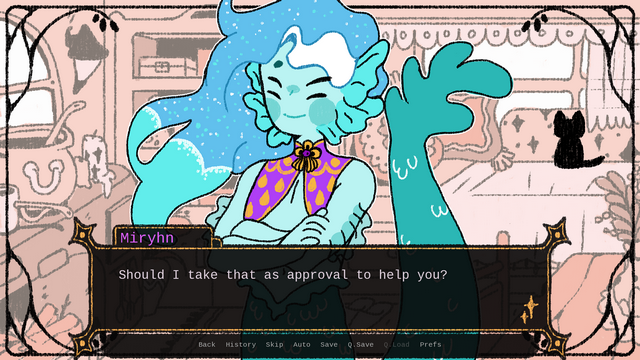 "The Witch and Her Assistant" by MagicBench, Salvador Garza Garza & Ririkutai.
You are a witch and you live in a cottage with your salamander Sally. But your work is deficient, and you wish you had an assistant. One day, you either meet a charming mermanor a friendly half-angel half-forest-spirit, and so you take them on as your apprentice.
I enjoyed this one a lot, but unfortunately it is more of a demo than a full game. The art and music really captures a cottagecore aesthetic and I love that. The writing keeps things interesting while telling more about the world, and the characters are very likable. I hope that more content gets added because I loved what I played so far. [PLAY]
---
Yrsa is a tough carpenter who wants to protect her village of Silverdale from daimons and bandits. When an alchemist gives her the opportunity to summon an elemental protector, she readily accepts, but the elemental, Uribel, is not a tough earth spirit as she had hoped, but a water master. Can she learn to recognize his abilities and fall in love with him along the way?
It is definitely a very interesting game with an engaging main plot that slowly but steadily reveals why the daimons and bandits are there. The art is gorgeous, the music is charming, and the characters are great to read about. I am looking forward to the next installment in the "Elchemia" series. [PLAY]
---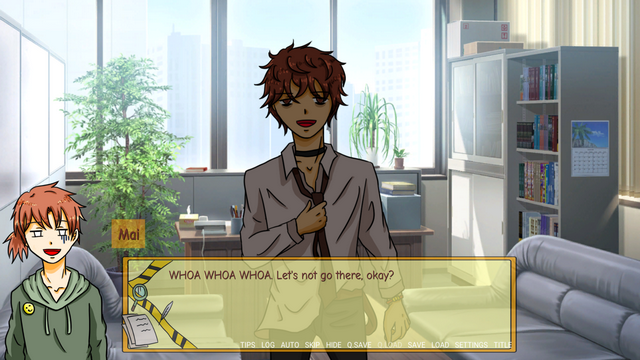 "Meme Detective" by El.Seth, Kristivera W., Nicolle Zambrano, Dane Braddy, Jerron Bacat, Allen Chan & Gina Moravec.
Mai stumbles into working at a detective agency with Jeff, a carefree lover of memes, and Horacio, a "boomer" who is more down to earth. Can the three of them solve the crimes that plague their city full of gangs?
Since the game acknowledges that Mai is a minor, I am not at all comfortable with the way she is shipped with adults, namely Horacio and Jeff, to be clear. Considering that the game was submitted to the Otome Jam, hinting at a romance between an adult and a teenager, I did not feel comfortable finishing it. [PLAY]
---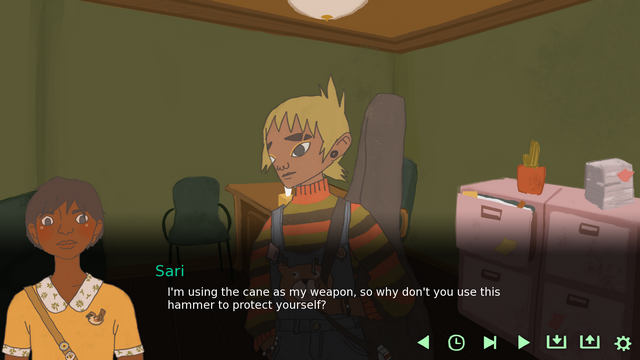 "Aria at the Funeraria" by ilyilaice, Michael Sheridan, what_an_animal, makigirl, Beans & Gido.
Sari is a college sophomore who helps at her father's funeral home. One night, a corpse comes to life: She is a woman named Freya and is now one of the undead. How will you treat her?
I would not really call this an otome game, since it is mainly a straightforward narrative that just happens to feature a possible couple. Besides, you do not even have to play the game with the love interest involved: You can also let him go home and have the whole experience on your own! Putting that aside though, I liked the story and the art gave me an "alternative comics" type vibe. I really want to see more of the story and characters, because the snippet we got was quite intriguing. [PLAY]
---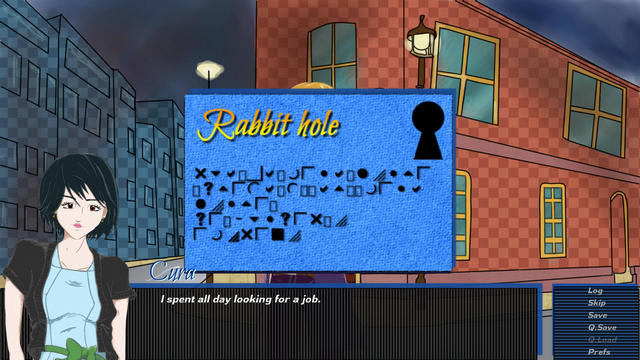 One minute you are unemployed, the next you are suddenly recruited to work for a mysterious organization called Rabbit Hole. With your boss Clyde and co-worker Weedee guiding you, can you succeed in this position?
It is currently a demo, yet I liked what I played. There are a lot of mysterious things that go unexplained in the game right now, but I assume the final version will cover them. For now, it works as a solid introduction to the world and characters. Also, "If fate gives me money, I am going with it." is the best line – total mood. [PLAY]
---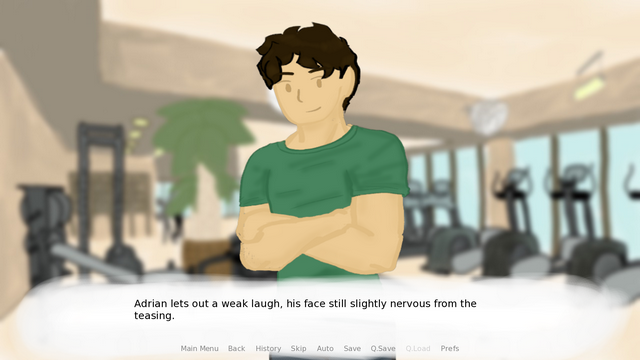 "An Everyday Love" by Hollow Rose Studios.
You are a twenty-something working in a marketing firm. Your boss gives you a chance to collaborate with two of your handsome colleagues, but you also meet a beautiful fitness trainer at the gym. Who will you fall in love with?
This submission is also a pretty good, promising demo. It is very down to earth and I like its realistic approach to romance, and all the routes seem interesting. One nice feature is the ability to customize your own character sprite. I related to quite a lot in this game, being the dissatisfied millennial that I am; I understand what it is like to feel forced into a position when what you want to do is pursue your passion. [PLAY]