---
---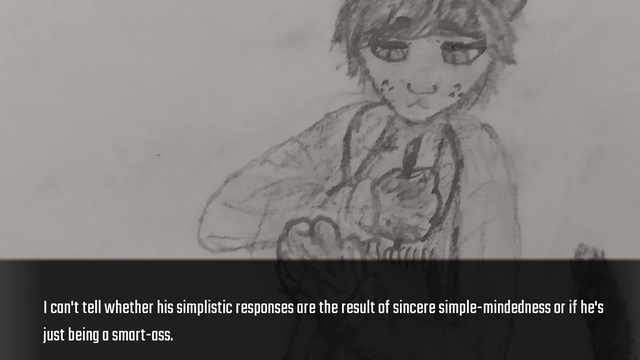 "Catboy Caught" by West of Entropy.
Shiloh is a fast food employee who is down on her luck. One day she finds a mysterious cat-human hybrid at the dumpster behind her job and decides to take care of him. How will this go and what will come out of this situation?
I really like the world and how we slowly learn about its hidden depths as we go further in the story. Personally, I wish we knew how old Shiloh and the cat boy are; it is a little unclear, but that is my only minor criticism. Overall, it is a solid entry – and a very unique one for sure! Just be aware that there is some optional adult content here as well as depictions of bigotry and trauma. [PLAY]
---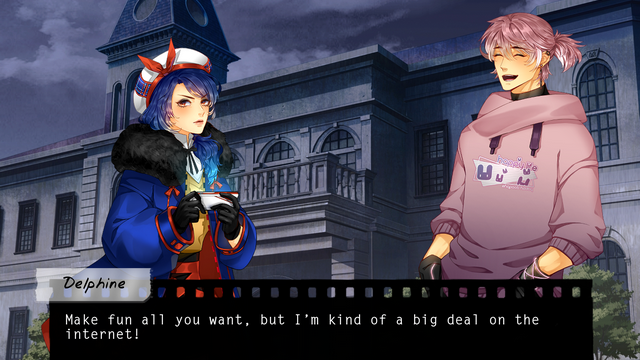 "Delphine's Discovery" by LegendEx Games, Cats on a Lilypad Studios, Saibraeus, Camille Arana, Red Chan, Mari Chavez, Jack Hawkins, Allen Chan, Esther Christo & BoshidoBlasta.
Delphine investigates the Little Voices Orphanage for her show "Delphy's Discoveries". She gets inside with the help of a mysterious stranger named Dei. Together they search the place and uncover the building's past.
Having played LegendEx Games' NaNoRenO 2021 entry "Forsaken Place" and liked it a lot, so I was pretty excited about this one. Not only does it feature an intriguing plot and well-done partial voice acting, but it also has some point-and-click segments. The mystery is captivating and I am sure you will enjoy the dynamics between the characters as much as I did with this bittersweet experience. [PLAY]
---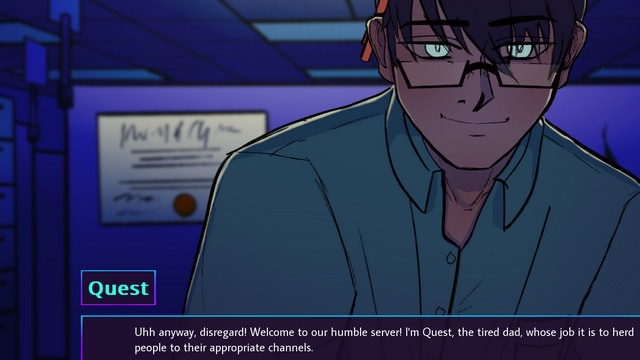 "Blooming Panic" by robobarbie, Allie Vera, Destini, Basil, FakeImpostor, FaeField Productions (Scott Sherman & Orpheo Fenn), Charlatean, Lou Fox, Jasmine Osler, Rae Byrd, Cocolamoco, Grimmy, Frandisko, Rinna, Ava, Baehino, Arghund, DoubleDaze, Flint Whitelock, perpetuallyNewGuy, redstormpopcorn, Selendri, CuriousInstigator, Zero & BocajTheInfinite.
You enter a Discord server for a web novel called "Blooming Panic" and meet other fans. Will you end up falling for one of them?
This game rules! I love the server interactions, the twists and turns along the way, the art, the voice acting, the true route, the bumping theme song – everything! If you have not already, give this jam submission a shot. [PLAY]
---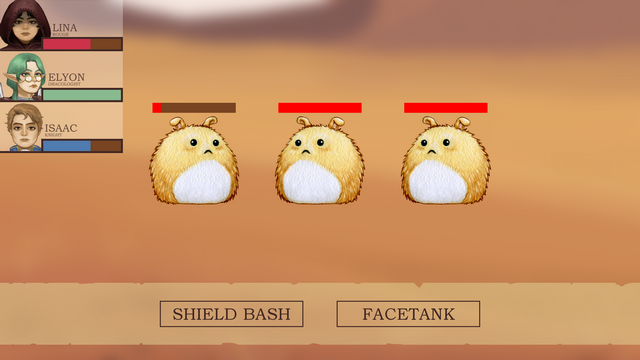 "You Can't Solo A Dragon!" by CuteShadow, Dave Attia, Lena Fisher, Maneki-Mushi, Scylla Grand & Edgey.
The rogue Lina quickly joins forces with the the knight Isaac and the dracologist Elyon, in order not to get caught stealing and also because there is quite a lot of money behind the quest. Little do they know what difficulties their adventure will bring…
The story is simple, but quite effective, and goes well with the dynamics between the characters. There are also turn-based battles in this game, which are handled pretty well, and the battle music is energetic! The ending is a bit sudden, but that is my only complaint for this nice jam game. [PLAY]
---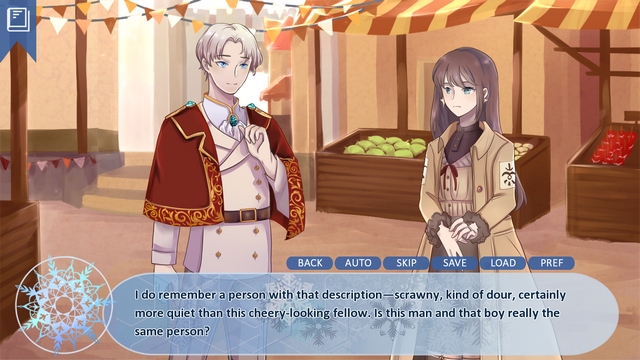 "Eternal Winter" by Abyss Team (Mandy Kowara), Christina Costello, Jazzy Oliver, Josh Portillo, Sam Winters, Jared Scott, Nakhodchivost, Nathalie Ferare, Red Aller, Vincent Fabbri, Katie Otten, Walter Mack, Shakyra Dunn, Adhylia, Azuremia, Brian Luttrell, fluux, GoingGoingKeith, Guillaume Laurent, inertia artist, JensterCreations, Laura Crossheart, NSAID, Maria Prism, Saibraeus, Yacine Aggoune, Yoakas, YoruUta, YuukiPudding & Z.
Lumine gets a strange vision while staying at the academy during her winter break. She is the recipient of an ancient curse – will she figure out how to reverse it?
So far this demo is pretty good, especially thanks to the pleasant voice acting (although the main character sounds unusually young for a college professor). I look forward to seeing more of it! [PLAY]
---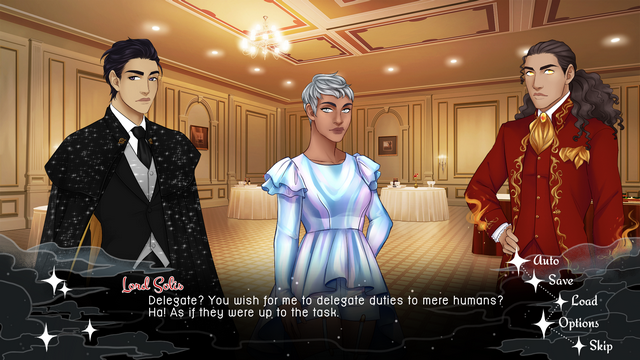 "Celestia" by owl, Ashums, Ageha, AFNarratives, Jasmine Moore, Zo, Leon, YuukiPudding, krzyzis, Rowanty, Maneki-Mushi, cakiebakie, wingcinna, Minikle, Taylor Morphis, xxmissarichanxx, piumche, West of Entropy & sonic-nancy-fan.
You are a new celestial who has traveled to Earth in human form. Meet other celestials and fall in love with one of them.
The premise of being a celestial body meeting other planets and stars is creative and makes for some quite unique love interests. I also adored the audiovisuals thanks to the beautiful art and music. [PLAY]
---
"In Game Crush" by Chloe Monet, E. Sterling, Brontosaurus-G, Goldgust, Joe Greive, Awiola & Evan James.
You are a player of "Alliance Of Myth" and are in a Discord server for the game. Will you fall for the user PockyDaze or are you more of a CanOfCorn type?
This jam submission is pretty good, though quite a bit of it boils down to memorizing or guessing information to make the love interests happy. My only compliant is that the messages can scroll by a bit quickly – I am a fast reader, but even for me it was a bit much at times – and I wish there was more than just the one music track because it got somewhat repetitive. All in all, it is a solid entry! [PLAY]