---
---
"Deliver Us From Evil" by Galen Games (Crysil), Jess Rico Hatton, LunaMakaio, Crystal, Ednar Pinho, Ayael, Rowanty, FallRight, Foleso, Alli, Leporine, Ashe Thurman, Ryan Hoyle, Bradley Gareth, E. Alex Gardipe, Jasmine Osler, DAX, Miles Äijälä & Vextera.
Ariel is a young angel who is assigned a project on Earth: She is to find out why manifestations of human desires are gathering in a certain city. Heaven believes that demons are behind it. Will she get to the bottom of it with the upstanding angel Michael, or with a mysterious human named Ace, who is more than he seems?
I played Galen Games' NaNoRenO 2021 submission "Snow Angel" and enjoyed that, and this game is no exception (although I was expecting a true route from the Nephilim Keldran, and there is none, which is a pity). Nonetheless the entry has an interesting story and some voice acting, which is very nice. The art is also beautiful and some of the animations are really cool, I especially love the sprites and their expressions.
Although I am not a fan of Christianity thanks to my personal history with the church, I thought this depiction of angels and demons was engaging, but I wish there was a way to get Michael and Ace to come to terms, especially in the Michael route. The Ace route does a good job blurring the line between good and evil, but the Michael route is just "We are the good guys and they are the bad guys!" so that was a bit disappointing. [PLAY]
---
"Olympus Love" by megalixirgames.
Cassie is just a girl living in ancient Greece who does not believe in gods, but that quickly changes when she meets them face-to-face! Poseidon, Ares, and Hades all offer her their blessings. Which one will she choose?
It is a cute otome, though I wish the romance was a bit more naturally paced – these guys go from zero to a hundred in no time flat! Still, it is charming, and I loved the depictions of the gods. However, I did find a bug of sorts: The game let me save as much as I wanted, but my files never appeared on the loading screen. That is a shame, but it should not stop you from trying it out for yourself. [PLAY]
---
"HEART À LA MODE" by YAPPERU STUDIO (jiong & pudding).
You are a twenty-five-year-old fan of Coco, the ice cream mascot. After meeting your internet friend at a Coco convention, you meet all kinds of men at the convention. Which one will you fall for?
This very charming and cute jam submission embraces fandom and ones love for mascots. The art is adorable, the characters are lovely, and the music is bouncy and fun. I like that there is a downloadable walkthrough – that is super helpful – and the game also tells you when you have increased affection, which is nice. It does not tell you which affection is affected, but that is better than nothing, right? I highly recommend this sweet little otome. [PLAY]
---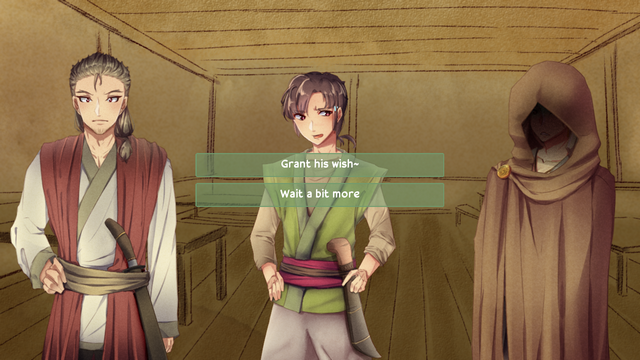 "The Three Princes and Adarna" by Anta.
This game is loosely based on the Filipino epic poem "Ibong Adarna". Three brothers are sent out to find a mystical bird. Our heroine Addie offers to guide them to the mountain where the bird is located. Fall in love with one of the trio and let the romance begin.
This demo so far only shows the common route. I liked what I played, although the text is very modern for such an old tale. Addie talks about being "sus" and calls the brothers her "chummies"; it is all very twenty-first century, but that is more of an observation than anything, really. Overall, I enjoyed this jam entry – the sprite art is particularly good – and I hope to see more soon. [PLAY]
---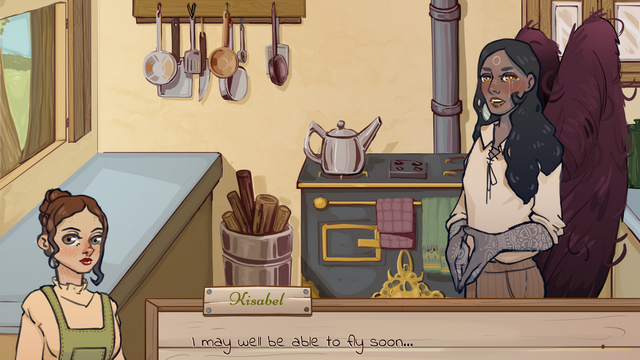 "Anise Flowers" by Sasha Ines, Leporine, Midge, Halfstar, Mike Young & AnaDana.
You are a peasant girl who rescued a handsome winged stranger. Get closer to this mysterious person and fall in love with an angel.
This one was bittersweet; as far as I can tell, there is not really a happy ending here, which is sad, but that is just the tone it is going for. It also contains some voice acting and lovely art that offers another look at the cottagecore aesthetic and that country farm life. [PLAY]
---
"Moonlighting To You" by rachelu.
Your neighbor is murdered by a vampire, and as you are at the courtroom giving your testimony, you run into all sorts of crazy characters. Pick a love interest – or maybe fall in love with the killer?
I enjoyed rachelu's NaNoRenO 2021 submission "Maid of Chapelle Bleue", so I was looking forward to this game too! Only a prologue has been released so far, and it throws the love interests at you pretty quickly. After that, you are just expected to choose one of them without any further information. Personally, I do not want to develop feelings for the vampire who just killed my neighbor – sorry, but no! In all seriousness, I love the art in this game, the style is fantastic, but the story could use a little work. [PLAY]
---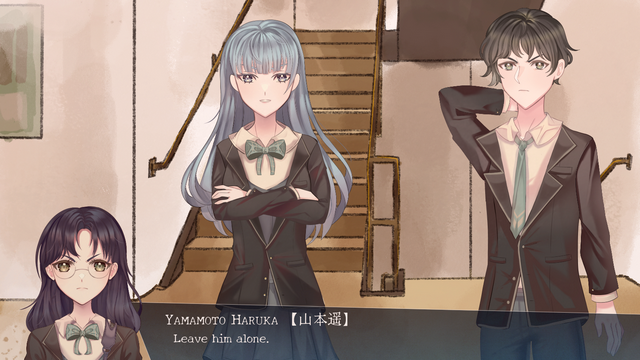 "Splinted Wings" by Madeleine Chai, Tim Min, Justin C. Hsu, Lilenee, Maggie Wehler, Zhenle Cao, Eric Li, Ogi Arutai, Cassidy Swanson & Yota Ohashi.
Yamamoto Haruka is a high school student and pianist, but at the moment, one of her arms is fractured. When a teacher gives her the power to command other people to do things, how will she use this new ability?
I would not really categorize this demo as an otome, because although there is a romance story, the wider story is the main focus, not the blooming love. However, the plot is quite interesting, and I am curious to see what choices the player can make with the commanding power. The art is nice, but the visuals are a mix of photographs and drawn CGs, and I think the developers should have stuck with one or the other. But overall, it is a very neat submission and I recommend you check it out. [PLAY]