Discover necessary and unnecessary sacrifices, stories about murders in mobster villas and tales about all kinds of friendship, real flower power, genre mashups, metagames and many other things in the December issue of "The Jam Report", that features sixty-two jam games.
---
Bitsy Community Secret Santa 2018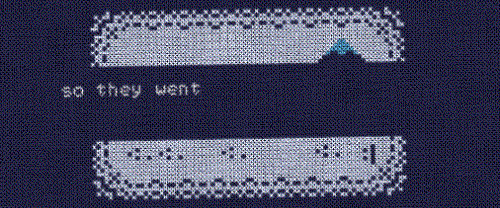 "a holiday yarn" by Sean S. LeBlanc.
Enjoy this cozy and short Bitsy adventure.
---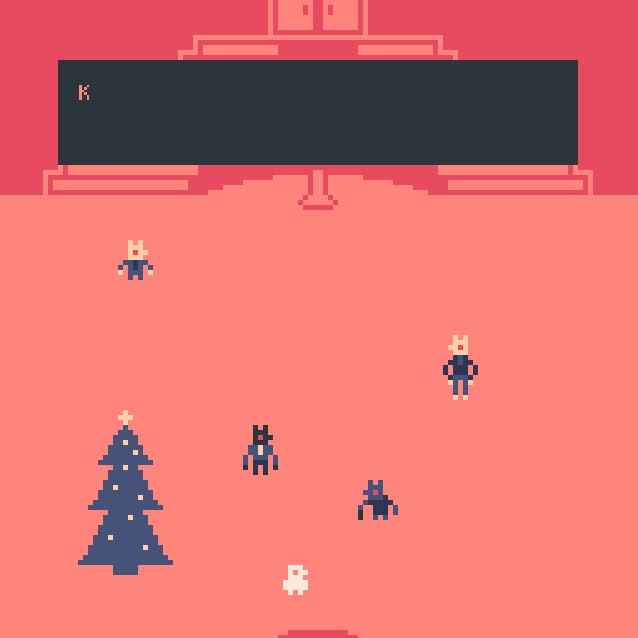 "a Night at Manster Mansion" by onion.
In the mansion of a mafia clan, a murder happened. You have the task to investigate the case, even though something feels not right.
---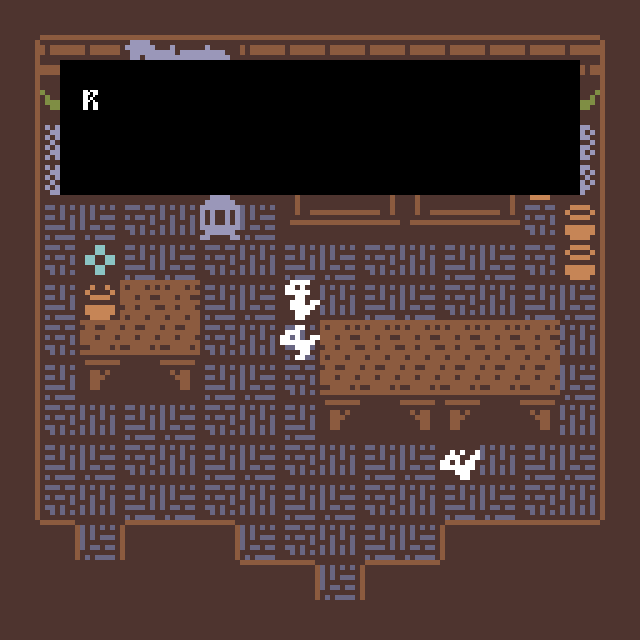 "Christmas in Dino-Town" by Andrew Yolland.
Scarlet always baked the best spice cake until she died. The recipe remains unknown. Now her granddaughter Ruby is looking for ghosts to learn the ingredients.
---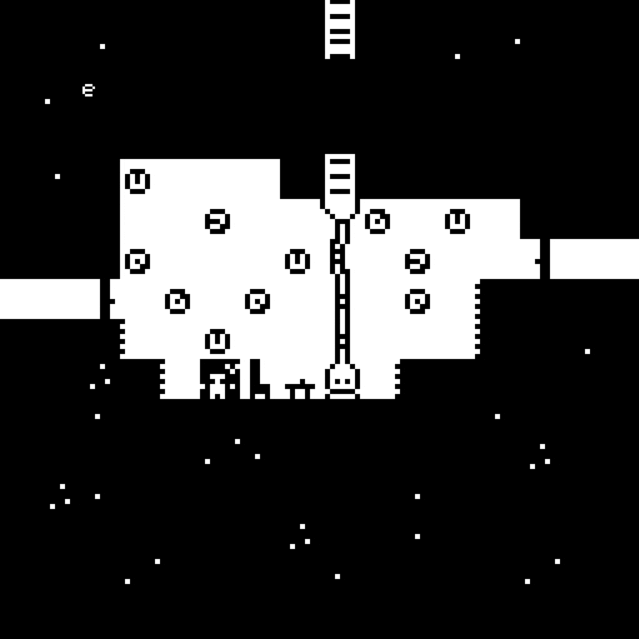 A lovely story about friendship, the pranks of a time traveler, emotion changing weather, talking kitties and the best kind of silence awaits you.
---
Bitsy Jam (Ghost)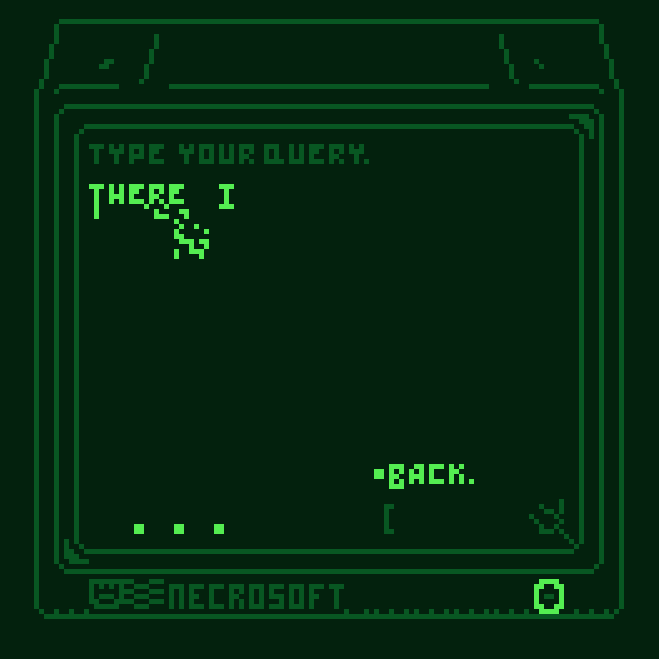 "EXE.terminate" by Noah S. Brown.
It seems like your computer got hacked, or maybe it got obsessed by someone? Find it out in this delightful Bitsy horror game with multiple endings.
---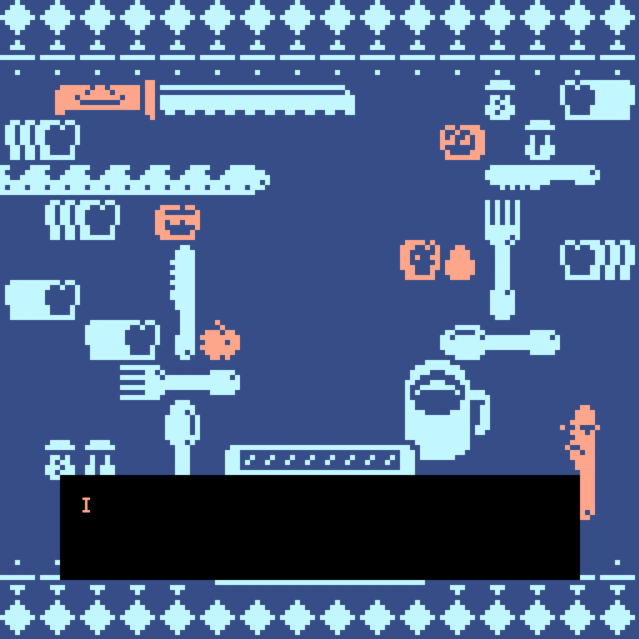 "Goast" by Tyler Molz.
The breakfast might be the most important meal of the day for humans, but what does it mean for a slice of bread to become a toast? You will see for yourself in this short comical, but still surprisingly dark game.
---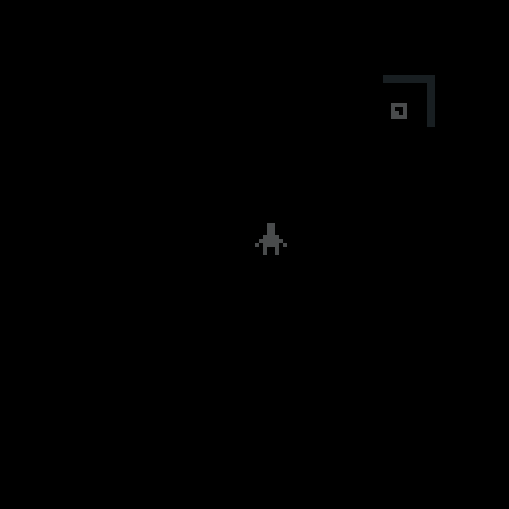 "living things" by caeth.
This Bitsy game might change your definition of ghosts, as it proves that you do not necessarily have to be dead to be one.
---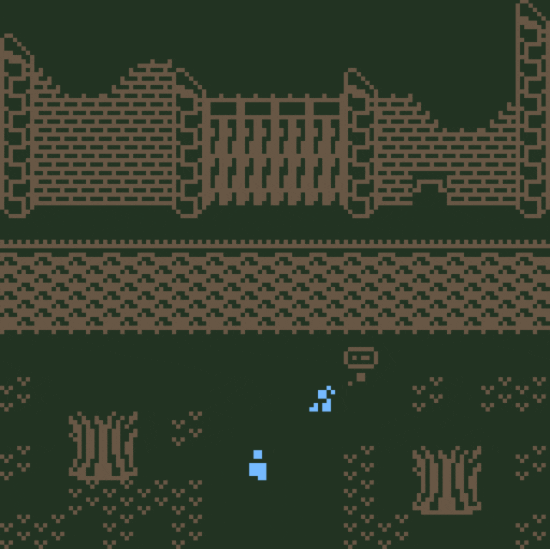 "Old Glory" by AgentAPM.
Figure out why the castle turned into a ruin by going on a journey through time, where your actions in the past will influence the present.
---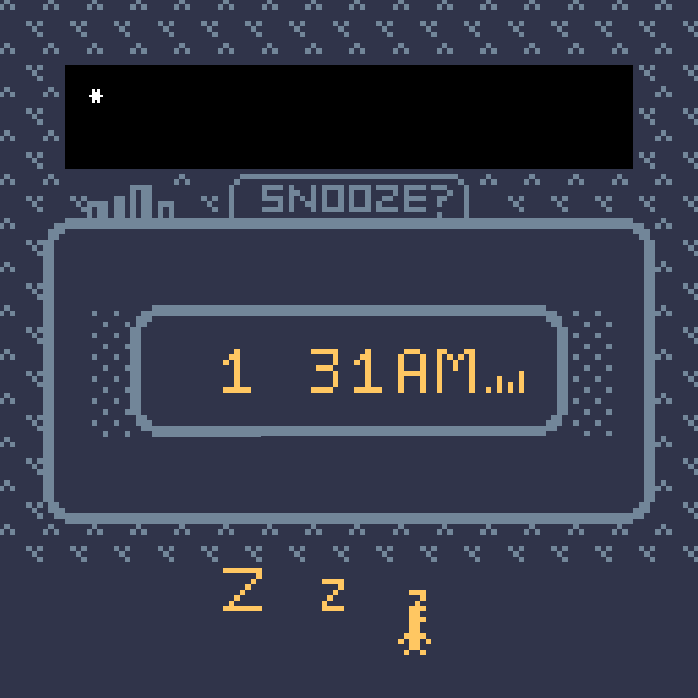 "Sojourn" by Albertine Watson.
In the middle of the night Em wakes up and realizes that a bunch of her friends suddenly appeared in the house of her parents. One question remains: Why?
---
"The world had been sad since Tuesday" by Fred Bednarski.
A surrealistic story about a fallen angel, superstition and false hopes. The whole storytelling and art design is simply amazing.
---
Bitsy Jam (Tarot)
"The House of God" by Freya Campbell.
The worries of a trans woman about her identity and her relationship lead to an obsession with one tarot card. This game is a sequel to the Gothic Novel Jam game "The Tower".
---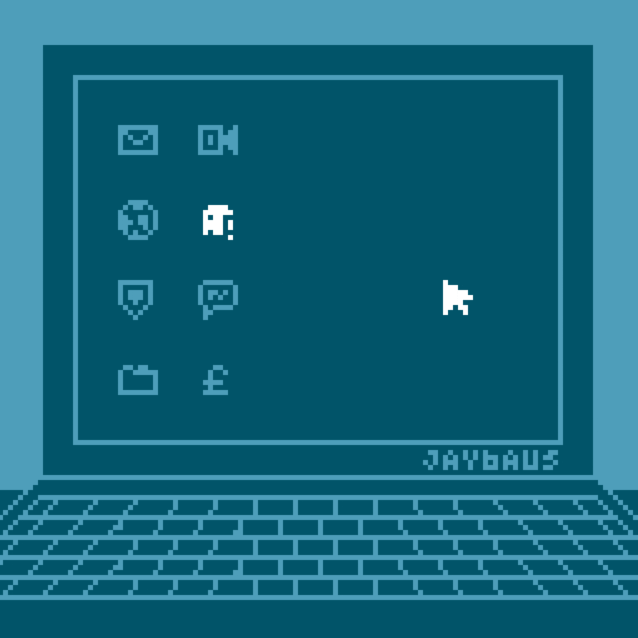 "Tarot" by jaybaus.
A new program was installed on your laptop, and it forces you to pick one of four tarot cards. But there is no reason to become superstitious, am I right?
---
Game Off 2018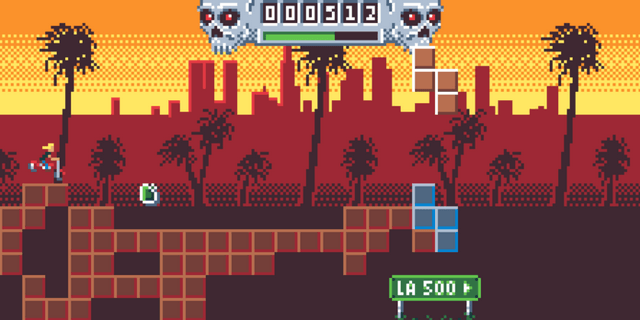 "Biketris" by Pert.
In this combination of the endless runner genre with "Tetris" mechanics, you have to prepare the road for an ambitious biker.
---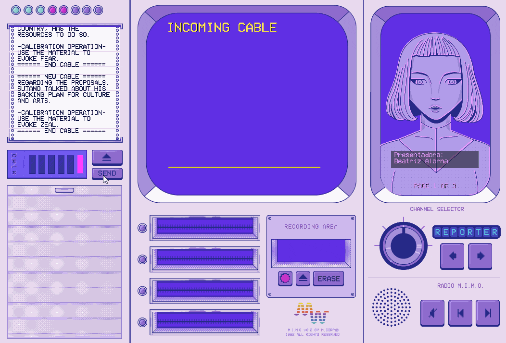 "Machinaria" by Giovanny Beltran, Juan Carlos Garcia A., Lorena Marquez Gamarra & Mateo Robayo Rodríguez.
This game shows how video editing can modify the public's opinion about politicians.
---
Ludum Dare 43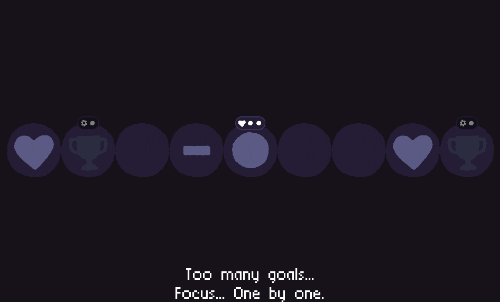 "Accept this Offering" by Berny Cantos.
This short puzzle game highlights the relationship between self-determined goals, the sacrifices we make to get to them and the importance of priorities.
---
"Altitude Sickness" by Antti Tiihonen.
In this morbid physics platformer, you have to sacrifice climbers and to use their frozen corpses to get to the goal.
---
"Altruist Project" by Daniel Skogly, Magnus Bergman, Syver Lauritzsen & haxton2694.
Try to get out of a death maze and find more survivors. Flares and stones might help you to find out the true nature of hidden rooms.
---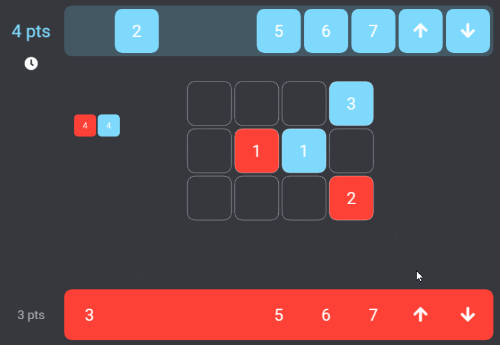 "bamb" by Amos Wenger & veld.
Whenever all numbers in a horizontal or vertical row equal eight, all cards vanish. So sacrifice your own cards to make the clever computer opponent suffer even more.
---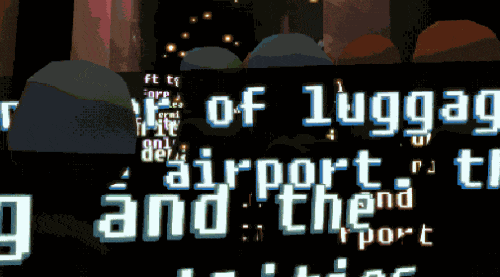 "Brownie Cove Cancelled" by Sand Gardeners (Sam Machell & Colin Le Duc) & Moth.
Your flight got delayed, so spend some time in this completely normal airport and do not care to explore it whatsoever.
---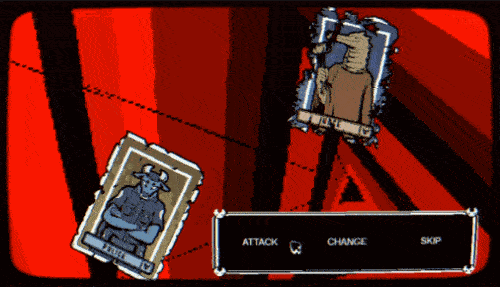 "BULUGH" by Ivan Papiol, Edu Verzinsky, Mohammed Bakir Khawam, Laro Saiz, Beícoli, Quike Zárraga & Josué Monchan.
In this alternative role-playing game with a card-based fighting system, you might learn a lesson about the sacrifice of childhood.
---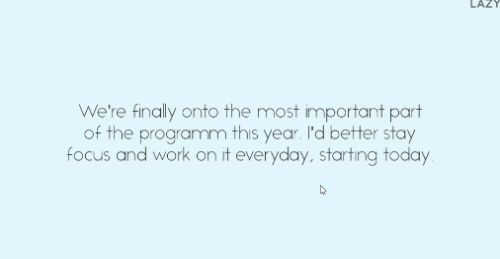 "Burn-Out" by Erwann Depaeuw, Florent Juchniewicz & Tom Kurcz.
The first semesters in college can be emotionally challenging, mostly because of the expectations and the workload, as this game proves with its story.
---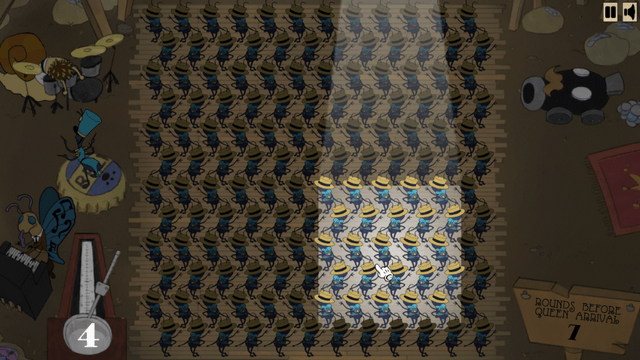 "Collatero" by Sacha Riviere, Samuel Basset, Martin Jacob, Boris Dauvergne, Guilhem D'Humières, Alexandre Villiers-Moriamé, Romain Tondre & Victor Deschamps.
Handle the performance of the ants perfectly, so that no impostor makes its way in.
---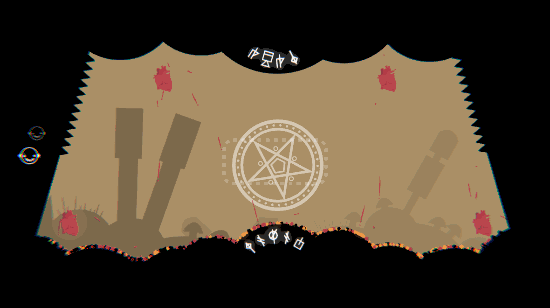 Destroy all hearts in each level, but watch out to not touch spikes or other Diaballs in this difficult, but amazingly designed puzzle challenge.
---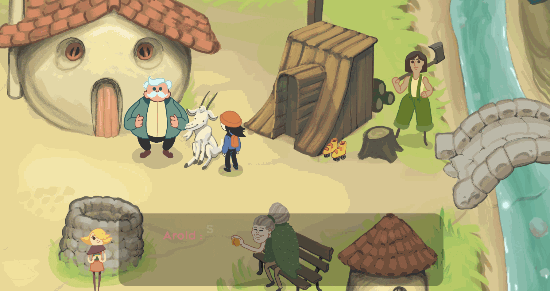 "Documentia" by Léo Marambat-Patinote, Corentin Castric & Lucas de Pinho.
Make new friends and enjoy the town.
N̵o̷t̶h̶i̷n̴g̸ ̷w̷e̵i̶r̷d̵ ̷i̸s̴ ̵h̶a̸p̵p̷e̶n̷i̷n̵g̴ ̸h̸e̷r̵e̸.̷
D̸̘͝o̴̟̒n̷̘̾'̷̟͑t̶̋ͅ ̶̧͂w̶͈͝ö̵͖́r̵̠̋r̷̘̽y̸̝̕.̷̪̾
---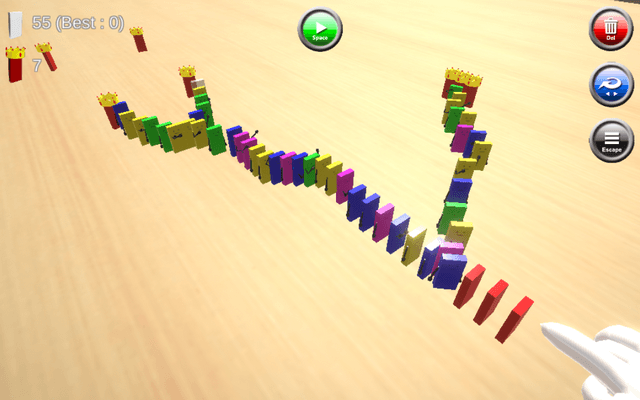 "Domino Dash" by Daniel Erdmann.
Try to minimize the amount of needed domino bricks to bring down all the king bricks in each level.
---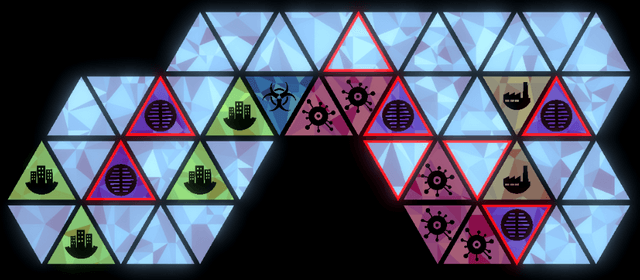 "Downfall" by Ece Seyrek Hasdogan, Doruk Hasdogan & Yarkin D. Cetin.
A virus threatens the cities. Try to save them by evacuating critical points of the map. Different building types influence the spreading of the disease.
---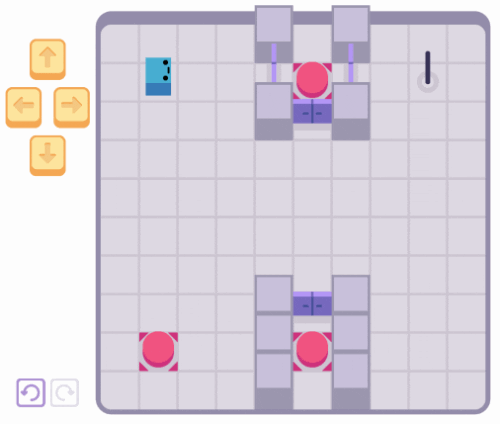 In this cleverly designed puzzle game, you have to sacrifice your ability to move into certain directions, so you can activate switches. You can also claim them back and replace them.
---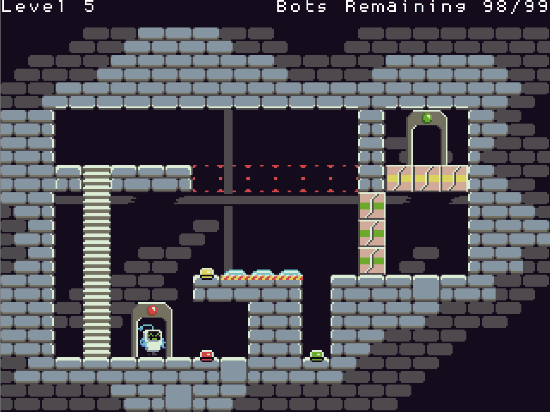 In this puzzle game you have to place your robots carefully, just to deactivate or even detonate them afterwards.
---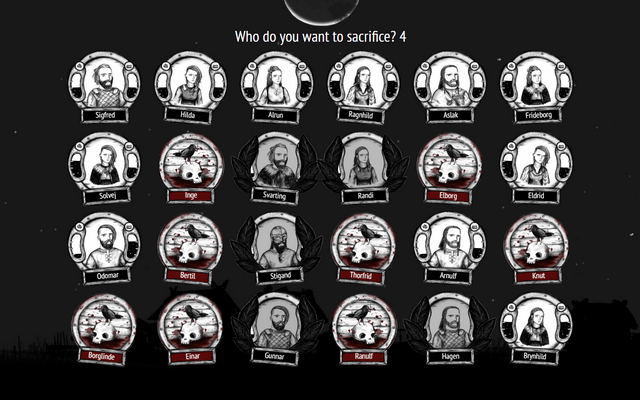 "Fórnir" by Julien Sanchez, Naomi Santos, Adrien Pétremann, Besteack, Pierre Allard, Julien Janvier, toxinu & Yohan Blain.
The gods demand sacrifices, that is at least what your advisor says; but in the end, it is your choice to make.
---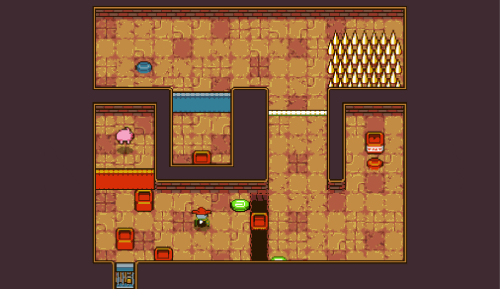 "Ghostly Getaway" by Mors, Renhoek, Darkonius Mavakar, Cruise Elroy, sooshy & Catonator.
Solve puzzles involving switches, rabid animals, fast-shooting cowboys, fans and self-sacrifices.
---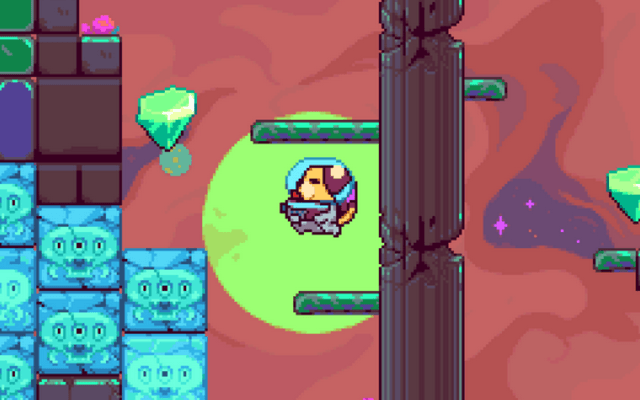 "Goodboy Advance" by Jeremy Clarke & Rik Nicol.
This platformer is a great game development lesson about how the choices of features influence the level design.
---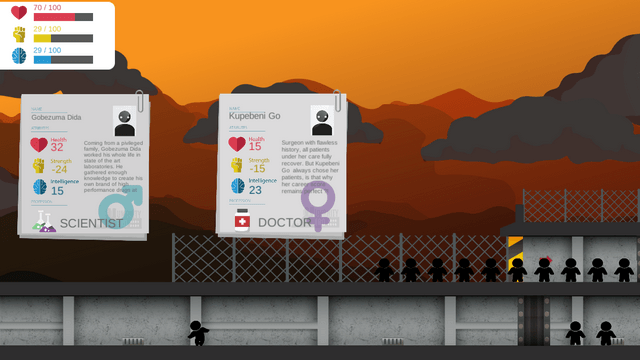 "Humanity Hero" by Felipe Padilha, Guilherme Lourenço, Kevin Lourenço, Nayara Lourenço & Pedro Miranda.
As armageddon soon arrives, it is your task to create a balanced base for the future society.
---
"Hunger Sings" by Jimmy Swanick.
Some teenagers did a couple of rituals, thinking that they would be harmless nonsense. Suddenly a whole town disappears. Was it their fault, and if so, what can they do now?
---
"It's under control" by Luis Díaz Peralta.
In a sense, our whole life is like a balancing act. To fulfill our basic needs is important, but it can bore us. And then there are the exciting, but 'unneeded' things. Find your order.
---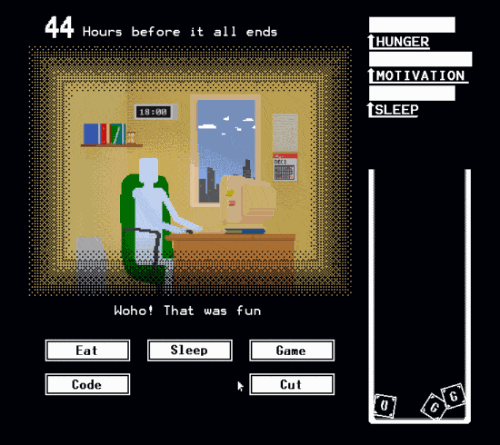 "Ludum Dare: The Game" by Darylsteak.
Game jams are fun, as you create a game for a specific theme in a fixed amount of time. But sometimes this can come with some costs, as this management simulation shows.
---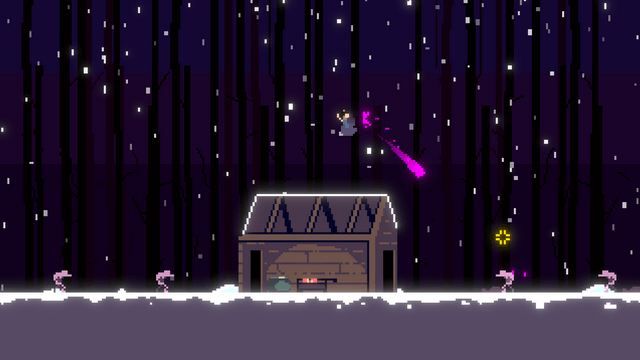 "Night's End" by Gabriel Leite.
Protect the innocent child by killing all the creatures, which are trying to take it. However, the supernatural beings are strong, so you have to drain some life of the baby every now and then.
---
Crack an egg or two in this well-designed puzzle game, where depth perception is your best friend.
---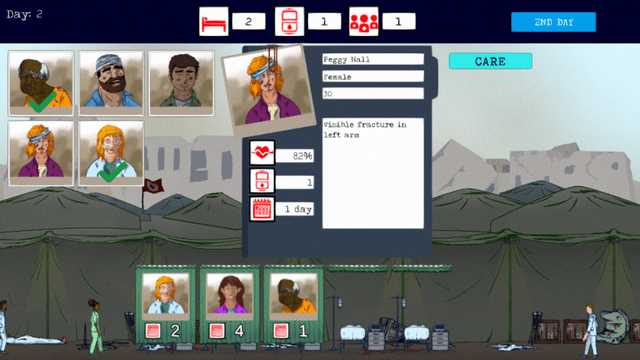 "One Life One Tear" by Uruca Game Studio (Suâmi Abdalla-Santos, Philippe Alves Lepletier, Sérgio Alonso Jr. & Arlam Júnior).
You cannot save them all as a doctor in a crisis-torn country.
---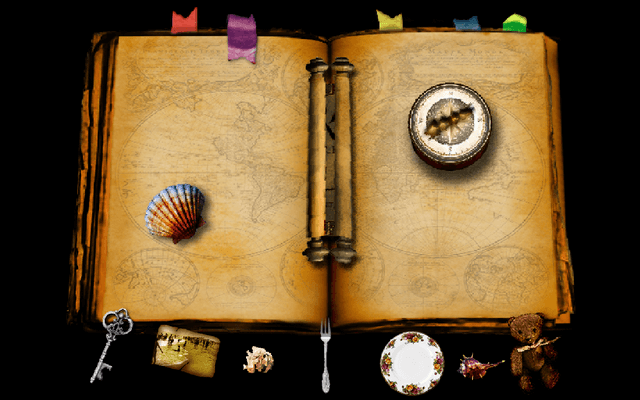 "REQUIESCAT IN PACE (RIP)" by Alvaro Maldonado & Enrique Faustino Silvela.
This family album consists of only five pages, but all of them are filled with secrets in this point and click adventure with a lyrical puzzle design.
---
"Revolver Curse" by Retrosaur, Clockwise2000 & Eeve Somepx.
Your health is your ammunition and vice versa, so shoot the bullets at your spooky enemies, but do not forget to collect them back.
---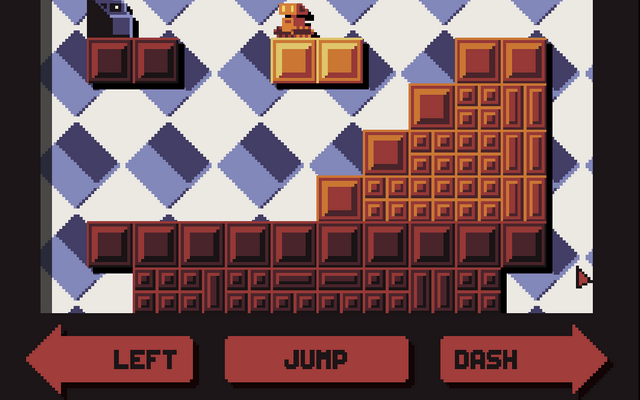 "ROBO-KEY" by Thomas Giro & Yvan Giro.
In this amazing puzzle platformer, a little robot wants to reach the terminal at the end of each level. However, the machine's console can only contain three commands at a time.
---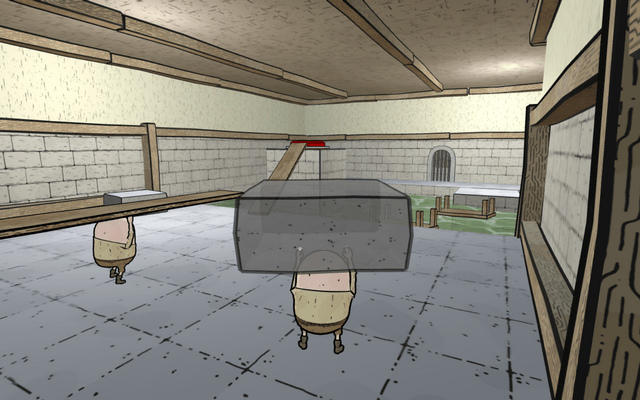 "Rogues Like Beer" by NickZangus.
Those rogues love beer so much, that they will go down into a trap-filled cellar and sacrifice themselves, so that their buddies can conquer the next room.
---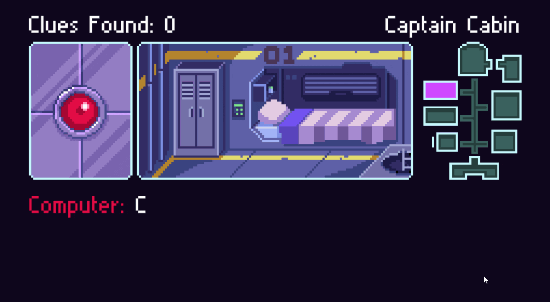 "Room44" by Arto Koistinen & Tarkko Oikkonen.
Initializing point and click space crime mystery adventure… Check!
Loading beautiful pixel art and neat dialogues… Check!
Finding the murderer… Error! Error!
---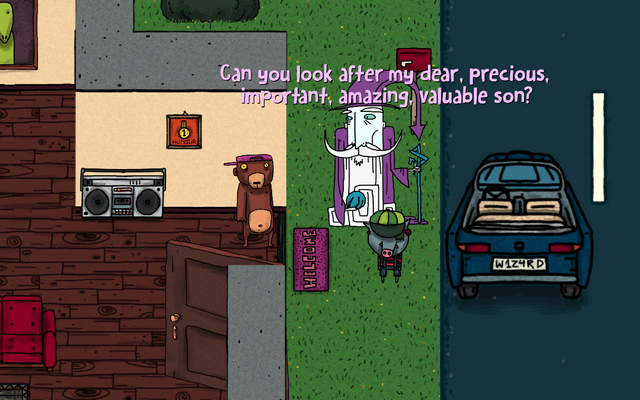 "Rude Bear Responsibility" by Alex Rose, João Dias, John Pennington, Daniël Haazen & Barney Demetriou.
Do not let the child of your nemesis get sacrificed.
---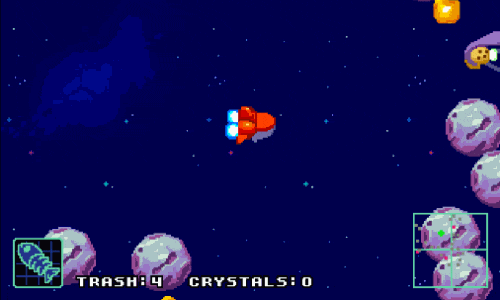 "STAR JUNK" by Christina Antoinette Neofotistou.
Use both as munition to shoot pirates down, collect all the trash as well as crystals and then set off for the starbase in each sector.
---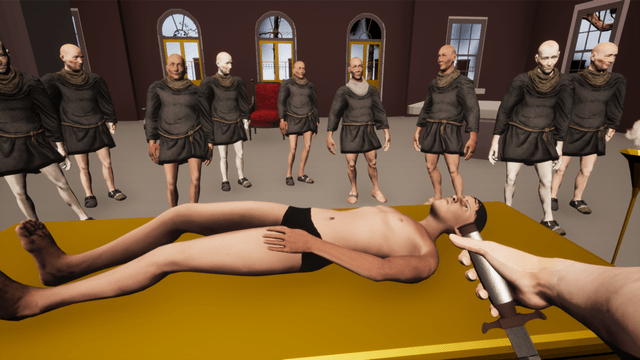 "Summertime Sadness" by Yuliya Kozhemyako.
To sacrifice a human is not just a gruesome thought because of the violent act itself, but because of the consequences, as this experimental jam submission shows.
---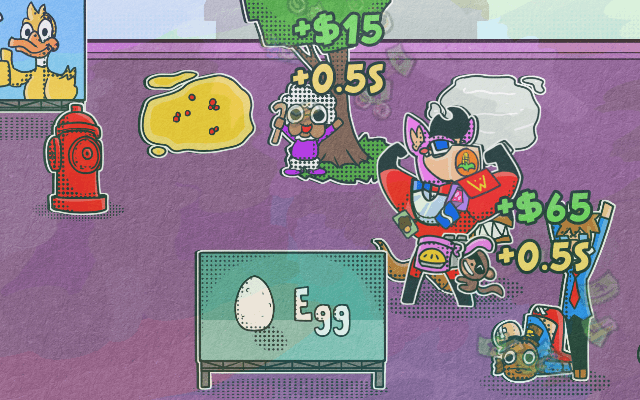 "Super Sellout" by Whales And Games (Jorge M. Carvalho, Leonardo Giovanni Scur, José Sánchez, Zachary Blystone & Henry Smith).
This morally ambivalent superhero takes every sponsor deal.
---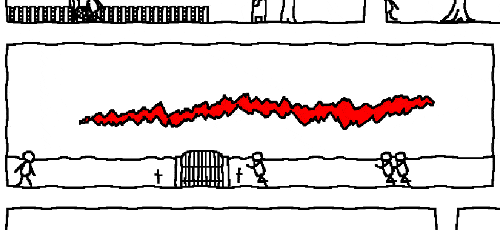 "Sven" by Donitz.
Sven is a completely average, ordinary guy and totally not responsible for the fate of the world in this wonderful genre hybrid with comic strip aesthetics.
---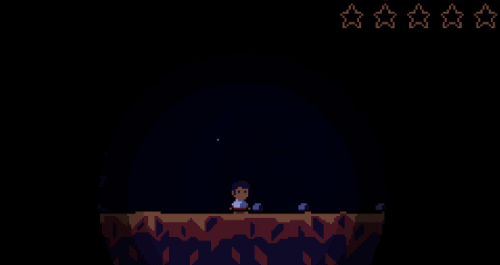 "The Cave God" by Pranjal Bisht.
Sacrifice stones, bones, swords, gold, poop, goats, orbs or something else to please the god of light and enlight the cave. But beware, as the god is not satisfied with any offering.
---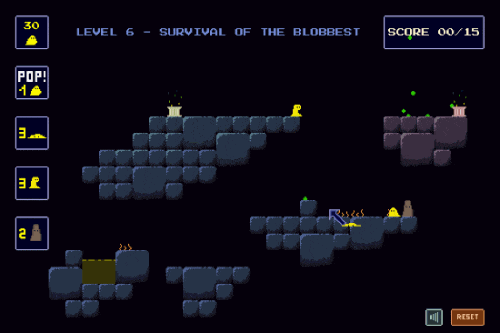 "The March Of The Blobs" by joqlepecheur.
Transform single blobs into turrets, obstacles, jumping pads or 'traffic signs', so that you can save the majority.
---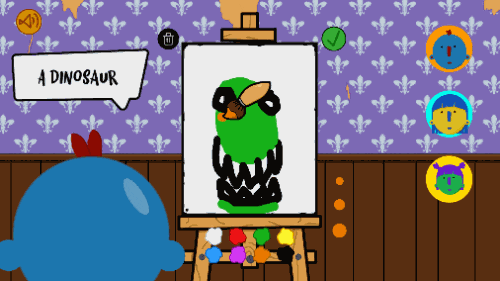 "Together" by Carlos Izquierdo & Alberto Mellado.
In this drawing game, a struggling artist must decide between optimal working conditions for their studio or making some sacrifices for the wellbeing of their family.
---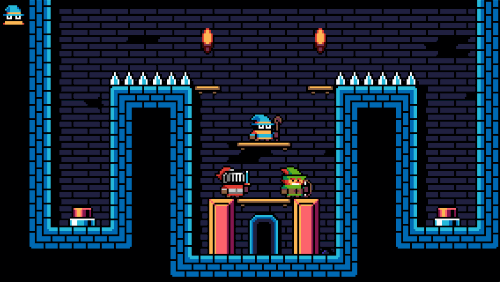 "Total Party Kill" by Jussi Simpanen.
A knight, an archer and an ice mage are in a dungeon. At least one of them needs to reach the exit. To ensure that, you will have to perform some friendly fire.
---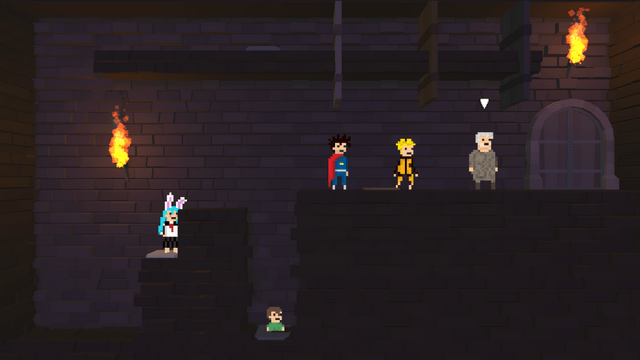 "Unnecessary Evil" by Suliac Blineau, Eva Abollivier, Alfred Brisac, Agriraldan & Emmanuel Boureau.
To solve this puzzle platformer completely, your observation skills are needed, as sacrifices are not always useful.
---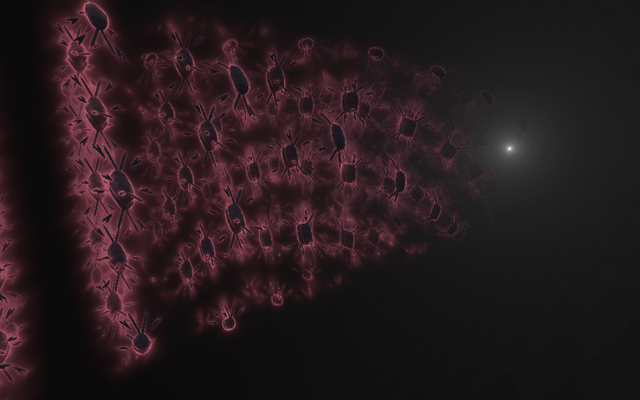 "Void Light" by Antoine Zanuttini.
Stroll through strange, but awesome looking dreamscapes in hope of finding the light.
---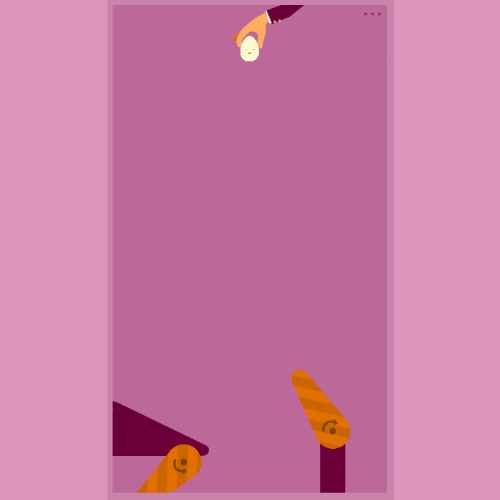 "You Can't Make An Omelette" by Derek Wilson.
To make an omelette, you have to break an egg or two. But when the position of the pan is unknown, this number can be higher – especially when flippers are involved.
---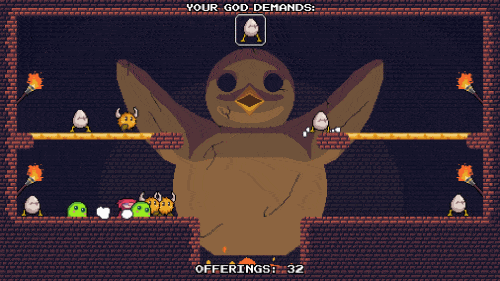 "Your God Demands…" by Sapphiris & daruudaruu.
The holy chicken god wants sacrifices and you have to deliver them. But be cautious that you push them into the fire in the right order.
---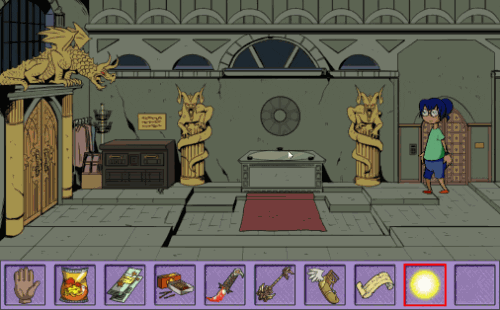 "Zoe and the Polypantheon" by RadonKalmor, SheldonZS & Carraka.
Zoe is trapped in an ancient temple, which is devoted to several gods. To get out, she must find the ideal sacrifice for each of the deities.
---
Sensei Game Jam 2018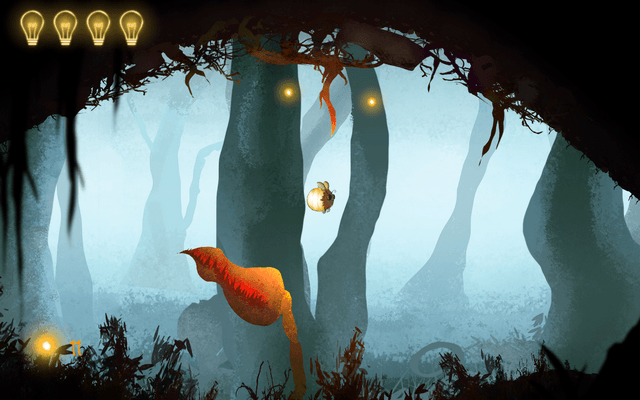 "Firefly" by Aleksandra Balińska, Damian Salwowski & Marcin Szewczyk.
In this beautifully looking, short game, you have to guide a firefly through a dangerous forest to collect light orbs and mushrooms.
---
Stanford Fall Game Jam 2018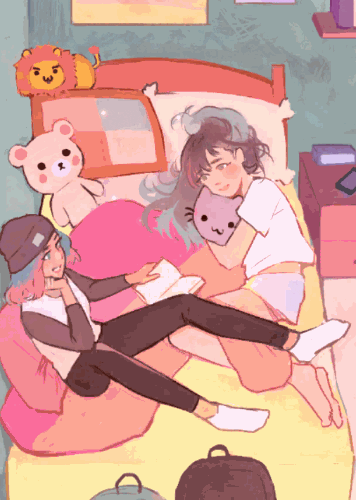 "there's this girl" by Angela He.
Be a witness of the starting romance between two stargazers, watch them breaking up with each other and then make an important decision in this beautiful game about love.
---
sub-Q Magazine Love Jam 2018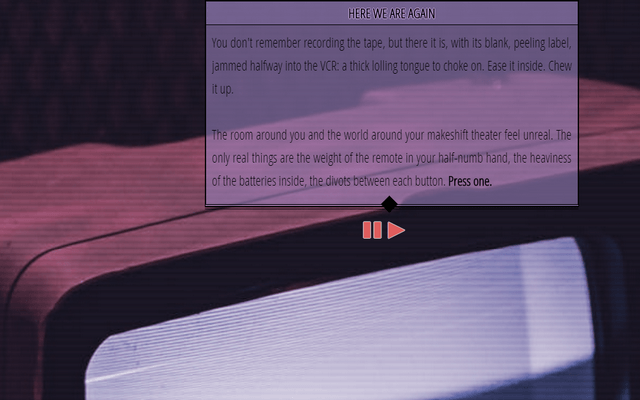 "Unmaking, Unmade" by G.C. Baccaris.
Discover the eerie secrets of a video tape in this short and amazing narrative game experiment, which connects a Twine core game with Bitsy scenes.
---
Terminal Jam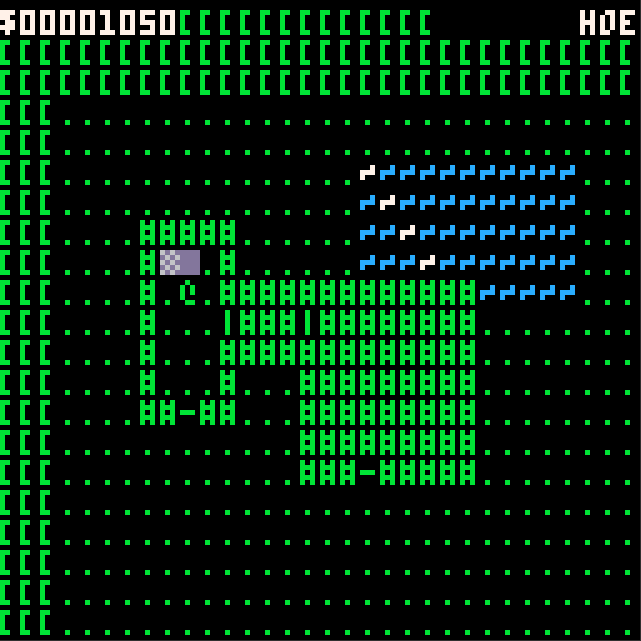 "ASCII Fields" by enargy.
Sow and harvest berries as well as radishes in this farming simulation, that features ASCII art.