In May, we recommended forty-nine entries made for eleven different jams, so join us on a journey to bring your own art museums, pixelated bee hives, single rooms with unlimited content, mystical and beautiful places in the void, the bowling alley of the Grim Reaper and many more game worlds.
---
2019 Spring Unreal Engine 4 Jam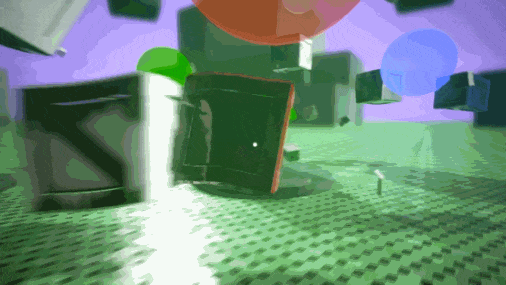 "[ARTHAUS]" by Vandervas Generator.
Create eight beautiful and sometimes super strange art masterpieces like an atomic snowman.
---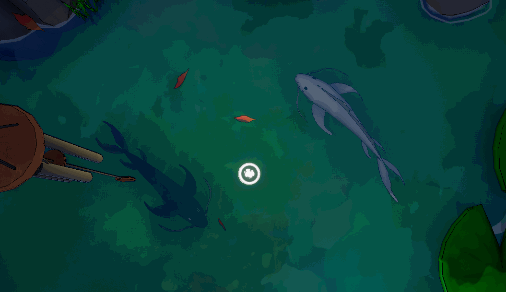 "Balance In All Things" by MetricZero.
Help the two koi fishes to grow to their full potential by collecting orbs of the same color.
---
Bitsy Jam (Bees)
You and your partner would love to enjoy the day with some tea and honey cake, so buzz around and find some.
---
"Big smoke ahead!" by Peter Februar.
You see some smoke and are worried that it might destroy your hive. That is why you, a simple worker bee, have to find a way to speak with your queen.
---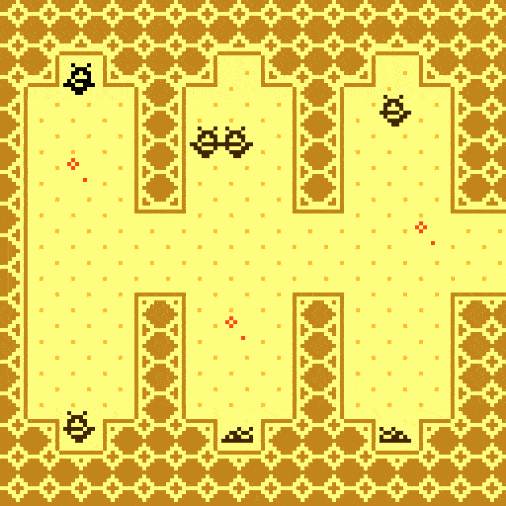 "Depressed Bee" by David Mowatt.
Our image of bees is that they are hard workers. But what happens when you as a worker bee ask yourself if it is all worth it in the end? This wonderful metagame might give you the answer.
---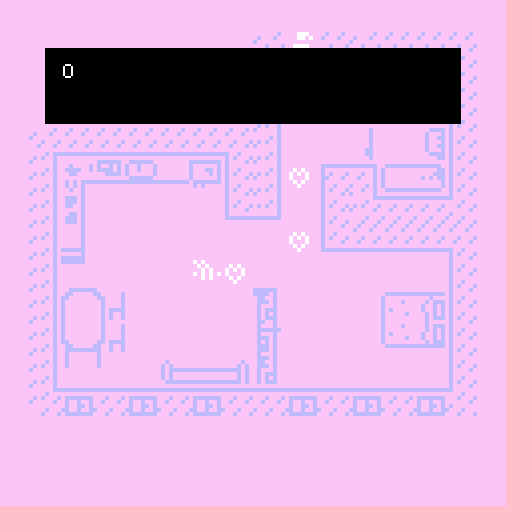 "Oh, To Be(e) In Love" by Freya Campbell.
Spring does not only bring us soft feelings of love, but also bees. There is no need to worry about them, as they do not want to harm you. They simply want to observe you and your sweetheart.
---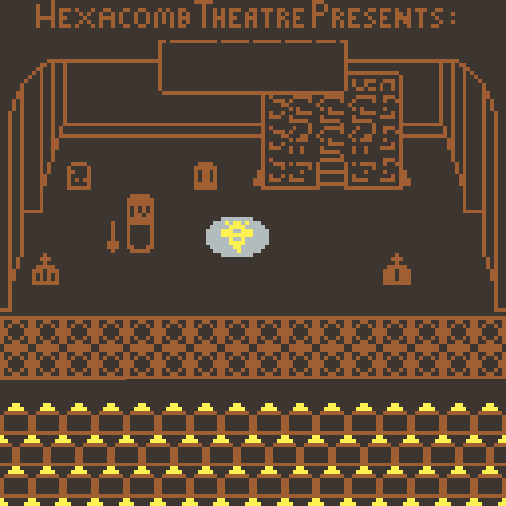 "TO BEE OR NOT TO BEE:" by Noah S. Brown.
This sweet Bitsy game mixes up Shakespeare and bees. Can you perform "The Tragedy of Hamlet, Prince of Denmark" without any mistake when stage fright overcomes you?
---
Bitsy Jam (One Room)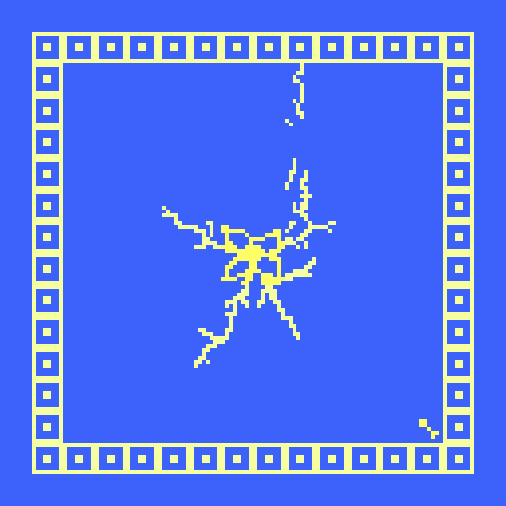 "A Seed" by Seven Asmund.
A game is more than just a program or pure code, as it is also an idea and a creation. But creations cannot just satisfy, but also haunt their creators, as this wonderful metagame proves.
---
"Virtual Pets" by chiropteram.
This Bitsy Tamagotchi will not only provide you the conventional gameplay of virtual pet games, but also a somewhat malfunctioning interface.
---
Divination Jam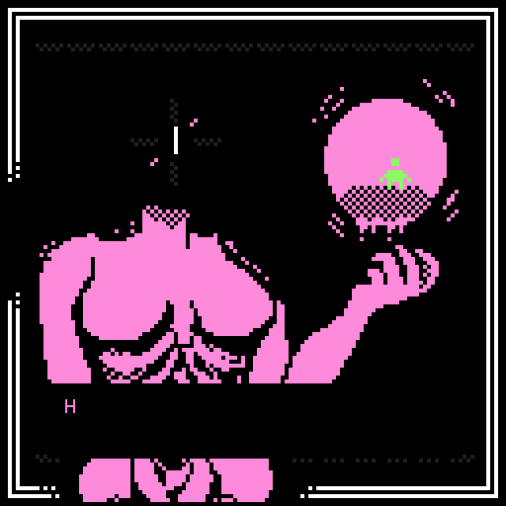 "Augur & Haruspex" by G.C. Baccaris.
Two mystical figures share a bond with each other in this short, atmospheric Bitsy game.
---
JamDNA 14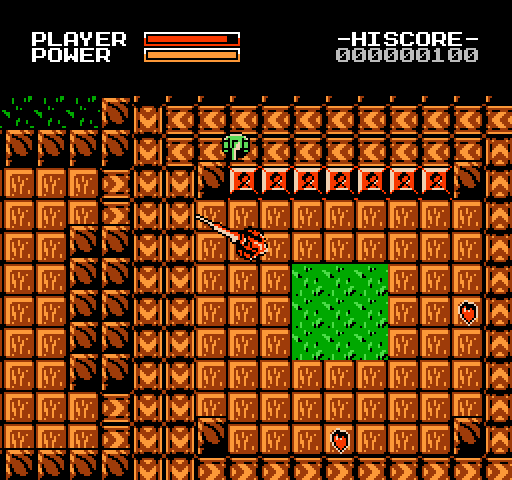 "Macro Propene" by ThanielPIN.
The laser weapon, which is placed on the back of a tank, can be used not only for shooting enemies, but can also act as a turbo boost.
---
JamDNA 15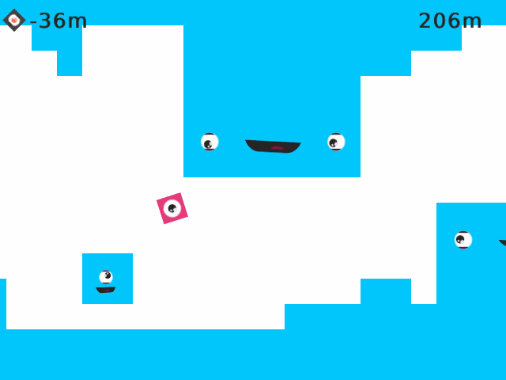 "Klung" by Alessandro Pezzetti.
A grappling hook, smiling rectangles and fast clicking is all you need to escape the approaching wall of doom.
---
Ludum Dare 44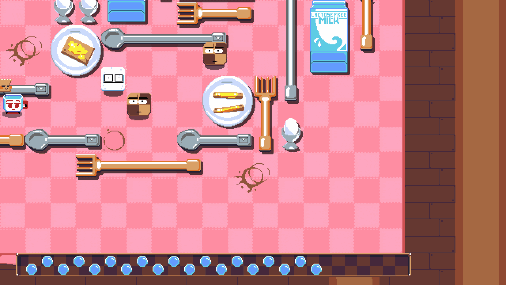 "A Cup's Life" by Conny Nordlund, Kevin Andersson & Dominic Ninmark.
Get the little cup going without losing too much water and soften up the sugar cubes as well as the cookies.
---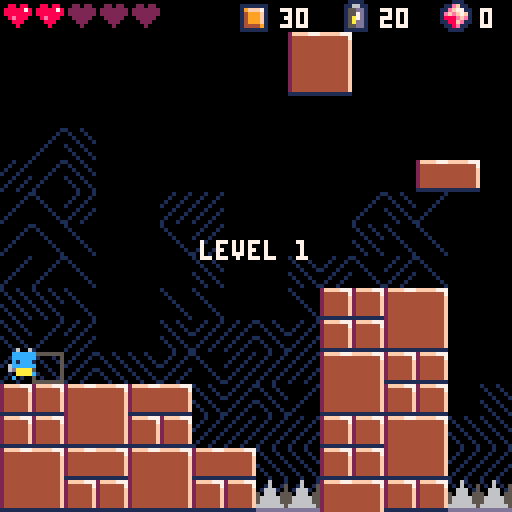 "Blocks for Life" by Joseph White.
This PICO-8 game with its procedurally generated levels offers you several ways to play it: Attack monsters with boxes, just fly around them, build safe ways or go completely crazy.
---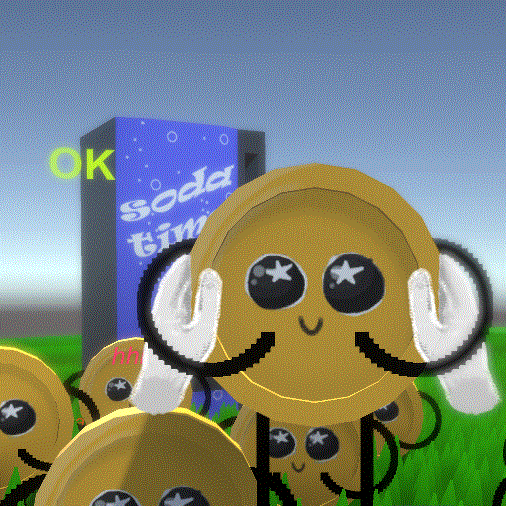 Those little coins adore, love and worship you. What will you do with them?
---
"Consume" by Conduit & ghost-in-the-toast.
This roguelike offers two innovative mechanics. First of all, when you move in a direction, you drag the tile behind you with you. Secondly, you can restore health by performing combos.
---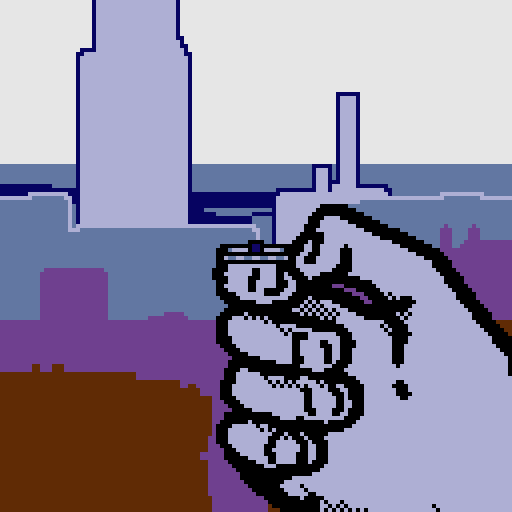 A little ant wants to go to space and needs your help to do so. Flick a coin up to the sky and beyond.
---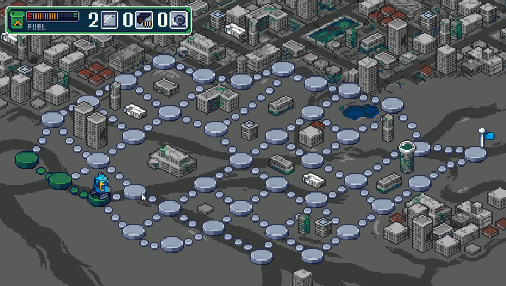 "D.R.I.E.D." by Jason Davey, Efilheim & Jack Pressnell.
The little robot just wants to survive, so it has to find some fuel. Behind the city might wait some for it, but the way is long and dangerous.
---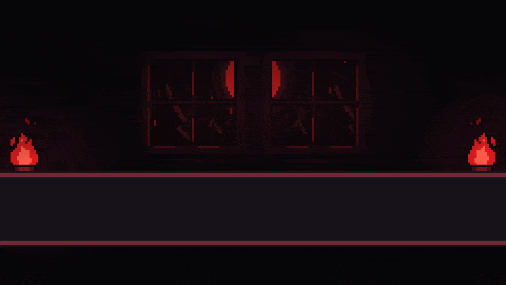 "Darkest Decision" by Christoph Jakob, Paige Marincak & Benjamin Mike Kiefer.
Your village suffers and the only way to stop the dark forces is to sacrifice some of the residents.
---

"Death Alley" by Jonathan Murphy, Dave Lloyd, Kyle Olson, Gavin Kusters & Louis D. Meyer.
Play a round of bowling with the Grim Reaper to see if you can save your own soul.
---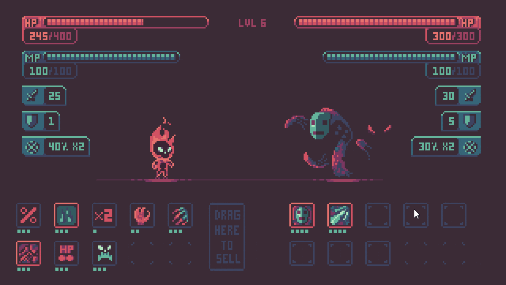 "Die Back" by Konfa Games (Rune_Drawer, Nikolay Kuznetsov & Cardinal90).
Fight automatically against ten enemies after you sacrificed some of your health for new attacks and upgrades.
---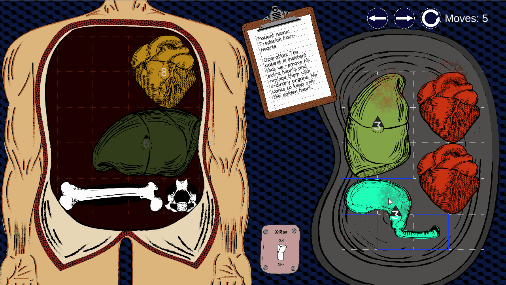 "Dr. Ectomy" by BoxedMeatRevolution.
Remove organs, implant new ones, reorganize them and do not make a mess all over the operating table in this puzzle game.
---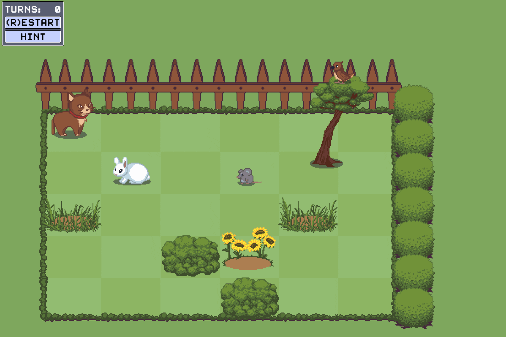 "Fluffensnuff" by Anne Hecker, René Habermann, m2e & kekeldy.
This cat wants to bring its owners gifts like mice, birds and rabbits, so you have to figure out the most efficient way to catch them.
---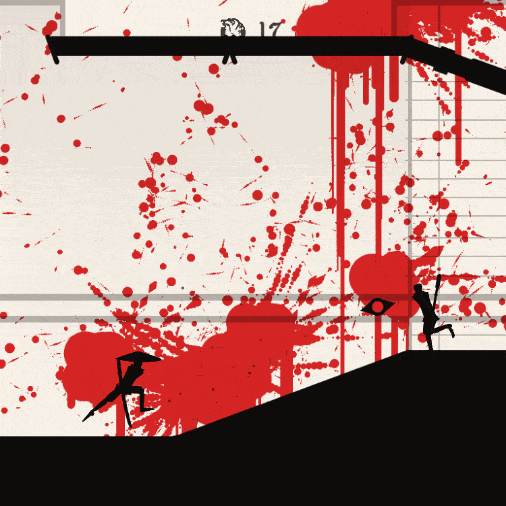 "Heartaker" by Lucas Demo.
He told his inamorata, that he will bring her hundred hearts. But in case he dies while trying to keep this promise, an entity in the underworld might help him out.
---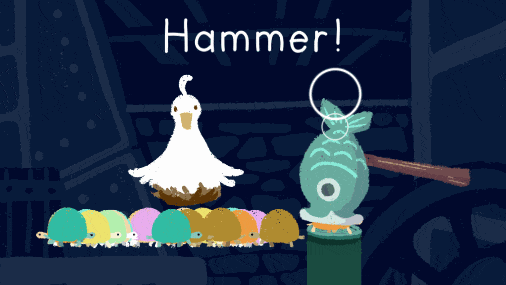 "Inflate Me to the Moon" by Cocoa Moss (DDRKirby(ISQ) & Kat Jia).
This wholesome game teaches you about economic inflation and is a cute "WarioWare"-esque minigames collection at the same time.
---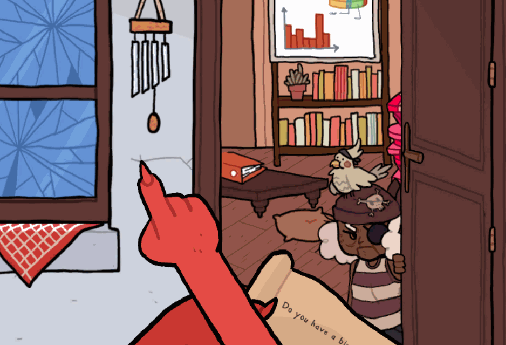 "Knock Knock… The travelling soulsman" by Angry Squirrels (EsquimauPeche, Bolä, Stéphane Grossoleil, Julien Lelievre & Thomas Baudon), megaelod, Illustrason & Thom Pico.
Knock on doors to collect five souls.
---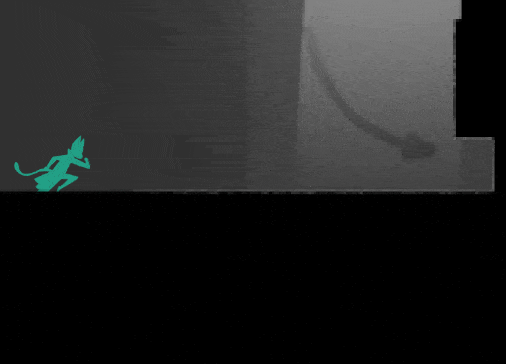 "Lousy Life Lessons" by Janosch, Simon Berger, Marian Friedrich, Juliane Schulz, Frederic Brückner, Charlotte Knodel & Rachel Romanowsky.
This stunt cat platformer features the most amazing cutscenes.
---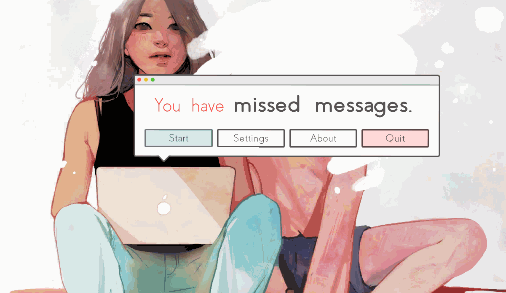 "missed messages." by Angela He.
Content warnings: This game speaks about suicide, suicidal thoughts, self-harm and depression. Please take care and stay open about your emotions and mental health.
---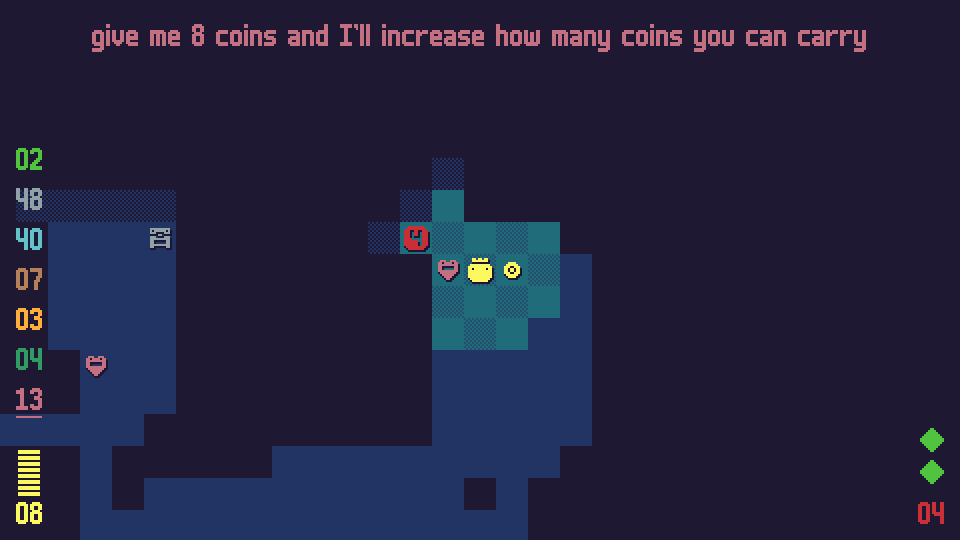 "Mr Moneybag" by Daniel Linssen.
You are Mr. Moneybag. Your coins are not just your money, they act also as your ammunition and hit points. Buy upgrades and gems, while you delve deeper into the dungeon.
---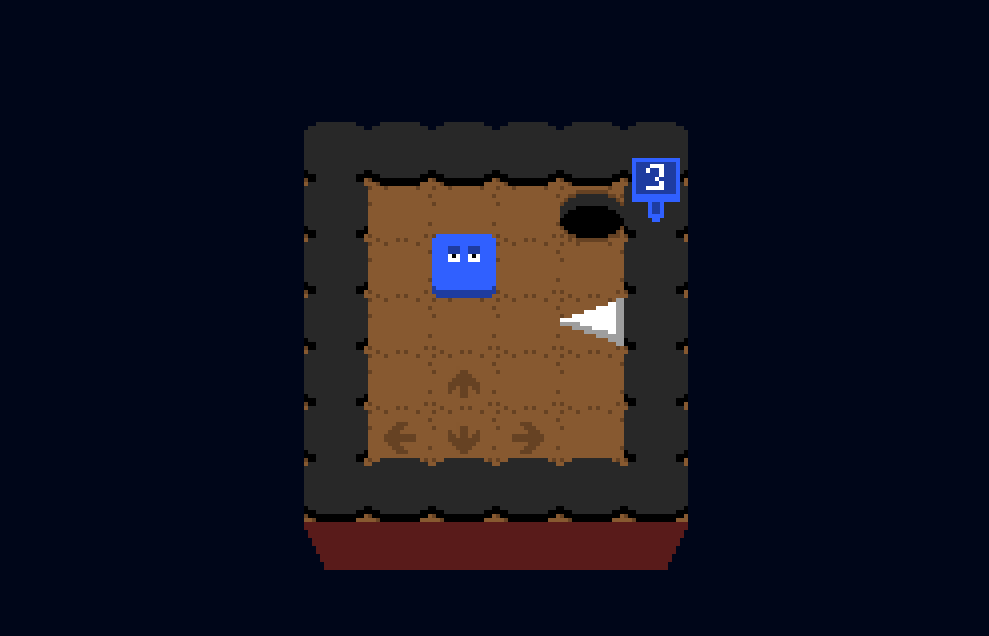 "Pay Me in Blood" by Casper Jakobsen.
The blue blob must pay an evil entity a precise amount of its blood. To do so, it has to run into spikes and then to move carefully to not be blocked by its own fluids.
---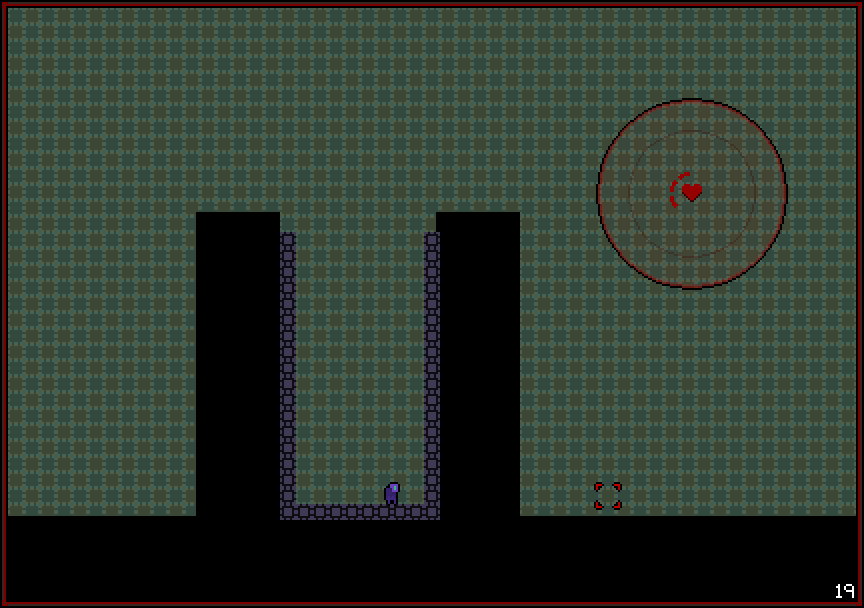 Find your way to the desired heart by mastering an interesting game mechanic: First you delete some space with the outer circle, then you expand the content of the inner one.
---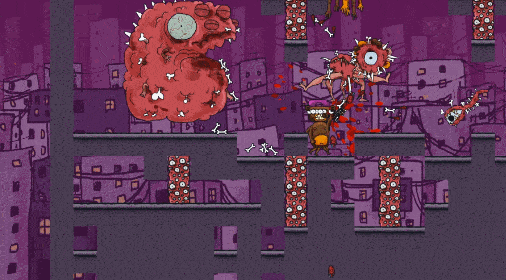 "Rude Bear Reassembled" by Alex Rose, João Dias & John Pennington.
Collect limbs from weird monsters to exchange them for weapons or other limbs, so you can run faster and hold even more guns.
---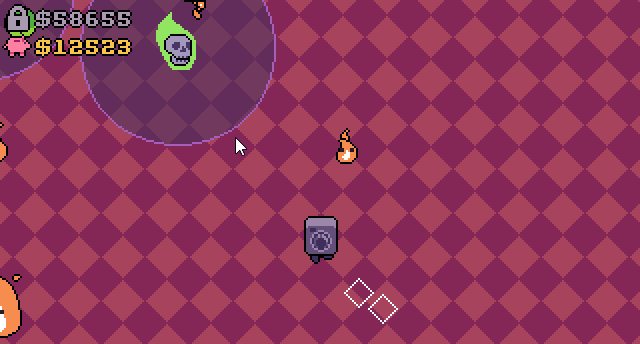 "safecrack" by torcado.
This poor little safe cannot stand all the money it has inside, so it has to run into monsters to lose the coins, only to collect them again and to buy upgrades for itself and the enemies.
---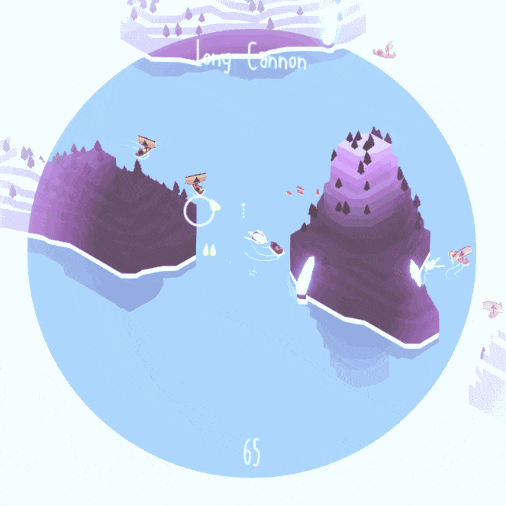 "Seaway" by Constantin Liétard, Thomas Denis, Louis Valet & Maxime Catel.
Beautiful islands wait to be explored by you. Strengthen your ship by collecting island inhabitants or the sailors of destroyed ships.
---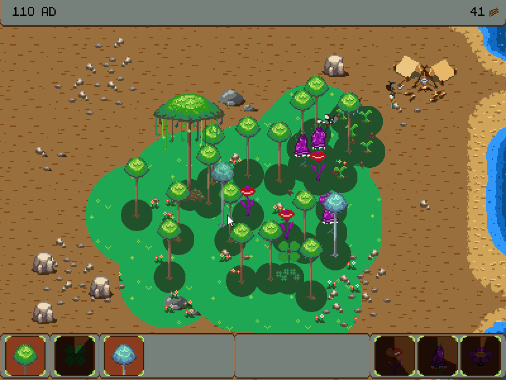 "Seed." by AVAVT, mitus & TQV5964.
Instead of cherishing nature, humanity lumbers the forest for their own profit. In this game, you play as the nature, trying to stay alive as long as possible.
---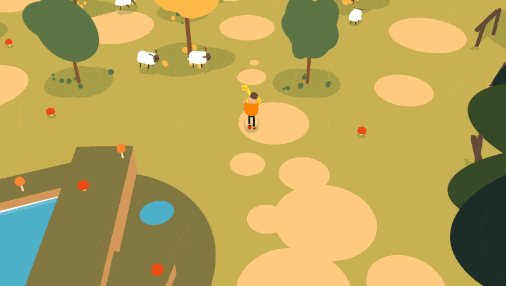 "Sheep It" by anstabo, Pierre Julien Baron & Hailey Byrd.
To deliver one hundred and fifty sheep is not an easy task, but instead of doing all the work yourself, you should better find and activate some robots.
---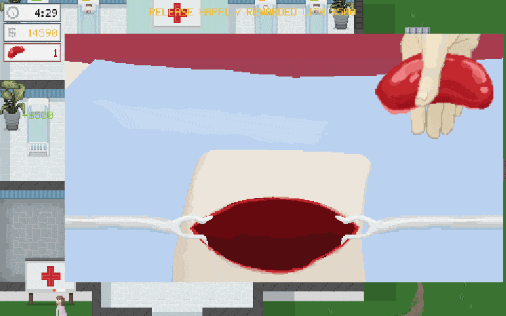 "Sick Business" by Nils Kreutzer, Markus Over, Olav Schettler, Matthias Wetter, Eduard But, Gordon Lawrenz, Bjoern Kopiske & Jennifer van Veen.
Good news: You run a hospital. Bad news: The mafia wants your money.
---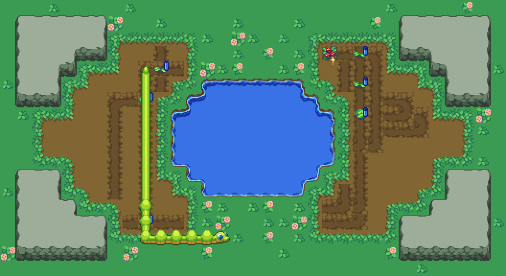 "Snek Farm" by Michael Auderer, Angelo Di Rosa & Failpositive.
Play as a snake, which plants strawberry, watermelon and lettuce seeds, water them and afterwards grow by eating your own harvest. Of course, you should not bite your own tail.
---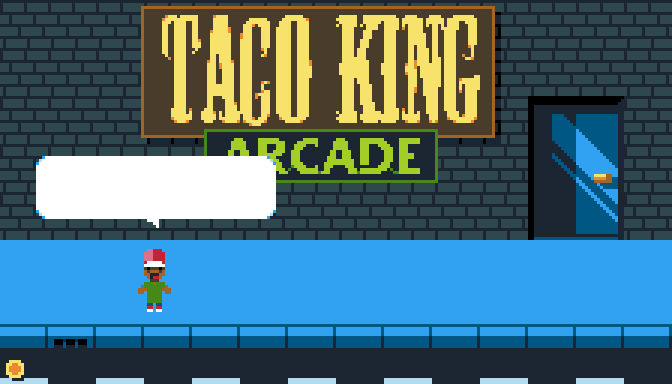 "Taco King" by Benjamin Soulé.
This game is a love letter not only to classic titles like "Space Invaders" or "Asteroids", but to the whole arcade culture itself.
---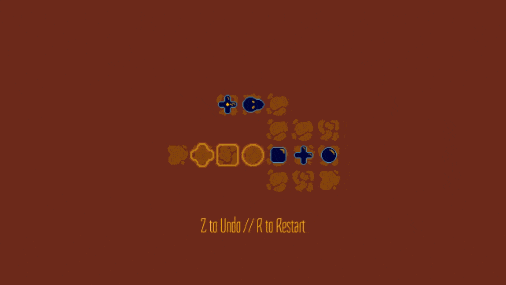 "The Tail of the Serpent" by Lucas Le Slo.
This amazing puzzle with its twenty-five levels will left your synapses twisted. Extend your snake with the different shapes to fit the targets exactly or push the boxes.
---
"This is your life now" by Renaud Forestié.
Live a complete life in five minutes.
---

"Transfert" by Guillaume Piolat.
Find a way to protect your only larva from these heavy raindrops in this stunningly beautiful game world.
---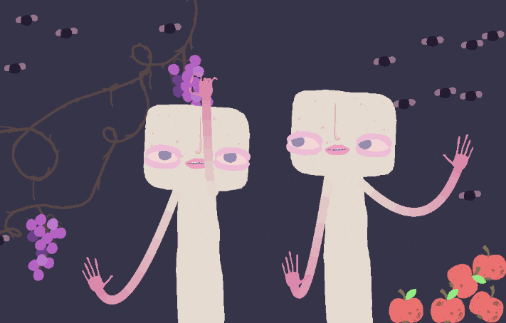 "utsvulten" by ditto.
The way to a heart may go through the stomach, but
o̶n̷e̸ ̸q̸u̵e̵s̶t̵i̷o̴n̴ ̶r̸e̵m̷a̷i̸n̴s̷
W̶͉͗ḧ̷̝̱å̷̲̅T̴̥̑̈ ̷̼͛̆i̶͛͘ͅS̴̛̳ ̷̯͌͝T̶̜́̕Ȟ̴̻̕e̵͍͓͂̓ ̶̨͊f̵͉͋̽O̵̠͇͊0̶̙̒͋d̶͚̰̀?̶̺̉͂
---
Not A Game Jam Game Jam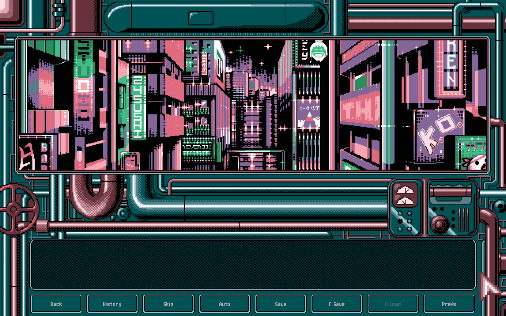 "Vengeful Heart" by Hanuli, Elmo Mustonen, Dray Reed & Dmitry Petyakin.
This visual novel with a cyberpunk setting tells a story about the importance of public water supply.
---
TigerJ(am) 2
"D game" by João Dias, dronehands, Echo_Locations, Mark Ayton, Mechanical Bird, Soulvibes, oozebrood, blender_tommy1441, BinaryUnit, Devolta, ArtyomJam & SatanIsOurCousin.
A wonderful and strange point and click game about flowers, televisions and the sun.
---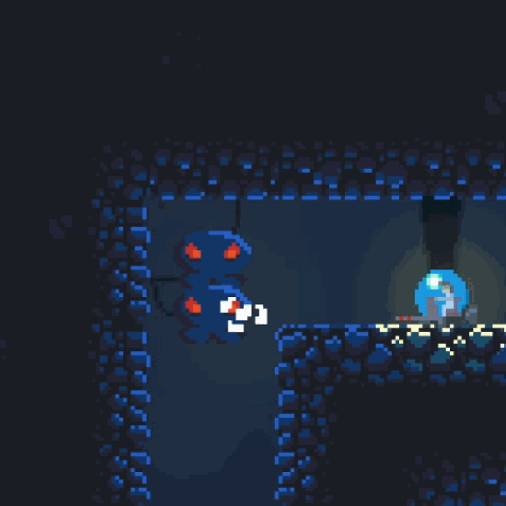 In this metroidvania you have to find several parts of your crushed ship, like a rocket launcher or the cockpit. With those, you might find the exit of this cave.
---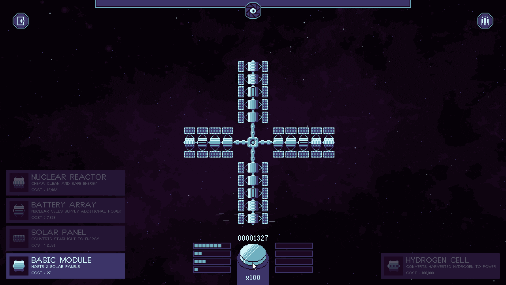 "Station Master" by Ben James.
You have to build a space station and the artificial intelligence called Predator will guide you through the process. Build energy generators, but remember: Power is corrupting.
---
Weekly Game Jam 95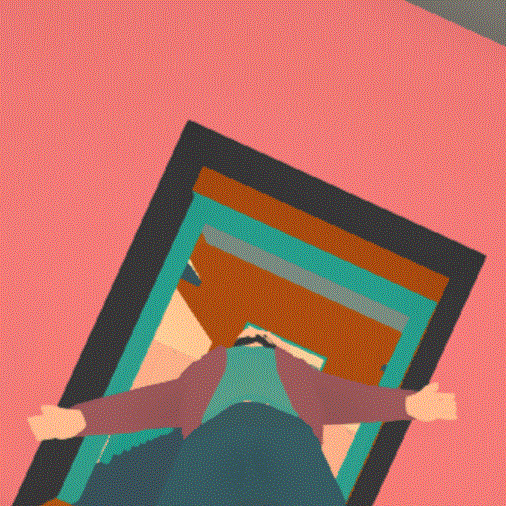 "My very own train station" by NiklasG & arja.
A train station can be an excellent metaphor for life itself, as this game proves. Feel free to make your own decisions, unaware of the following consequences.
---
World MytholoJam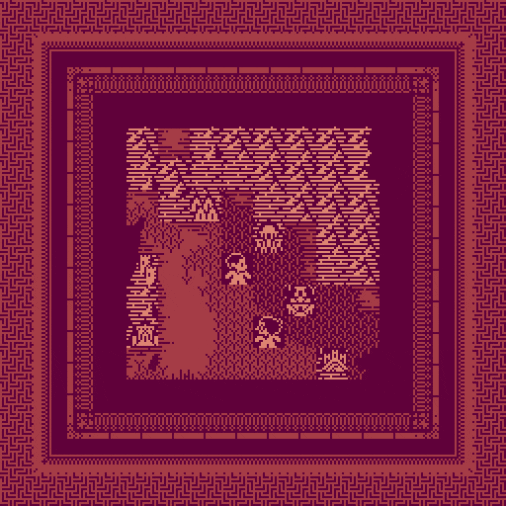 "Last Arc of the Raiders" by Dja_Redona & bb tombo.
An enormous and ancient library, filled with wisdom about mythology, awaits you in this gorgeous Bitsy game.