When I heard that game curator will close, I knew I wanted to whip up a piece looking back at my time here and reflecting on what I have written over the years. So here we are. Let us go back in time together, shall we?
I was brought on board in the late summer of 2020 and told that game curator's focus was on the games that sometimes got overlooked: We give the spotlight to little projects by small teams or projects made for game jams. With that in mind, I wrote my first piece for this site on the "Museum of Mechanics: Lockpicking", a little project that was gaining some mainstream traction, but could use more attention, I thought. That article was published August 29th, 2020, and I was quite proud of it.
For my next piece I went in a similar direction, discussing "MENU NEW GAME+", another project that highlights one aspect of a game, but this time the menus' diverse skillsets. After that, I realized I could use my time at game curator to cover a small project I had my eye on for a while, so thus turned to the demo of "I Hate You, Please Suffer".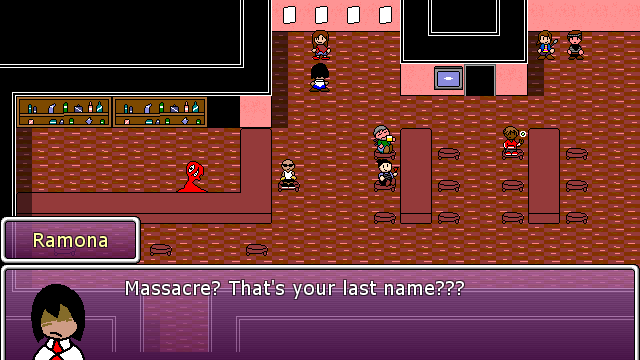 I loved that showcase of what the project could be. This RPG Maker creation about a millennial crushed by debt in a superhuman world really wormed its way into my heart and now is one of my favorite indie games. "I Hate You, Please Suffer" inspired me to write a critical article on it for Haywire Magazine and I also reviewed its Basic Version on here.
I continued covering various games for the site, but found myself fixated on the narrative aspect of them. Games that had a pre-written story ("Detours") or relied on text to paint the world (submissions for the Interactive Fiction Competition 2020) or had me imagine my own ("The Catacombs of Solaris Revisited") or told its tale without words at all ("When The Past Was Around") – these all fascinated me. So when one of the biggest narrative game events of 2021 came around, I grabbed the opportunity to cover it.
Reviewing all the games of that year's NaNoRenO was an ambition I really had to think through on before committing. At the time, I had just lost my job and was unsure at first whether I should look at the biggest games of the bunch or even cover the event at all. But in the end, I decided, "Fuck it!" – I had a little more time on my hands while I was searching for new employment, so why not use it to write about games that might not get a review otherwise? Thus, I embraced the challenge.
It was a truly fulfilling experience. I have been part of the indie visual novel community – mostly as a fan, but sometimes as a critic, and even as a creator on a few occasions – for over a decade, more than half of my life. And I am glad I got to give back to the community I cherish by reviewing all of the amazing projects made for NaNoRenO 2021. It made me remember my time on Lemma Soft Forums back in the day, seeing the diverse projects on display from independent teams, watching visual novels succeed and gain their audience. I loved it.
After this, I continued writing about narrative games, reviewing out a very promising epic visual novel called "The Hayseed Knight" and discussing "That Which Faith Demands" after that. The latter review is one I do not know what to think of nowadays, because I both discussed the game and its merits, but also dug into my own jealousy as a creator in the same 'space' (meaning the interactive fiction world). Perhaps I should have just focused on the game and not made it also about me; then again, perhaps the writeup provided something positive for people having similar experiences. I will be pondering this for quite a while.
But something big was coming – an event that had begun just as NaNoRenO concluded. Yes, I am talking about the Otome Jam, a visual novel event about making a romance-focused game (specifically, one primarily with a female protagonist falling in love with one of several male love interests). I am a huge fan of otomes myself, having truly treasured games like "Collar × Malice" and "Code: Realize – Guardians Of Rebirth", but I also greatly enjoyed visual novels with romance elements such as "Magical Diary: Horse Hall". So I was absolutely ecstatic to see a game jam that would encourage the creation of new otomes!
While the event ran from April 30th to June 30th 2021, I pondered whether I should cover that event. I was keeping an eye on it as it ran, checking updates and the amount of entries here and there. Eventually, I decided to start covering the few games that were on the page at the end of June – it looked like this would end up as a smaller event than I expected and I wrote articles for the site, also scripting videos to go with them on the otome-based YouTube channel I ran at the time. But as the deadline approached, more and more projects poured in and I had a decision to make: Stop at a few otome games or continue the coverage? In the end, I again decided to embrace the opportunity and cover all the games – and boy, am I glad I did!
Playing all the visual novels of the Otome Jam was honestly an honor, just like NaNoRenO had been. I loved seeing the imagination of so many creators, the different ways people told and changed the classic "girl meets boy" formula. I discovered some of my favorite visual novels ever by doing this and I got to connect with some of the creators as well. And of course, writing the reviews as well as filming the videos was great fun! This truly had been a pleasure and I am grateful for the positive response from the visual novel community on my coverage, too.
After this, I covered a few more games to end the year: The already mentioned "I Hate You, Please Suffer (Basic Version)", the demo of "One Spirit" and the completed "Another Day". While "I Hate You, Please Suffer" was a bit different now it was still as good as ever. I also loved the atmosphere that "One Spirit" created, even in its brief demo. And as a transgender person with mental health issues, "Another Day" truly spoke to me.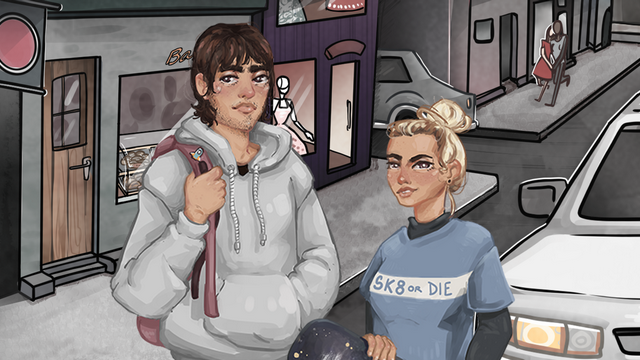 I was looking forward to 2022 and what games I could review in the coming year. By then I had been told about game curator's coming shutdown and wrote a list of what I wanted to cover, preparing to tackle these projects very soon. But… Things changed.
In January of 2022, I experienced major health problems, debilitating cognitive impairments that affected everything I did. Very soon, I was unable to do very much and even playing video games was soon out of my reach. Before that happened, I did manage to review and play "Stars Die" – an existential PlayStation-2-esque nightmare that I found to be amazing – but after that, I was unable to do anything else for game curator. This saddened me as I had wanted to cover as much as I could before game curator stopped producing articles. But my health prevented me from doing so and I deteriorated for months. Things looked very serious and I feared the worst for my future: A version of me who was nothing but an empty shell.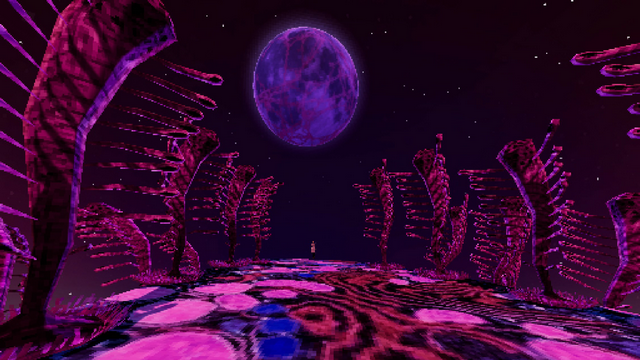 Thankfully, that did not happen. In May, a series of unfortunate circumstances led to a fortunate outcome as I was given a diagnosis and treatment plan. It turns out that I, a person in my twenties, had and have pseudodementia and I am still in recovery from it currently. I am doing much better at the moment and making my way back to my full self. Slowly, but surely, I am getting there.
And at present, as I currently sit in treatment housing, game curator's life is coming to an end. I wish I had not gotten sick and been able to cover more games before this point, but that is not something I can change. Well, I am going to move into the future with a continued love for independent video games and cover them when I can, where I can. There are specific projects that I still want to review sometime – "Blooming Panic: Full Bloom Edition" and "An Everyday Love", to name a few -, but those writeups will have to happen elsewhere.
If there is anything I want you to know as I conclude, it is that I am honored I could be a part of this website and enjoyed covering many narrative games across the internet. Thank you for reading my reviews and this last post. Keep supporting indie games and give them all the passion they deserve.
I know I will.
— Naomi Norbez, call me Bez (he/they/e)