Since this blog's launch, I have had the honor and privilege of presenting my forty favorite jam games of the year six times. This format was always two things at the same time for me: Firstly, I celebrated the creative diversity that prevails in this very special scene, but secondly, it was always my very personal annual review of my own curative work, which I could share with you. I could show you what I particularly liked and what resonated with me for days and weeks, but sometimes even months and years. That was always a very special moment for me.
And even though this website will be shutting down in a few months, I am still very happy about each and every one of you who has had some form of enjoyment with this other kind of Games Of The Year lists. Thanks for being a part of it. I mean it.
And now, without further ado, I would like to present to you my forty jam games of 2021 as well as forty more honorable mentions! As always, these are divided into eight categories: Concept and Gameplay, Juice, Puzzle and Level Design, Audiovisual Representation, Storytelling, Atmosphere, Unconventionality and Nostalgia. I hope you have a great time with it!
---
---
Concept and Gameplay:
---
"Deepest Sword" by Cosmic Adventure Squad (Vu Ha, Rose Peng & Johan Soriao).
Ludicrously gigantic swords have been an en vogue choice as weapons in video games since "Final Fantasy VII" at the very latest. In "Deepest Sword", although the blade resembles a short dagger at the beginning, it grows with each successful pass through the level thanks to magic. This is urgently necessary, because the scaly skin of the dragon to be slain hardly allows a puncture! But as a side effect, the cave itself is getting longer and narrower, too. Humorous puzzle physics platformer fun is guaranteed due to this absurd premise.

Read more about "Deepest Sword".
---
"SUPER IS HOT" by Younès Rabii.
Both "SUPERHOT" and "Baba Is You" are – not only within their genres – conceptual masterpieces. So what do you get when you mix the two together? Right, another conceptual masterpiece! In "SUPER IS HOT" you can change the rules of the shooter game world by solving sometimes tricky propositional logic puzzles. Can you take out a room full of enemies even though you can only move straight ahead when you are shooting? In this fabulous game you will discover the solution.

Read more about "SUPER IS HOT".
---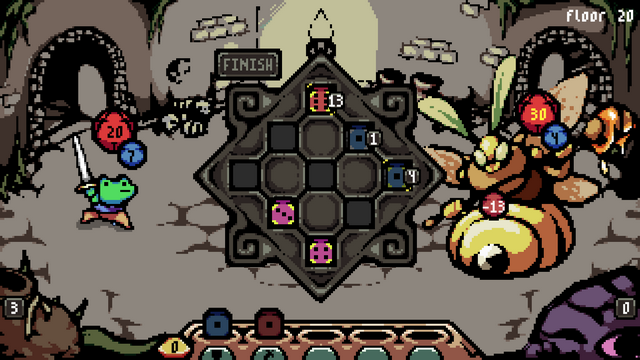 "Die in the Dungeon" by Jaun, SexyBuggy, Alarts & Adrián González.
Often, as a player, it can be very overwhelming to be confronted with many different types of the same type of object in a video game. "Die in the Dungeon" could have fallen into this design trap as well. But even though there are not only attack and block die, but also cubes with healing, booster and mirror effects, everything goes off remarkably easily – even without any type of tutorial! If you have always wanted an accessible dungeon crawler with deck-building elements, pixel art and an upgrade system, you will find it here.
---
With "SURGE" we have another jam game in our list next to "SUPER IS HOT", which follows a clear source of inspiration. In the spirit of the indie hit "Minit", the goal here is to complete an adventure title within the game itself, which is constantly interrupted by a power outage. Nevertheless, if you remember a few shortcuts and tricks, you can quickly get to the final boss.

Read more about "SURGE".
---
"do;MIN(0)" by Antti Haavikko.
As you might guess from the name, "do;MIN(0)" combines the childlike lightness of dominoes with an extremely strategic approach. Here, highscores have to be cracked, chain reactions have to be planned and combos have to be executed! With each successfully completed level, you not only get new tiles, but also various upgrades. Yet this sounds easier than it actually is, because you often have to reach a minimum score or solve special tasks.

Read more about "do;MIN(0)".
---
Honorable mentions (Concept and Gameplay):
---
Juice:
---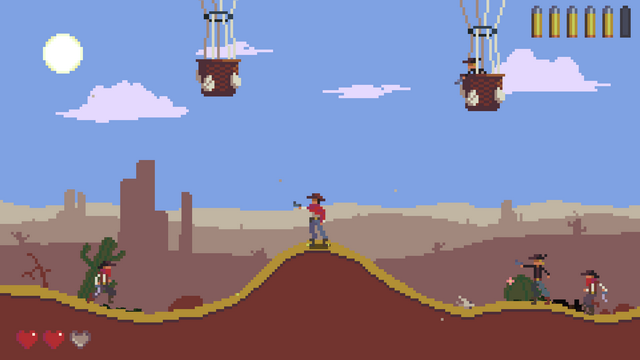 "Fastest Gun in the West" by Marcin Radliński.
Venomous snakes, bandits armed with knives as well as cold-blooded shooters must be put down as efficiently as possible in the Western shooter "Fastest Gun of the West", because each wave of attacks consistently gets worse than the previous one. Hardly any round lasts longer than a minute. Still, the act of aiming and shooting always feels so smooth that it is always hard to believe it is already over again.
---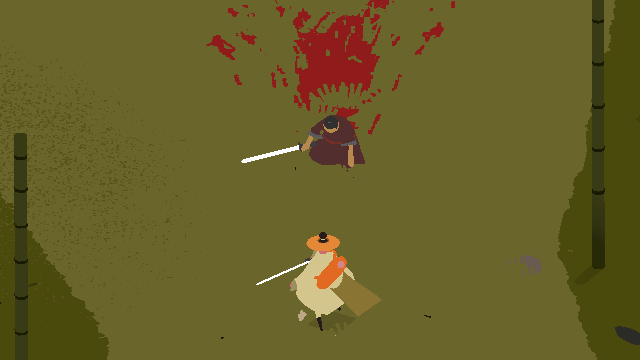 "Sword" is an extremely short prototype in which the sole objective is to attack five enemies one after the other as a samurai and kill them using the titular weapon. After each successful hit, the green of the grass gives way to splattering red. The path to this point, though, has been designed with a lot of attention to detail: The clash of blades on an auditory level is convincing, the environment littered with bamboo stalks gives way to the sharp equipment and the carnage itself can be described as elegant in a certain way. Try it out for yourself and soon you will know what I mean.
---
"TAILSPIN!" by Team Bugulon (sarn, Oroshibu, Attfooy, THX, Shrombus, SnakeBlock, bub, Mista Jub & squp).
Although "TAILSPIN!" has fairly challenging levels, it is very juicy in its own way. The piercing of sandy ground but also the clashing of the digging apparatus with hard surfaces add up to a wonderful feedback to any keystroke. In particular, the perfectionists among you will have to scrutinize all levels to get all the collectibles. If you do this, your gaming experience will almost resemble a rehearsed dance.

Read more about "TAILSPIN!".
---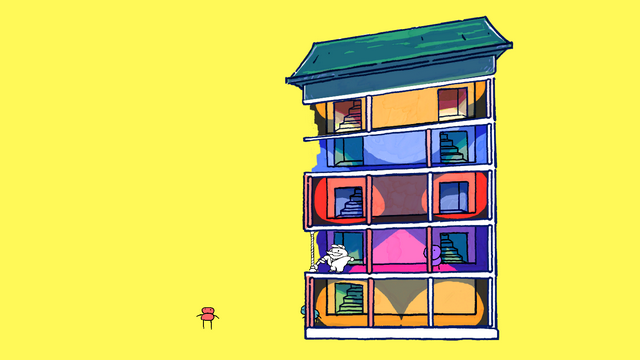 "Rumble" by Joseph Thomson & Robert Thomson.
The multi-story building in "Rumble" is in danger of almost collapsing due to recurring earthquakes, leaving its inhabitants to certain death – but luckily there is you, the janitor! Armed only with a vice and a hammer, you at least temporarily fix the shaky walls so that all the elderly people can make it out, although the situation is constantly deteriorating. This constant battle against the forces of nature feels like a strong act, especially thanks to the cartoon-like animations.
---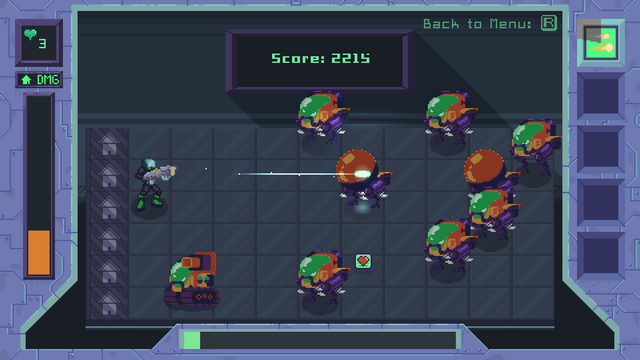 "Volatile Defender" by Azagaya, DeepGlowing, DawCrash & Pilar Hidalgo Lopez.
Thanks to the automatic shooting and the instant start-up of collected power-ups, in "Volatile Defender" you really only have to worry about where you go and in which of two directions you shoot. Despite this simple basic concept, the game turns out to be a terrific chaotic mess when more than five alien soldiers approach your base. Figuring out the best strategy is an integral part of the associated hunt for the highscore.
---
Honorable mentions (Juice):
---
Puzzle and Level Design:
---
In "RAMnesia", after a short time you will forget everything: Your location, the number of coins you have collected, which item you are currently carrying and much more. This circumstance leads to the fact that the respective value is then also reset to its original state. You are topographically reset to the beginning, any accumulated wealth fizzles out and the key you are carrying disappears into nirvana. All of this happens, at least, if you do not change anything about each state in question within a few seconds. This results in a puzzle and level design that is confusing at the beginning, but also highly worth our award.

Read more about "RAMnesia".
---
"Overflow" by Shahar Bengad, Ron Digmi & Tomer Ben Harosh.
The goal of each puzzle in "Overflow" is the complete watering of various flowers, because only then is a level considered finished. Unfortunately, there are other types of plants that also react to the cool fluid and thus block your way to the respective source! Finding the perfect way through the sixteen levels is not always easy, but that is exactly what makes it so appealing. You just have to be aware of the consequences of every move.

Read more about "Overflow".
---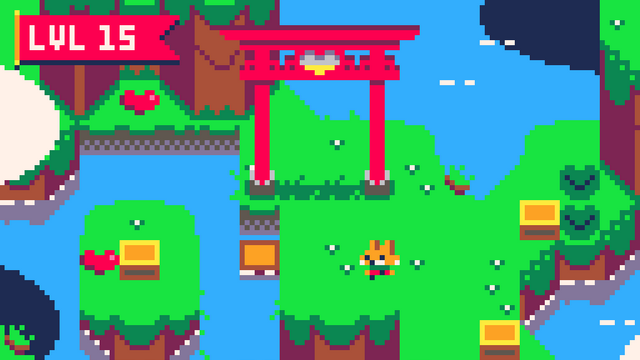 The gameplay of "Sokoban" as well as the tile-matching genre are two of the most popular puzzle basics ever. In "Kitsu" they are both combined in an unusual, but also brilliant way: Here, a fox can take the form of bushes, rocks and platforms. If the animal character is then in a line of at least three such objects, they dissolve. In this way, all the hearts per level can be collected and afterwards the player can progress to the next stage.
---
"Plains In The Sky" by Liutauras Gaidamavičius.
If you liked marble run puzzles, you will love "Plains In The Sky"! Here, all the snakes have to be nudged away so you can advance to the next level. However, the cannonball can also nudge sheep, which then move to the respective end of the platform – if they fall away, you have to start again. So better plan each shot carefully ahead in this heavenly physics puzzle game.

Read more about "Plains In The Sky".
---
"Berserker and Thumbnail Maker" by andretchen.
In "Berserker and Thumbnail Maker", the titular little berserker keeps running from left to right and vice versa. You, on the other hand, control the Thumbnail Maker and have to make use of their special ability: You can constantly take a three by three tiles large screenshot of the level and place it at any location! You want to extend a ladder? No problem at all. You want to block the wild knight's access to an area? Simply pull up a wall. However, all this action takes place in real time, so you should better pay close attention to where your partner is at the moment.

Read more about "Berserker and Thumbnail Maker".
---
Honorable mentions (Puzzle and Level Design):
---
Audiovisual Representation:
---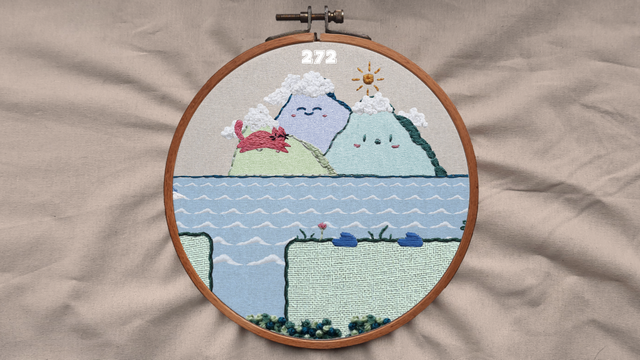 "Katjepult" by Smol & Chonky (Bradley Smith & Camille Carpentier).
Every now and then you can see gorgeous embroideries as decorative elements in video games, but the graphic style of the endless runner "Katjepult" even consists entirely of this art form! The little cat, the smiling anthropomorphic mountains, the sea in the background, all the flowers and clouds – everything was effortfully embroidered in advance. Such an energetic effort on the visual level simply has to be distinguished!
---
"Is Lupin Still Flirting?" by Alexis Royce, Tsushi & Camden Dawn.
Even if, like me, you have not really followed the "Lupin III" franchise, you can still enjoy the humorous visual novel "Is Lupin Still Flirting?". After all, you can appreciate the beautiful hand-drawn watercolor graphics as well as the supporting music tracks without any prior knowledge! This is exactly the kind of fan games I like: Accessible, fun and a pleasure for the eyes as well as the ears.
---
"Sun Flower" by Clément Chardevel, Florent Chardevel, Mina Perrichon, Louis Ernenwein & Marin Babet.
If you only look at a screenshot of "Sun Flower", the grandiose drawing style with its focus on green and red could lead you to believe that you are steering a little kobold through a fairytale forest. But actually we are in a swamp here and must not allow ourselves a misstep into the morass during our search for special light-bringing plants. This pressure is made clear on an auditory level thanks to the tense background music. However different the graphic and audio styles may be, they paradoxically manage to cooperate perfectly! I wanted to honor this special achievement with a place on this list.

Read more about "Sun Flower".
---
"Candy Scabs" by Nemlei.
Nemlei's drawing style is an extremely cohesive one that runs through all four of the developer and artist's works released to date. Still, the characters never seem generic, because they always have something special about them – including those in the cute Halloween horror story "Candy Scabs"! With an autumnal color palette that just screams pumpkins and ghosts, you could almost believe that everything will turn out for the best for the nightmare Slough and his new friend Valerie. Yet here you can reach not only a good and a bad ending, but also the one that is called the worst for a reason.
---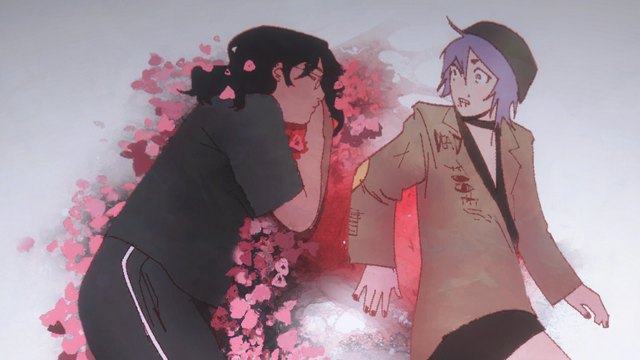 "COME ALIVE!" by Angela He, Kalko & Jojo Putman.
"COME ALIVE!" is also about a Halloween night, but here a few friends meet in their dorm room to watch a trashy horror movie together about a serial killer wearing a bunny mask. However, events soon spiral out of control as the movie seems to come to life. In terms of visuals, the game convinces with outstanding scene drawings, the representation of many different facets within the character design as well as a very individual style in the creation of the interactive environments. But the audio tracks are also terrific, as the blood can freeze in your veins when chilling beats are slowly distorted.
---
Honorable mentions (Audiovisual Representation):
---
Storytelling:
---
"THERE SWINGS A SKULL" by Quinn K., Conor Walsh & Leaf Let.
"THERE SWINGS A SKULL" has found its very own formal language to draw attention to the brutality of the climate catastrophe. Medium and long-term effects such as droughts and heat waves are represented here by a merciless sun that can literally pulverize people. This narrative sledgehammer is countered by the individual characters and their interaction with the world. In a short time, players witness how people stop dreaming, how they project their fears and how their facades crumble in the face of impending doom. All this happens in such a poetic way that it makes you ache.

Read more about "THERE SWINGS A SKULL".
---
"ENCORE" by Savvy Community (Frédéric Urien, Tom Rivière, Lola Baudet, Milo Kalita, Juliette Pereira & Sacha Mathelet).
At the beginning, "ENCORE" looks like simulating the everyday work of a stage technician in a theater. The tasks are spoken directly into your ear via a headset by the 'control'. But once the spectators have left the auditorium and the cleaners are already getting down to business, the true nature of our boss is revealed. By means of this double narrator role and a sudden twist, this unusual jam game manages to build an intimate moment with the players by letting them dare a look behind the scenes.

Read more about "ENCORE".
---
"My Dream Job: How I Survived Job Hunting in Animation" by Joanie Rich.
In the Bitsy game "My Dream Job: How I Survived Job Hunting in Animation", Joanie Rich processes her own professional career, showing all the ups and downs associated with it, unabashedly. Rarely have I seen someone focus so explicitly on their own failures and not just portray them as a stop on the way to success. Furthermore, she sheds light on the consequences of this difficult time on her own mental health, which I personally consider extremely positive and important, as it further destigmatizes talking about anxiety disorders, depression and related issues.
---
"Lost Memories" by Borja Martínez-García, Gonzalo Diez Garrido, Lourdes Pérez Indaverea & Luis Miguel Blanco.
"Lost Memories" is both an exploration game and a storytelling tool. It consists of a single large room full of various objects such as a guitar, a bicycle, a wine glass, and many more. Each object can be the vessel for a memory in the form of a text note. As a player, we can either go in search of these messages or shape the room ourselves. If we choose the second option, we can link up to eight objects with a memento written by ourselves. Once we are done, we receive a shareable QR code that other people can use to enter our memory space. This is an immensely beautiful, reflective act that I really enjoyed.

Read more about "Lost Memories".
---
"We Follow The Fickle Path" by SweetHeart Squad (Sean S. LeBlanc, Michael Hetman & Ian Martin).
Many aspects of "We Follow The Fickle Path" contribute to its high storytelling quality. On the one side, there are the different storylines, optional scenes and multiple endings, but also the fact that their occurrence seems to depend on almost tiny details. On the other side, I was also intrigued by the monologues and dialogues in terms of the exceedingly accomplished writing. The constant struggle in the mind of Sister Twenty of Many Oecophylla, whether her own individual personality may take precedence over the collective ideal of her ant family, is palpable in every sentence.

Read more about "We Follow The Fickle Path".
---
Honorable mentions (Storytelling):
---
Atmosphere:
---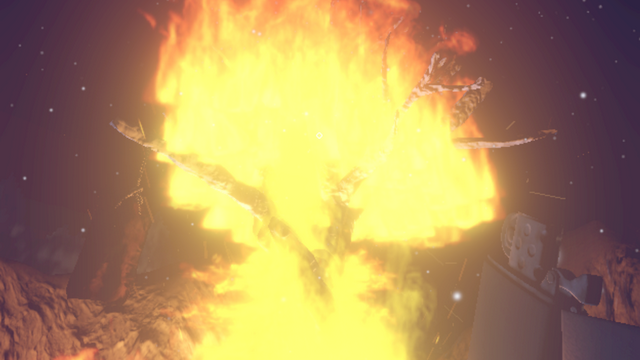 "What We Had To Do" by Alon Karmi.
An aura of the indefinable surrounds "What We Had To Do". The protagonist drives to a tree, stretches a rope over one of the still sturdy branches, buttons up a corpse wrapped in a body bag, pours gasoline over the wooden final resting place and then sets everything on fire. A year later, this scene is repeated in what appears to be the same place and then again. Why? Completely unclear. How can the tree be completely undamaged? That, too, remains a mystery. What role do the displayed years play in the interpretation of the game? You will have to figure that out for yourself.
---
"BlackBird" by Owen Senior & Ellen Senior.
Even though not a single word is spoken in the atmospheric platformer titled "BlackBird", you quickly feel a bond between the feathered main character and their companion. In a world full of mischief and constant danger in the form of pulsating spiky balls as well as ravenous giants, the two can rely on each other. Especially the always fitting background music makes sure that you can relate to this in every stage.

Read more about "BlackBird".
---
"CorpseOcean" by Akuma Kira & Jarren Crist.
The sea and the underwater world are a source of various strong fears and phobias for many people. In "CorpseOcean" you have to face the unknown in the depths by piloting a miniature submarine designed just for one person. A certain feeling of confinement sets in, yet the mission to collect barrels of ominous material must succeed. But when suddenly the coordinate display glitches and you can see things that should not be there, the ambient horror begins to unfold.

Read more about "CorpseOcean".
---
"Sub String" by Matthew Zhang.
Cooperating with each other, as well as offering help to others and accepting it from them – all this can mean a spark of hope. This becomes particularly clear in the puzzle and exploration game "Sub String", where you set out to find a new home after an unspecified catastrophe. Here you will meet creatures that you will have to guide to certain points using acoustic ping signals, so that hidden cave passages can be reached and you will both be safe. This integration of cooperative elements into a singleplayer game in combination with the fantastic soundtrack proves to be most charming.

Read more about "Sub String".
---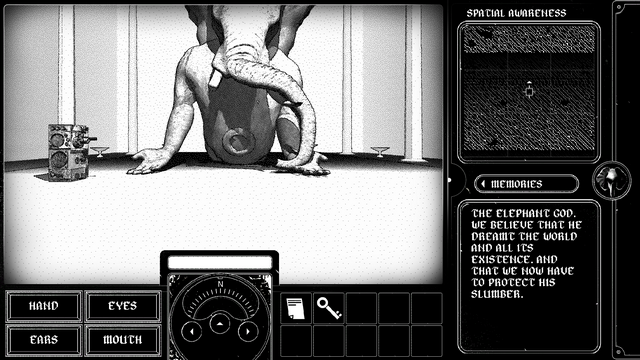 "Down the Elephant" by Guillaume Clarisse & Boris Cabault.
An intrigue of gigantic proportions threatens to take its course in "Down the Elephant" and drag the world into eternal ruin. Your church leader, who is simply called "Mother" by everyone, has gone inside your worshiped deity to settle a matter. You follow her and must choose sides in the end. This striking scenario, along with the highly unusual interface, exude a very special charm that is hard to resist.
---
Honorable mentions (Atmosphere):
---
Unconventionality:
---
"Mother Chef: The Musical!" by Daniel Foutz.
Have you ever wondered about the weird term "food baby"? Daniel Foutz has taken the strange neologism to its logical conclusion and released an musical puzzle jam game in which you have to listen carefully to self-sung songs to figure out the four correct ingredients needed to give birth to such a baby. The four components are then simply given to a female cook and just nine months later the pizza-faced sushi sandwich is standing on its own two nacho legs! Aw, how cute. But "Mother Chef: The Musical!" also shows that you do not always have to rely on traditional recipes when developing games or cooking.

Read more about "Mother Chef: The Musical!".
---
"Unpaid Serenade for Future Solution Group [2026 eCon Grief/Heartbreak Singalong]" by Sand Gardeners (Sam Machell & Colin Le Duc) & Moth.
If you have always wanted to simulate a virtual karaoke performance under the influence of alcohol by typing in the song lyrics on your keyboard, even though you were actually invited as an expert to a climate conference, you can finally make this dream come true thanks to "Unpaid Serenade for Future Solution Group [2026 eCon Grief/Heartbreak Singalong]"! Rarely before has fear of failure been paired with impostor syndrome and climate anxiety in such a tragicomic way, only to culminate in a primal experience. Are you confused by this description? And yet every word is true.
---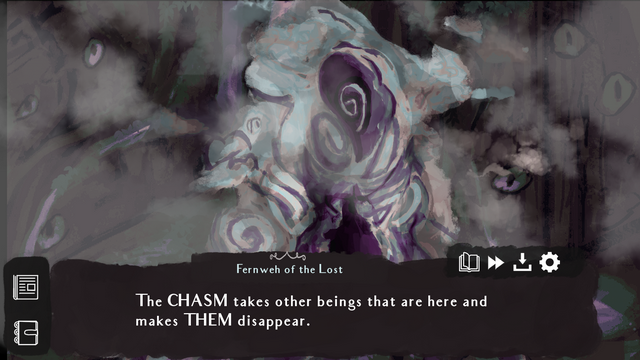 "A Monster's Insight" by arkicade, LGM & Sayumi Aikawa.
Not only is the primary goal in "A Monster's Insight" – namely to steal the souls of cosmic terrors by means of psychological manipulation and debating skills in order to strengthen one's own power – very unusual, but also the way this has been implemented as gameplay! Whereas most visual novels would simply offer various conversation plots with different answer options, this one adds a trait system as well as a notebook for collecting important terms. This diversity allows for an unusually high number of different approaches, with which one can win, but also lose.
---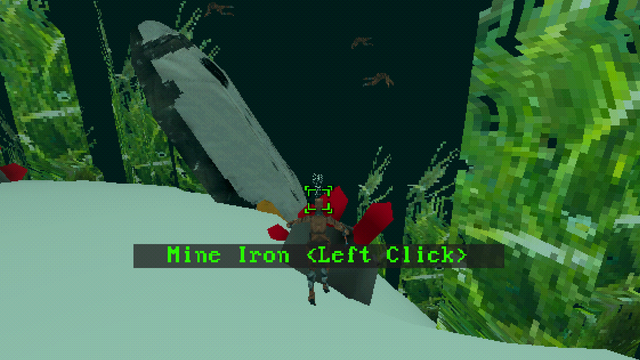 "Oceanwork" by Warkus.
In "Oceanwork" you are condemned to forced labor. At the bottom of the ocean you must mine valuable ores. You can then sell them and use your savings to buy new upgrades like a bigger oxygen tank or better diving equipment, or even buy back your freedom. However, the sea has a few surprises in store for you. Besides huge monsters, there is a wreck to discover, in which a revelation awaits you that could change your entire playstyle. With this exciting concept, Warkus has released the jam game that, in my eyes, has achieved the most interesting handling of grinding mechanics this year.
---
"Courage: The Videogame" by Nathan Gabriel & Francisco Lucas.
"Courage: The Videogame" is visually based on "Courage the Cowardly Dog", but the cartoon adventures of the pink beagle are of secondary importance here. Instead, a cryptic journey unfolds through eerie in-between worlds and abandoned spaces, the origins of which are not yet clear – because so far this is only the first part of an alternate reality game. The Old Wind is already whistling between the save states. The rhythmic creaking is accompanied by a message. The map for a maze without paths cannot be grasped with the eyes alone. And the memory of an unknown beckons in every final shadow.

Read more about "Courage: The Videogame".
---
Honorable mentions (Unconventionality):
---
Nostalgia:
---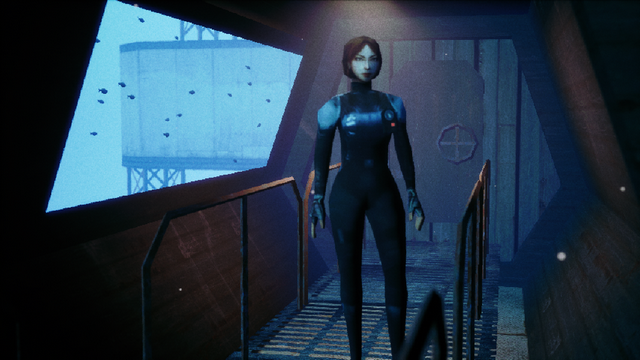 "ENDLESS BLUE" by Matthew DiVito.
With "ENDLESS BLUE" we start the ride on the retro wave. The visuals capture the aesthetics of video games from the nineties so incredibly well that you could think someone had copied the contents of an old demo CD-ROM from a gaming magazine here. But Matthew DiVito simply proves himself to be a great connoisseur of the classics with this jam submission, perfectly imitating the vibes of the classics. Especially the cutscenes are just great!
---
"Necrow Co." by King Worrell & Zahran Worrell.
As someone whose first handheld console was the wonderful Game Boy, I have always had a big soft spot for the GBJAM and all contributions to it. So it is probably no wonder that "Necrow Co." was one of my absolute favorites this year! With a cute feathered main character, sweet chiptune tracks and pixel art, a variety of selectable color palettes plus some secret passages and extra challenges, it made the kid in me smile.

Read more about "Necrow Co.".
---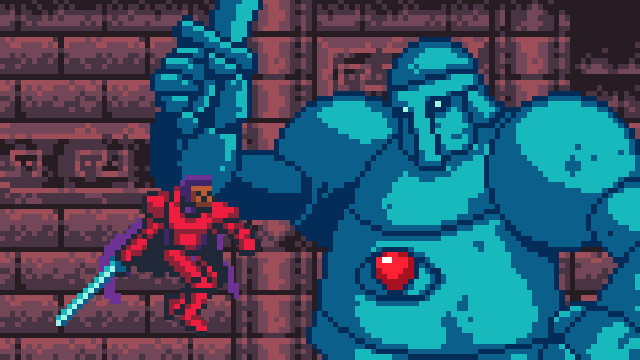 "Hexblade" by Róger Goulart & Vinicius Núñez.
Whenever I think back to old video games, one factor is constantly present: Badass boss battles! In "Hexblade", there are five such fulminant fights to pass and your giant enemies are not the only problem. You fight with a cursed sword whose black magic charges up with every attack, to your misfortune. If it discharges, the knight Alastor will die immediately without any other outside influence needed. Therefore, it is not advisable to fight quickly, but skillfully, as well as to dodge.
---
The titular "Buffet Knight" is a good-hearted glutton for the books! Similar to Kirby, he can suck all sorts of things into his stomach. On the one hand, this ability can be used to heal the hero, but on the other hand, he can also spit out everything specifically to attack his foes. If you now think that this is just an ordinary puzzle adventure, you are mistaken: Players can reach two endings in vastly different ways. Sometimes it is just better to know when you have had enough.

Read more about "Buffet Knight".
---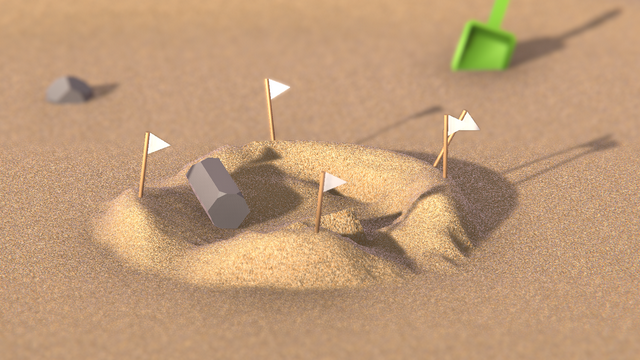 I am sure many of you will also have some childhood memories of visits to the beach. However, I was never particularly fond of swimming, but instead preferred to build sand castles. Maybe that is why I was immediately excited about "Sand Flag". In this physics game, you compete against a computer opponent to dig up as much sand as possible per round without causing the flags to topple over. This may sound simple at first, but our artificial opponent knows exactly what it is doing and how to make our lives difficult.
---
Honorable mentions (Nostalgia):
---
79 of the 80 featured games can be found in our itch.io GOTY 2021 collection.